Disregard History Tonight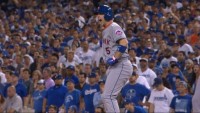 I remember thinking to myself we got this. There's no way the Rangers lose this game. We have Henrik Lundqvist. The Rangers have never lost a Game 7 in MSG. The Rangers were going to get another chance at the Stanley Cup.
Nope, they lost to the Lightning. The season was over. Just like that. All the numbers I've seen and heard meant nothing. NOTHING! The reason? The 1994 Rangers had nothing to do with the 2014 Rangers. These games are decided by the players that are on the field.
So, tonight you may hear the Dodgers have not lost a winner take all games since they've moved to Los Angeles. You'll hear that the Mets are 0-2 in road winner take all games. It doesn't matter. The Dodgers don't have Sandy Koufax pitching. Orel Hershiser is only throwing out the first pitch. These Dodgers don't have a hitter in the league of Reggie Jackson.
Tonight is about Jacob deGrom. It's about David Wright and Yoenis Cespedes. It's about Terry Collins. It's about the 25 men in the Mets dugout. It's about the 24 men and one coward in the Dodgers dugout. So ignore whatever stat you're going to hear tonight. They don't matter. The only thing that matters is tonight.
Lets Go Mets!