Fun Guess at the Clinching Lineup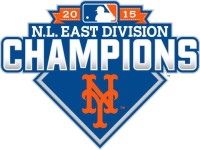 After clinching the NL East, the Mets celebrated and partied. They deserved it. However, there are nine guys that are going to have to play today, including starter Jacob deGrom.
I remember when the Mets clinched in 2096, the next day's lineup was a mess. It's going to be worse with a day game. I'm assuming some players will be arriving at the ballpark straight from the club. With that in mind, here's my guess on who's in the starting lineup today:
Ruben Tejada SS
Jacob deGrom P
The lineup may be different, and I could see some changes. This looks like a lineup from the aggravating first half. The difference is this time this lineup stays in Cincinnati as opposed to traveling with them.
It should be fun. Lets Go Mets!