METS CLINCH THE NL EAST!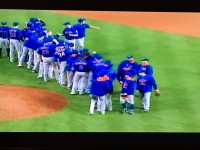 Im not afraid to admit that when Lucas Duda hit the first inning Grand Slam, it got a little dusty in the Mets Daddy household. My son and I screamed Duda. He's been the player we bonded over, and I couldn't think of a better player to send the Mets on their way.
In the 10-2 clinching win, the other runs can from Mets MVP Curtis Granderson's second inning solo homerun. The final two came on a third inning Michael Cuddyer RBI double (scoring two). It was terrific seeing him get a big hit after how he started the year. David Wright's nine inning three run homerun was icing on the cake.
It was also great to see Matt Harvey just go out there and pitch. He went 6.2 innings with nine hits, two earned, and six strikeouts. He promised Terry Collins an NL East title last year, and he went out there and delivered in the clinching game. After he left, the Mets rock solid 7-8-9 trio of Addison Reed–Tyler Clippard–Jeurys Familia. This is how it's going to go in October.
The answer to the trivia question is Jay Bruce made the last out on a Familia strike out.
After the final out, I hugged my son an cheered, I texted my brother, and I called my Dad. This was my favorite celebration after a Mets victory ever. I hope it will be topped in October.