Everyday Granderson?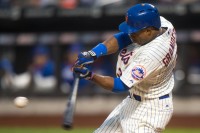 Sometimes it's hard to get a read on what Terry Collins is doing with the lineup. Even with all the moves, Collins has stuck by Curtis Granderson. He's been the leadoff hitter for a majority of the season. Only recently, he has moved him down in the lineup against lefties. In those scenarios, he's gone with his preference of leading off Juan Lagares and batting Granderson second.
There's a lot of merit to moving Granderson lower in the lineup. For his career, he has a triple slash of .223/.293/.397. That's terrible especially when compared to his triple slash line against righties of .270/.356/.505. These splits are even more pronounced this season with .159/.202/.253 against lefties and .286/.388/.524 against righties. In sum, he's great against righties and terrible against lefties.
Now, Michael Cuddyer has had a rough first year with the Mets similar to Granderson, Carlos Beltran, and seemingly every free agent signing the Mets have ever made. Regardless of the rough year, he's has a triple slash of .240/.293/.623 against lefties. Surprisingly, these numbers are worse than his numbers against righties. For his career, Cuddyer hits lefties to the tune of .288/.376/.494.
The only other option would be Michael Conforto, but the Mets don't seem inclined to permit him to play against lefties.
Now here's where Sabermetrics come into conflict with the need for a player to have the faith of his manager and the clubhouse. For the season, Granderson is hitting .257/.348/.459. It's much higher than what he's hitting against lefties, but it's also considerably lower than what he's hitting off of righties. What we don't know is what his numbers would be if he only batted against righties.
We don't know if playing everyday keeps him sharp. We don't know if having the faith of his manager and team helps propel his terrific numbers against righties. Fact is, there's a lot we don't know about managing and running a team. It's easy for me to say Granderson must sit against lefties, but I don't know the full impact of that decision.
What I do know is that Granderson is having a good year, and the Mets shouldn't do anything to mess this up. If Granderson needs to play everyday, let him play everyday.