Former Mets pitcher Mike Pelfrey has retired from the game of baseball after a 12 year career, and he has accepted an assistant coaching position with Division II Newman University.  Now, Pelfrey can play the part of Rick Peterson in helping a young pitcher learn about which one of his pitches is like putting ketchup on ice cream.
Reflecting back on Pelfrey's career, I mostly remember the disappointment.
There was his inability to jump from being the ninth overall pick in the 2005 draft to truly help an injured Mets rotation.  That certainly stung when we watched Steve Trachselget pounded for five runs over the first two innings of a pivotal Game 3 of the 2006 NLCS.
There was also Pelfrey being a part of the 2007 and 2008 teams that collapsed. In 2007, his September 24th start saw the beginning of a five game losing streak with the Mets losing six of their last seven games to see a two game lead become an embarrassing collapse.
Pelfrey was a much better pitcher in 2008 with him going 13-11 with a 3.72 ERA.  His improved pitching did not stop him from going 0-3 with a 4.06 ERA to help the Mets second consecutive collapse.
Still, Pelfrey showed enough to give Mets fans faith for the future.  To that end, the rotation was set up so he would be the first ever Mets pitcher to toe the rubber at Citi Field.  The third pitch throw in Citi Field history would be deposited by Jody Gerut into the left field stands for a lead-off homer.
Still, with Pelfrey, Mets fans always had hope for him, and we were waiting for him to finally turn that corner to be the front line starter we all imagined he could be.  It just never happened for him.
He followed a good 2008 with a disappointing 2009.  He rebounded in 2010 by winning 15 games, but he then went 7-13 with a 4.74 ERA.  By that point, we all figured he was one of those every-other-year type of pitchers.  It all seemed that way when he jumped out of the gate in 2012.
Through three starts, he had not recorded a decision, but he had a 2.29 ERA.  His last start was an eight inning gem that would have been a win had the Mets not started that season with Frank Francisco as the Opening Day closer.  A few days later, it was announced Pelfrey tore his UCL, and he was going to require season ending Tommy John surgery.
With his impending free agency, this mean that April 21st start would be his last in a Mets uniform.  It would seem somewhat fitting his last win in a Mets uniform was from the previous August when he had a six inning three earned run quality start against the Phillies.
That was Pelfrey's Mets career.  His flashes of brilliance really led nowhere, and you were left to look for the little joys in his moments of mediocrity.
Still, it wasn't all bad memories. He did bring hope with him. He was a player who chomped on his mouth-guard and kicked his fingers while he tried so desperately to succeed. As noted, there was a few seasons he did succeed. There was also a signature moment.
In 2010, there was a crazy 20 inning game between the Mets and Cardinals. With the Mets out of relievers and the team desperately clinging to a 2-1 lead, Pelfrey entered the game despite throwing 106 pitches just two days prior. On that day, Pelfrey saved the day.
That was always the case with Pelfrey. He was always willing, and he did all he could to improve even if that meant his stop putting ketchup in his ice cream.
In the end, he put together a 12 year Major League career full of adversity and perseverance. It's a career un which he can take much pride. It's one that will be of immense value as he now seems to impart his wisdom to a new generation of pitchers.
As a Mets fan, I know I wish him the best of luck.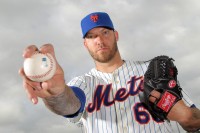 I remember back when Jose Reyes left the Mets for the Marlins. I was angry. The Mets were in the beginning stages of the Madoff fallout, and Reyes was the first casualty of that.
After the Reyes' signing, the Mets proceeded to become curiously active the next day. The Mets signed Jon Rauch and Frank Francisco. They also traded Angel Pagan for Ramon Ramirez and Andres Torres. Sure, the Mets lost their homegrown All Star shortstop, but look over here, look at the flurry of moves. Nothing to see in Miami. We're having a press conference on SNY to announce the addition of FOUR . . . count them . . . FOUR NEW PLAYERS! The Mets would be terrible in 2012 finishing in fourth place with a 74-88 record.
Today had that type of feel to me. The Mets lost Ben Zobrist to the Cubs, and they didn't look particularly good in the process. So naturally, the Mets went back to what they do best: deflection. Instead of rebuilding their bullpen, they rebuilt their middle infield by trading for Neil Walker and signing Asdrubal Cabrera.
Now, I have said both of these players were worth investigating. However, I would've preferred keeping Daniel Murphy and Jon Niese over adding Walker. In that scenario, the Mets still could've added Cabrera. Right now, I'd probably be commenting how the Mets vastly improved their middle infield situation. Instead, I'm baffled how the Mets traded away another pitcher while adding a poor defensive SS on a two year deal.
I'll admit I was distracted a little bit four years ago. I wasn't the biggest Angel Pagan fan. Now, I'm just wondering why the cost saving moves instead of bringing back the NLCS MVP. I'm also curious as to why an organization that values OBP added low OBP players. I'm nonplussed at the Mets adding yet another steroids guy to the roster.
I would've accepted all of it if the Mets were made better in the process. However, they didn't. They're worse off defensively, and they lost a reasonably priced starting pitcher. I just see the same bluster I saw four years ago.
It leaves me feeling sad. My son's favorite player will be playing elsewhere next year. He's disappointed to say the least. There's nothing the Mets can do to make me forget that.