As we have seen through this list of the Best Mets of All-Time, we see the choices for some uniform numbers are quite limited, and that is certainly the case with the number 60. The last to wear is was P.J. Conlon who made team history by being the first Irish born player to play for the team, and really the first in the Majors in nearly a century.
There was also Jon Rauch, who had two claims to fame. The first was surpassing Eric Hillman by an inch to become the tallest player in Mets history. The next was his dousing Matt Harvey in ice water as a way to haze the rookie. Other than that, his Mets career was productive (o.4 WAR) but relatively unremarkable.
Then, there is Scott Schoeneweis who had a very complicated two years with his hometown team.
His first season with the Mets was simply a struggle, which was due in large part to a severed tendon in his knee. To his credit, he gutted it out and continued pitching in what was an increasingly depleted Mets bullpen. It should also be noted he did exactly what he was signed to do.
In 2007, Schoeneweis limited left-handed batters to a .204/.208/.247 batting line notably not allowing a single homer and just four extra base hits. It needs to be noted even in a season where he really struggled and dealt with injuries his .262 wOBA against left-handed hitters was the best in the National League.
In fact, from 2007 – 2008, Schoenweis' .249 wOBA was the second best in the Majors among those who had more than 50 IP against left-handed batters. Simply put, Schoeneweis was signed to be a left-handed pitcher in the bullpen to get left-handed batters out. If he had been limited to just doing that, perhaps his Mets career would have gone better.
For what it is worth, he was much better in 2008 with a healthy knee. In that season, he was 2-6 with a 3.34 ERA. Again, it should be noted he did the job he was supposed to do in getting left-handed batters out. In a memorable scene, he and Billy Wagner would also help the grounds crew get the tarp on the field.
In terms of Schoeneweis, while injured he was durable making 70+ appearances in consecutive seasons en route to becoming just one of four MLB pitchers to accomplish that feat from 2005 – 2008.
Unfortunately for Schoeneweis, he is not going to be primarily known for getting left-handed batters out, his durability, or for his helping get the tarp on the field. No, his lasting image as a Mets pitcher is his surrendering a home run to the right-handed hittin Wes Helms, who had pinch hit for the left-handed hitting Mike Jacobs on the final game of the 2008 season. That made him the losing pitcher in the final game ever played in Shea Stadium.
Despite that, Schoeneweis posted a respectable 0.8 WAR for a LOOGY in 2008. That's the highest WAR out of any of the three players who has worn 60 with the Mets, and that is why he is the best Mets player to ever wear that number.
Previous
1.Mookie Wilson
2.Mackey Sasser
3. Curtis Granderson
4. Lenny Dykstra
5. David Wright
6. Wally Backman
7. Jose Reyes
8. Gary Carter
9. Todd Hundley
10. Rey Ordonez
11. Wayne Garrett
12. John Stearns
13. Edgardo Alfonzo
14. Gil Hodges
15. Carlos Beltran
16. Dwight Gooden
17. Keith Hernandez
18. Darryl Strawberry
19. Bob Ojeda
20. Howard Johnson
21. Cleon Jones
22. Al Leiter
23. Bernard Gilkey
24. Art Shamsky
25. Pedro Feliciano
26. Terry Leach
27. Jeurys Familia
28. Daniel Murphy
29. Frank Viola
30. Michael Conforto
31. Mike Piazza
32. Jon Matlack
33. Matt Harvey
34. Noah Syndergaard
35. Rick Reed
36. Jerry Koosman
37. Casey Stengel
38. Skip Lockwood
39. Gary Gentry
40. Bartolo Colon
41. Tom Seaver
42. Ron Taylor
43. R.A. Dickey
44. David Cone
45. Tug McGraw
46. Oliver Perez
47. Jesse Orosco
48. Jacob deGrom
49. Armando Benitez
50. Sid Fernandez
51. Rick White
52. Yoenis Cespedes
53. Chad Bradford
54. T.J. Rivera
55. Orel Hershiser
56. Andres Torres
57. Johan Santana
58. Jenrry Mejia
59. Fernando Salas

On August 11, 1992, the Mets had a day to honor Tom Seaver for being inducted into the Baseball Hall of Fame. Considering he was the best pitcher in Mets history, you would think the honor of starting that game would go to Dwight Gooden, who was the only Mets pitcher who would break any of Seaver's records. David Cone was another terrific choice given how great a pitcher he was for the Mets. Bret Saberhagen would have been fitting as he was a two time Cy Young winner and a former World Series MVP. Even Sid Fernandez could have fit the bill as it was his Game Seven performance that helped prevent Seaver from winning one last ring in 1986.
Instead, it was Eric Hillman, who was making his first ever major league start on a dark and rainy night that drove away most of the fans who should have been there to celebrate with Seaver. To be fair, that game would've been called almost any other night had it not been Seaver's night. Between the weather, and who was going to be honored, it was a difficult situation for a young pitcher. Hillman was up to the challenge pitching eight scoreless innings to help defeat the first place Pittsburgh Pirates.
With Monday's rainout, the Mets will be in a similar position for Mike Piazza's number retirement ceremony.
It was supposed to be Noah Syndergaard. Who better to celebrate the career of the Mets rock star catcher than to have the Mets rock star starting pitcher? Who better to honor the power Piazza showed at the plate than the power pitcher who can routinely throw over 100 MPH? The long haired starting pitcher dominating the opponents should have started the game honoring the long haired dominant hitter. It was all too perfect to be true. With the rain, it's not going to happen.
Instead, the Mets are most likely going to get a spot starter making his first ever major league start similar to what happened with Eric Hillman on Tom Seaver's night. It just seems to go that way on a night when the Mets honor their Hall of Famers.
The start could to to Seth Lugo, who has pitched extremely well out of the bullpen in his four appearances this year. Gabriel Ynoa could be summoned from the minor leagues to make his first ever start as could his Las Vegas 51s teammate Robert Gsellman. Whoever it turns out to be, they have some large shoes to fill. No, not Syndergaard's, the 6'10" Hillman's. Whoever the Mets give the chance to make his first ever career start needs to go out there and put up a dominant performance like Hillman's to allow the fans to celebrate deep into the night.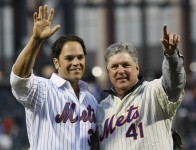 There are two things that are usually true about my birthday: (1) it always rains on my birthday; and (2) the Mets are not usually playing at home on my birthday. When the Mets are home on my birthday, the rain usually wrecks havoc with the Mets home game.
I was thinking about this when the Mets announced Mike Piazza Weekend. I'm assuming that entire weekend will be sold out. I know it was difficult getting good seats to the Saturday night retirement ceremony. As an aside, I would've retired Mike Piazza's #31 on July 31st instead of the 30th. Not a big deal, but just a quirk I noticed that will eventually drive either me or everyone else around me to a mental institution. I digress. It's going to be awesome to see the fans come out the entire weekend. It's a testament to how much we love Piazza and how good the 2016 Mets will be.
The entire weekend will be a celebration of Mike Piazza and the current Mets team. It's a far cry from what Tom Seaver received when he had his Tom Seaver Night the year he was inducted into the Hall of Fame.
There are birthdays we have that always stand out in your mind, and August 12, 1992 is one of them. I got one of those newfangled CD players. I got to rock out to such musical visionaries as C&C Music Factory. Oh and by the way, it rained. Boy oh boy did it rain. Water was getting into the house. Seriously, 100 times out of 100 they call this game. However, there was zero chance the Mets were going to call this game because it was Tom Seaver Hall of Fame night. It was the night Seaver was going to receive his Hall of Fame ring in a pregame ceremony.
I know I was the only one in my family who wanted to go, but guess what; it was my birthday so we went. Seriously, my mother must've tried to talk me out of it like 41 times. Eventually, we went out. I remember on the way to Shea Stadium, the windshield wipers were at their highest setting, but it didn't matter.
We made it to Shea Stadium in time for the ceremony. The announced attendance was 20,488. During the ceremony, there must've been a couple of thousand, and most of them were in the back rows of the Lodge and Mezzanine. The fans were mostly driven away by the rain. They were also driven away by a terrible Mets team. You might also remember them as The Worst Team Money Could Buy.
On that night, they were Terrific. In his third career start, Eric Hillman pitched eight scoreless innings against the hated Pirates. That night Hillman was every bit the 6'10" giant we thought he could be. That night at least Seaver was honored with a great pitching performance because he certainly wasn't honored with the type of fan turnout he deserved.
Piazza won't have that problem. Piazza will get three straight sell-outs and a good Mets team. I'm sure not even the rain could keep people away. I know it won't stop me.