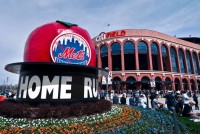 When it first opened, I hated Citi Field. I hated the Dodger aura. I hated the sight lines. I hated the dimensions. I hated the green seats and black walks. I hated that it wasn't Shea.
Shea was where I went to my first Mets game. It's where 1969 and 1986 happened. I saw great games there. I was there for Pratt's All Folks, the Grand Slam Single, and the Jones' one-hitter. The one thing I remember was how loud that place got. I remember how it shook. I remember after a huge win high giving and hugging people in the stands and on the ramps. I remember those loud "LETS GO METS" chants on this ramps. As funny as it sounds, I may miss those ramps most of all.
This past year my opinion on Citi Field has started to change. There's more Mets stuff all over the place. The walls are blue. The dimensions are finally right. I liken it to when you move in to your home. At first, the place is empty and strange. However, over time, you make it your own. It may never have the nostalgia of the place you grew up, but this home has memories.
My memories truly began this year. It's where I brought my son to his first game. Its where Wilmer Flores cried because he thought he was leaving. It's where he hit a walk-off homerun to celebrate the fact he was still a Met. It's now where the Mets play the 2015 NLDS.
With all due respect to No-han and the All Star Game, the Citi Field story starts tonight. Shea had the aforementioned moments. It had the catches in the 1969 World Series. I had the Buckner play. Tonight we may find out what the postseason play that defines Citi Field will be.
With a win today and tomorrow, this formerly despised ballpark will start to become beloved. It will become Mets fans' Citi Field of Dreams.