Poison Ivy Can't Even Stop These Mets
Normally, if I said to you there was a run scored on an out, you'd assume a fielder's choice or a sacrifice fly. You'd see the occasional suicide squeeze. In this strange postseason where you don't have to touch a base to be safe and Daniel Murphy became Babe Ruth, the Mets scored the go-ahead run on a two out strikeout.
In the sixth, Yoenis Cespedes lead off with a single, and he moved to second on a Lucas Duda sac bunt. I thought he was going for a hit against the shift, but they awarded him with a sac bunt. Cespedes would steal third. Michael Conforto came up with two outs and would strike out:
.@ynscspds and @mconforto8 proved three strikes doesn't necessarily mean you're out: https://t.co/Jj12nYEGnV pic.twitter.com/9jj0tMhPzW

— Cut4 (@Cut4) October 21, 2015
Then the inning got strange. Wilmer Flores went the other way and hit a sinking line drive to right. It went under the glove of Jorge Soler. Conforto was already around third by the time the ball disappeared in the ivy.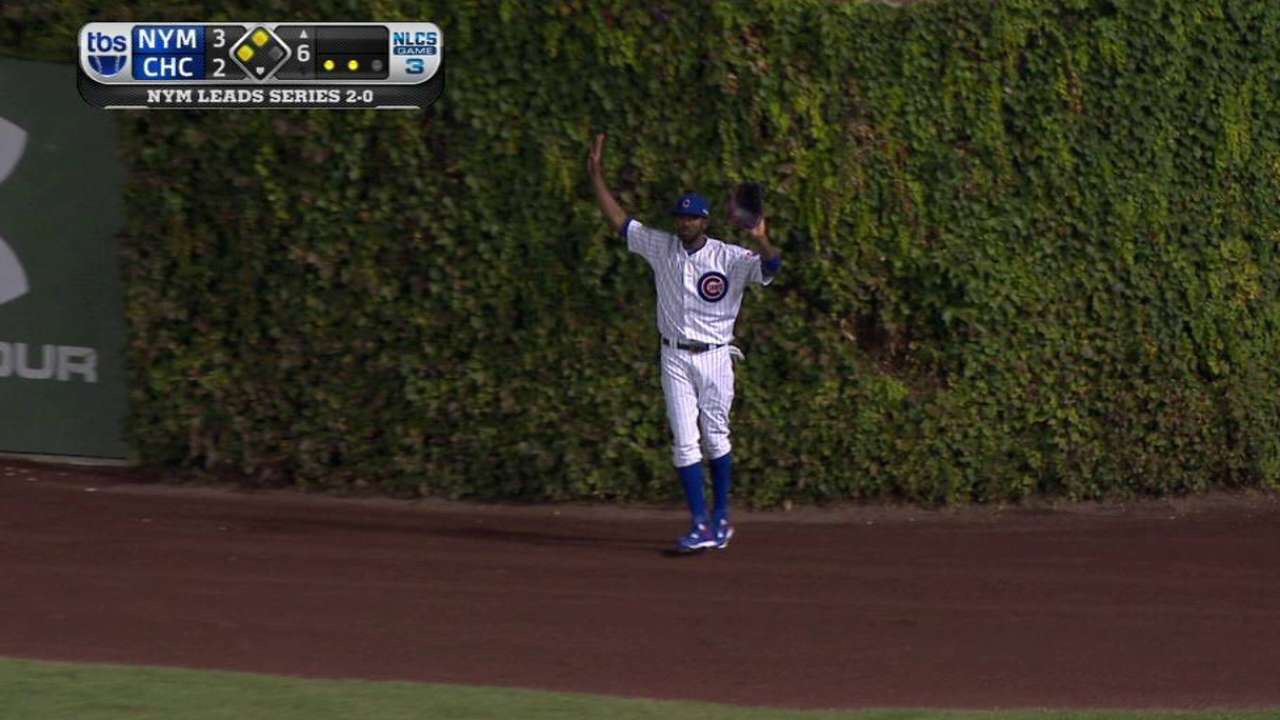 The common joke all over the place was Bartolo Colon could've scored on the play if he hit it. However, because of ground rules written in 1912, it was ruled a groundrule double. No runs scored. Conforto to third and Flores to second. They would be stranded, but the Mets escaped with a 3-2 lead.
That lead would expand in the seventh. Cespedes knocked in David Wright, who had a great game, with a single off of Kyle Schwarber's glove. For the second time this series, Schwarber's inexperience in the outfield cost the Cubs a run. Later in the inning, Murphy would score on a Duda groundout.
On the mound, Jacob deGrom finally had a good start in Wrigley Field. His final line was 7.0 innings, two earned, one walk, and seven strikeouts. Tyler Clippard held down the eighth, and well Jeurys Familia got the save again.
In other news, we care about from this game, Murphy did this in the third inning:
He's now the Mets all time and single postseason homerun leader with six. He also tied a major league record by hitting a homerun in five straight postseason games.
Wright was terrific. He went 3-4 with two runs, a walk, and a double. Duda snapped out of his funk a bit by going 1-3 with an RBI and no strikeouts. There something else I'm forgetting.
Oh yeah, after the 5-2 win, the Mets are now one win away from the World Series. I can't believe it. I can't wait for tomorrow.