Can't the Mets Find a Spot for Gee?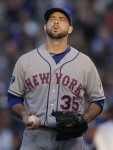 Much of the 2015 season has been a second chance for some of their veterans to have a chance to be in a pennant race again. David Wright, Daniel Murphy, and Jon Niese were all there for the 2008 collapse. In many ways, this year is their redemption.
Dillon Gee wasn't there in 2008. He first came up in 2010. He's only known losing despite having a 40-37 career record. Last year, he was the Opening Day starter. This year he was briefly in the rotation due to Zack Wheeler needing Tommy John surgery. The Mets would then jerk him around and designate him for assignment. They even gave his number to Logan Verrett. I don't know what Gee said or did, but he's been disregarded by the organization.
It's a shame because they really did need a sixth starter. With the Mets wanting to get their pitchers rest, and Matt Harvey needing to be preserved for the playoffs, the Mets sure could use another starter. They've disregarded Gee, who wasn't even a September call up when the AAA season ended.
He probably could've helped this team. He suffered through years of losing, and just when the Mets get good again, he's tossed by the wayside. If the Mets can find starts for Jon Niese, they could find starts for Gee. With all this, he remains a class act:
WOW, I don't know what else to say. This is the best team on earth!!!! Something special happening there. Awesome pickups! #mets

— Dillon Gee (@DillonGee35) September 10, 2015
Despite his misfortunes, he's still cheering on the Mets. This is the type of guy you want in your organization. This is the type of player you want to stick around for a while. Whether it was one ir two starts in September or some mop up duty, it would've been nice to see him get some innings.
I wish the Mets called him up, but they didn't. This means he's as good as gone, and he can't enjoy the victories he's been waiting for since 2010. As he's been magnanimous, I will wish him the best of luck wherever he winds up.