Mike Bordick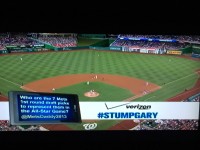 I love trivia, especially baseball trivia. I was the first solo winner on "Beer Money." Hat tip to the "light hitting Mike Bordick." My father and I had a failed attempt to be on Beat the Booth. As a result, each and every week, I submit a #StumpGary question.
The question on the TV didn't exactly match my question:
Mets first round draft picks to represent them in the All Star Game? (Matlack, Mazzilli, Strawberry, Gooden, Jones, Harvey) #StumpGary

— Mets Daddy (@MetsDaddy2013) September 8, 2015
The one on TV expanded my question to include David Wright, who technically is a Supplemental Pick for the loss of Mike Hampton. It's a technicality, but it's SNY's network and broadcast. I have no problem with them changing the question.
Here's how it went:
<iframe src='http://web.sny.tv/shared/video/embed/embed.html?content_id=466879383&width=400&height=224&property=sny' width='400′ height='224′ frameborder='0′>Your browser does not support iframes.</iframe>
I also laughed when Gary was dismissive of the question because draft picks wasn't his thing. The question was glossed over more than the usual question. I was still happy to see my Twitter handle on the screen.
So, I'm proud to say I stumped Gary. Maybe next year, I can be on Beat the Booth.