John Franco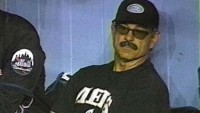 It's that time of the year when we get that warm and fuzzy feeling. It's a time when you feel even closer to what you love. I am of course referring to Pitchers and Catchers reporting to Spring Training this week.
As the Mets report, they are trying to do something that only Bobby Valentine's Mets have ever done. They are trying to go to the postseason for consecutive years. It's still amazing to think that in the 54 year history of the Mets, they have only e been in consecutive postseasons only once. Gil Hodges couldn't do it. Davey Johnson couldn't. Willie Randolph came agonizingly close.
No, the only one to do it was Bobby V. He did it with a core of Mike Piazza, Edgardo Alfonzo, Robin Ventura, and Al Leiter. He had a terrific bullpen of Armando Benitez, John Franco, Turk Wendell, and Dennis Cook. Each year, he had drastically different outfields and rotations. Yet, he was still able to make it work. He got the most out of these teams. The Mets made consecutive NLCS appearances, and they were close to winning a World Series.
This now is the task set forth for Terry Collins. For the first time in 16 years and the second time in Mets history, he is tasked with leading a Mets team to consecutive postseason berths. Like Bobby V, he has a strong core of players. Unlike Bobby V, he has not had much turnover in the roster.
Overall, the one thing uniting Bobby V's Mets and Terry Collins' Mets is hope. Mets fans hope and believe in this team. We all believe this is our year even after a heartbreaking loss. And yes, as this is Valentine's Day, Mets fans love their team.
So remember on this the coldest of Bobby Valentine's Day, Spring is in the air, and we will soon be reunited with the team we love.