Dominic Hamel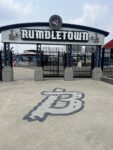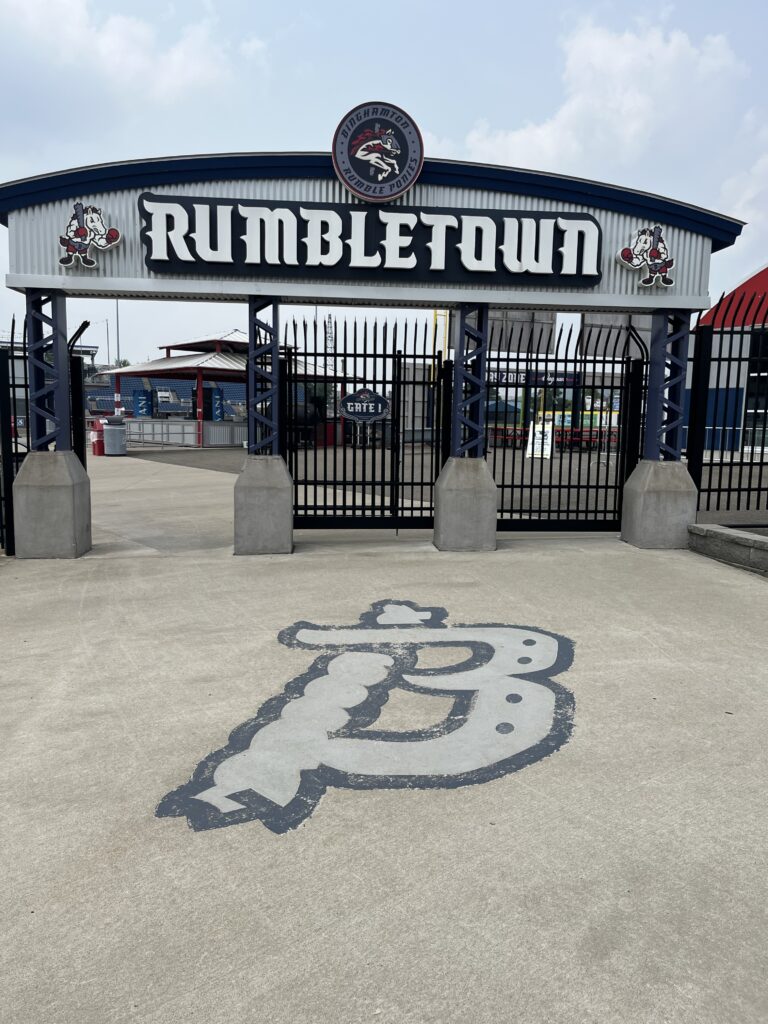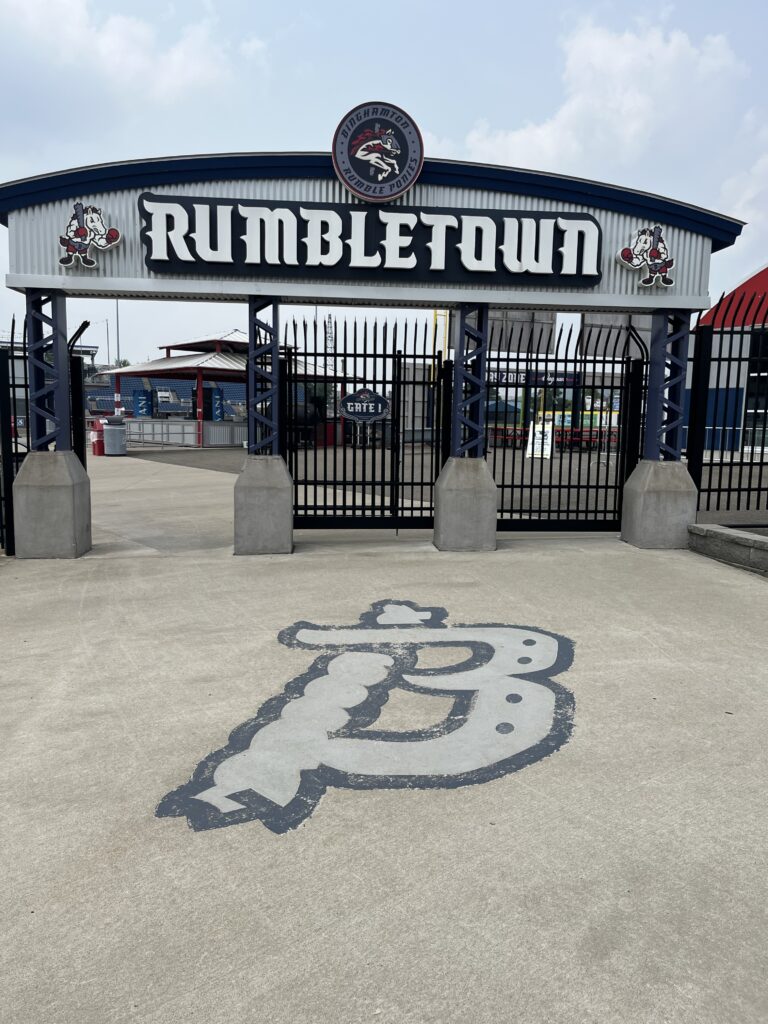 Being a hockey dad means you're traveling a lot and going/passing through places you may not normally travel. While you may be tired and want to go home after a tournament, sometimes it's well worth making stops along the way.
Being the avid New York Mets fan I am, my family opted to stop in Binghamton. It made sense as a stop to stretch, eat, and of course, take in Mirabito Stadium.
One thing to know right off the bat is it's pronounced MER-AH-BIT-TO. A local quickly corrected me when I mispronounced it.
More importantly, the ballpark is open everyday. I found that out when I mentioned to a security guard that I owned this site and was an editor at MMN and I was hoping to walk around the park. His response was, "Okay, well, everyone can walk around as long as they stay off the field."
Right off the bat, the ballpark has that minor league feel we lose somewhat with the Brooklyn Cyclones. There's not a bad seat in the house, and you're right there for all of the action.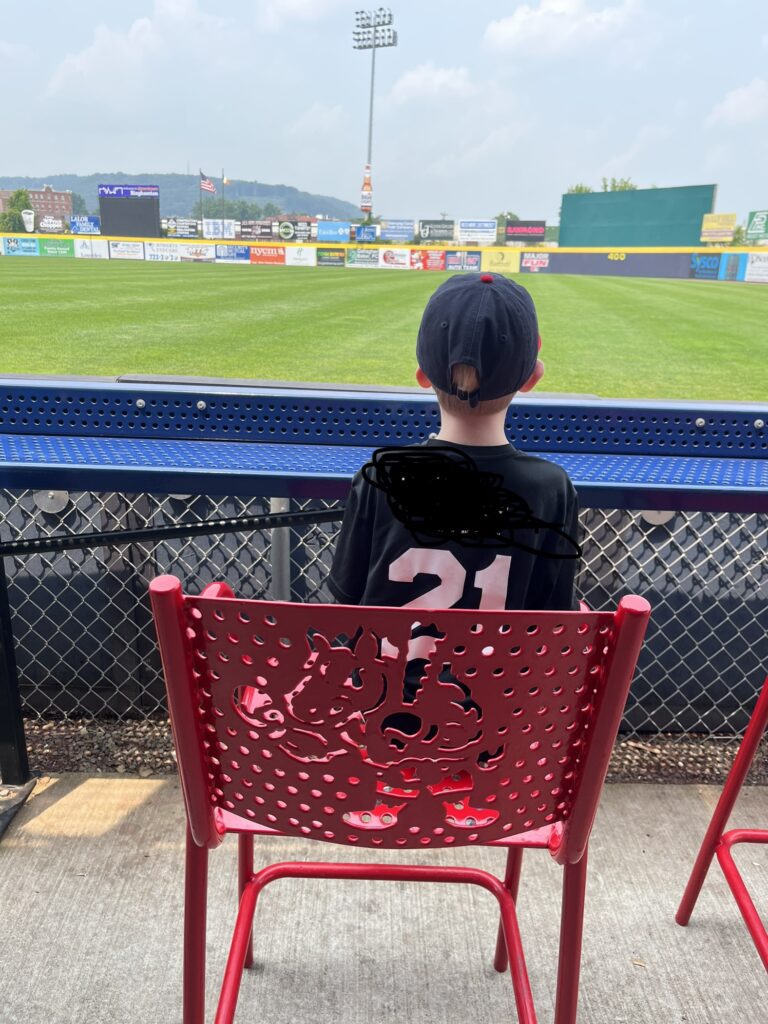 Rowdy the Rumble Pony on the outfield high top chairs was a nice touch. A nice touch describes much of the ballpark which embraces its own history as well as their affiliation with the Mets.
The bullpen carries the monitor "The Road to Queens Runs through Rumbletown." That was certainly true for current Mets pitchers Grant Hartwig, David Peterson, and Drew Smith. It may also hold true for current Rumble Ponies like Christian Scott and Dominic Hamel.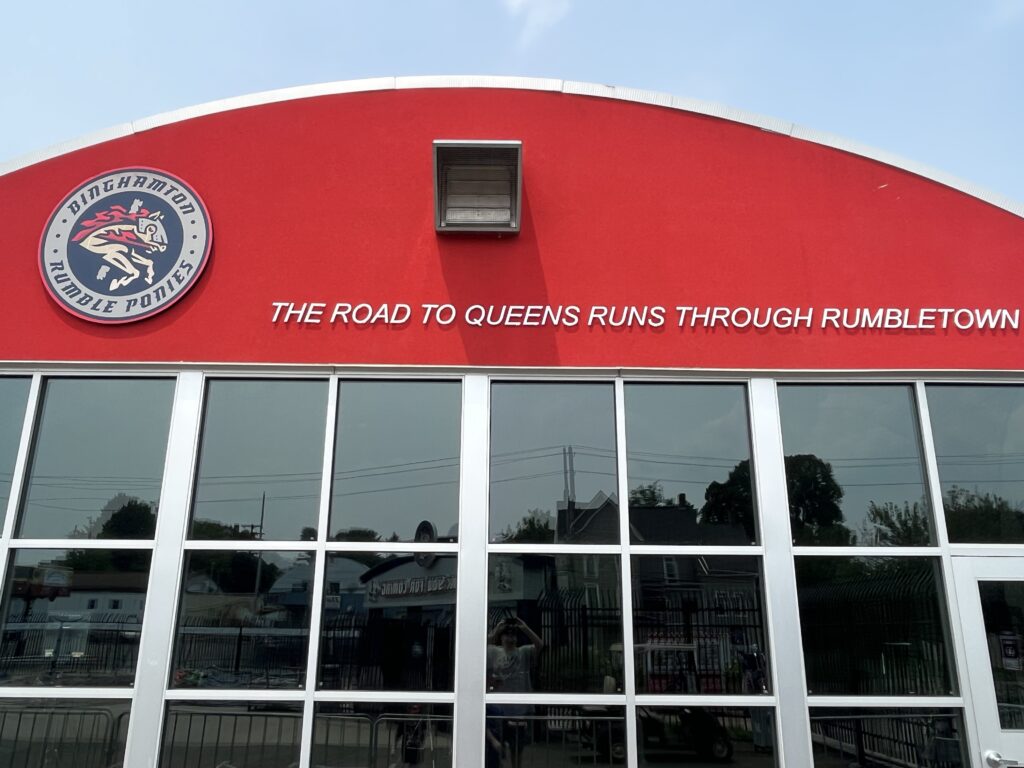 In terms of the history, Binghamton has a "Binghamton Baseball Shrine" honoring all the Binghamton players of yesteryear. It's there you are reminded Binghamton hasn't always been a Mets affiliate.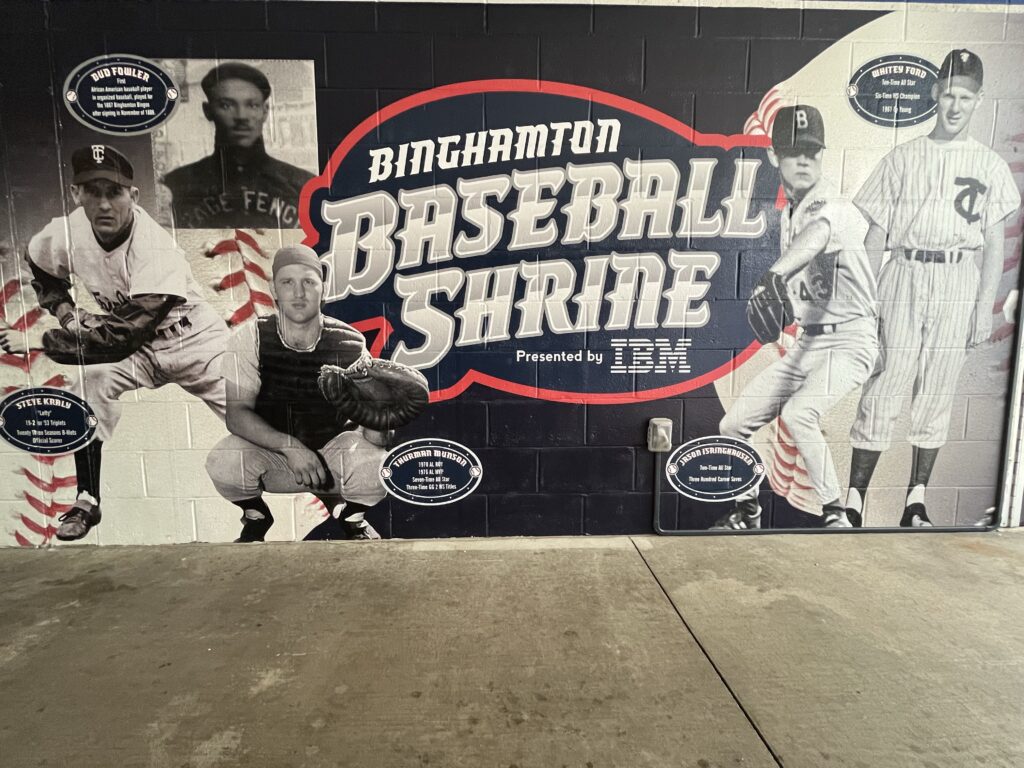 As you can see, most of the players were before the Mets even existed. You see names like Whitey Ford and Thurmon Munson. You can see the Mets feel and acknowledgement with Jason Isringhausen on the far right.
For those wondering where David Wright is, don't worry, he's there. He just couldn't make the main image and is instead off to the side on the door.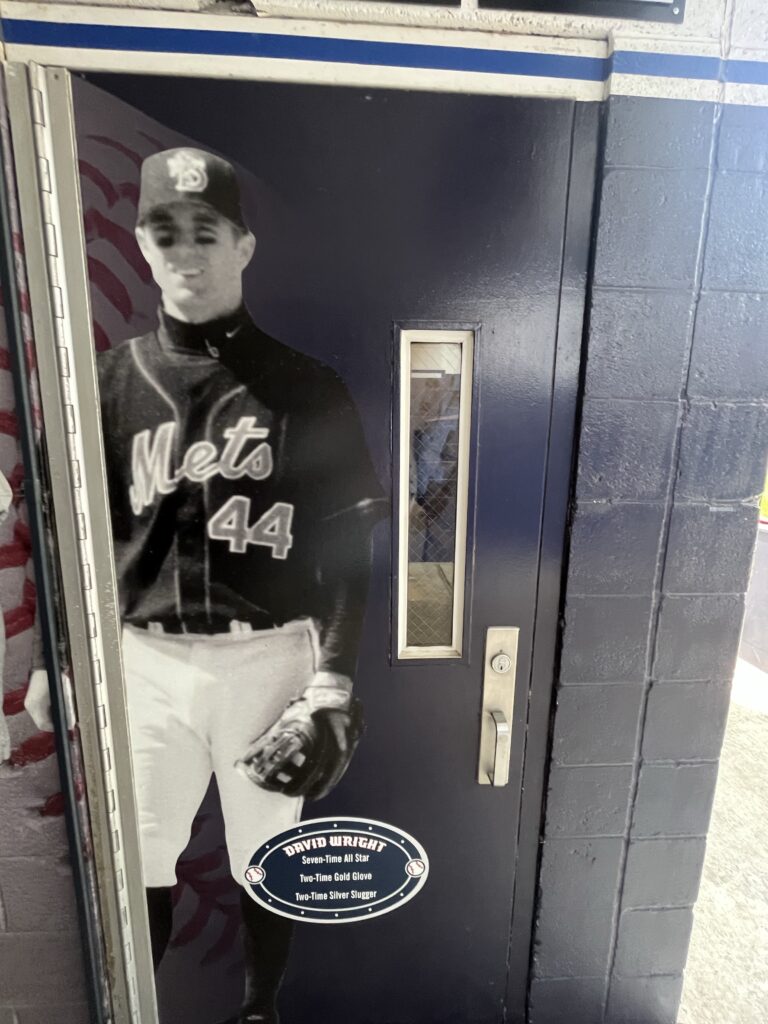 As odd as it was seeing him off to the side, it was even stranger seeing him with the number 44. For those that remember, Wright wanted to wear 4 (he didn't ask for it) until Charlie Samuel decided Wright should wear 5 for Brooks Robinson and George Brett.
Shockingly, Samuel didn't remember Robin Ventura of Grand Slam Single Fame. But, I digress.
Unfortunately, the Baseball Shrine is out of the main view, but it is en route to the gift shop. On the way, you will also see things like the lineups and league leaders (Eastern League and MLB).
The gift shop has what you're really looking for with hats, jerseys, cards, and of course, stuffed animal mascots. You can get the jerseys personalized (but not t-shirts). It's all reasonably priced with discounted winter items. I walked away with a cap.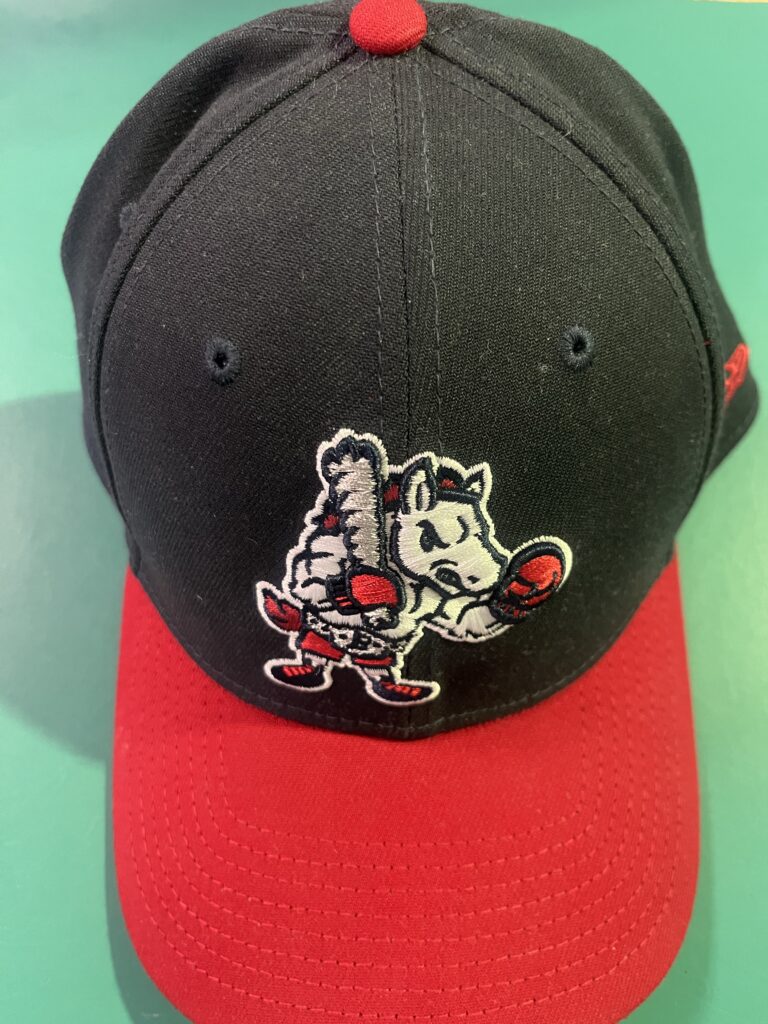 The only downside of the trip to the ballpark was it was not a game day. That said, the staff was great, and my kids had a blast running through the park. Certainly, there will be a trip back to Binghamton to catch a game or two.
Dominic Hamel was the New York Mets third round pick in the 2021 draft that will is known for the Mets failing to sign first round pick Kumar Rocker. With each passing season, we may soon call it the year the Mets drafted Hamel.
Hamel, 23, split the 2022 season between St. Lucie and Brooklyn, and he was 10-3 with a 3.48 ERA, 1.151 WHIP, 4.1 BB/9, and an 11.0 K/9. As you can see, what really stood out with him was the strikeout numbers.
In 13 starts and one relief appearance with St. Lucie, he struck out 26.6% of the batters he faced. Then, against a higher level of competition in Brooklyn, Hamel would strike out 33.2% of the batters he faced over his 11 starts there.
Dominant Dominic Hamel

The No. 9 @Mets prospect fans seven in five scoreless innings for the @BKCyclones: pic.twitter.com/oYsuacowxD

— MLB Pipeline (@MLBPipeline) August 5, 2022
Seeing the results, it should come as no surprise he was named the Mets 2022 Minor League Pitcher of the Year. Moreover, Hamel was selected for Team Puerto Rico for the 2023 World Baseball Classic.
The World Baseball Classic is an opportunity for Hamel to accelerate his development as a pitcher. He will be playing for the recently retired Yadier Molina, who was adept from handling young pitchers during his career. The staff will also have former Mets bullpen coach Ricky Bones.
He is going to be on a team with some of the best in the game including Mets shortstop Francisco Lindor. More than the mentorship, he is going to be able to see how his stuff plays against the best in the game.
Hamel has excellent spin on his fastball and slider. With the spin and vertical breaks, both pitches are strikeout pitches. In the bullpen, he can be a potentially lethal weapon for Puerto Rico in the WBC. Of course, that is if he is not overwhelmed by the moment and loses some control over his pitches.
The control has been an issue for him as he has walked a higher rate of batters. He has gotten away with it with his strikeout rates and his keeping the ball in the ballpark. What is holding him back more is the lack of a true third pitch which would allow him to stay in the rotation.
Both his curve and change have real promise. They have good spin, but he does not quite have the control he needs of them. This is the year he need to harness them as he's heading to Double-A at some point during the season, and again, he's facing the best of the best in the WBC.
There is no better lesson on what he needs to do than to pitch against the best. He is also going to get mentored by some of the best in the WBC. All of this has Hamel poised to learn a number of lessons which can help him towards a big breakout season. We can and should expect that, and if all breaks right for him, he may even see time in the majors at the end of the season.
The New York Mets gave out qualifying offers to all of their top pending free agents. That is everyone except Taijuan Walker.
Behind not giving him a qualifying offer was the probable estimation he would accept the offer. For the Mets, that was probably the best case scenario.
After picking up Carlos Carrasco's option, the Mets only gave two of their starters from last year under contract. Somehow, they need to add three more starters, or two, if they want a Tylor Megill/David Peterson Spring Training battle for the fifth starter spot.
Overpay or not, bringing Walker back for one year was a great situation. It gives Megill and Peterson another full year to get ready to take over a spot. It also gives more time to prospects like Matt Allan, Dominic Hamel, and Calvin Ziegler.
More than that, with Walker, the Mets were keeping a dependable starting pitcher. He's in the top 40 in starts and innings pitched over the past two seasons. There's incredible value in just being able to pitch every fifth day and give 5+ innings.
We can and should delve deeper than that. After all, the Mets have a lot of costly decisions to make this offseason. They really can't just overpay. Well, Walker really isn't an overpay.
The WAR/$ valuation model rebounded slightly last season with 1 WAR being equivalent to roughly $8.5 million. Last year, Walker had a 2.6 WAR meaning he was worth $22.1 million.
Remember, the qualifying offer is $19.65 million. Walker provided more value than that last year. He's likely to do it again.
Walker was much stronger in the second half than he was in 2021. He'd shown himself to be healthy and durable in consecutive seasons. His splitter has increasingly become a weapon.
All that taken into account, Walker is worth a one year deal. The Mets would be better off if he accepts. They'd also be in great shape if he rejects it because they'd get compensation if he signed elsewhere.
Overall, there was nothing but upside on giving Walker the qualifying offer. Unfortunately, the Mets made an unforced effort and didn't leaving us to at least be slightly concerned Billy Eppler is not the right person for this job.