Armando Benitez

Yesterday, the problem was finding out who to pick for 14 in this series with the paucity of choices. Today's selection was an abundance of good choices.
There was Roberto Alomar's disappointing tenure. I'm sure there are Mets fans that would've picked Willie Randolph, but he was decent with the Mets in the last year of a good career. Furthermore, I was higher on him as a manager than most people. I remember that Jeff Kent was hated by Mets fans, except the ones in my household.
When fans booed Kent, my Dad was baffled. When he saw Kent, he saw a terrific player. My Dad was right. Kent played well in his five years as a Met. Kent would win the 2000 NL MVP and finish his career with the most homeruns by a second baseman. However, all of that happened elsewhere. Why elsewhere? Well, the Mets made an idiotic trade including him and Jose Vizcaino for Carlos Baerga and today's selection, Alvaro Espinoza: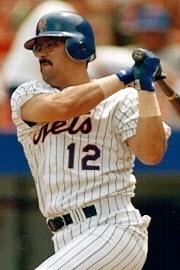 Espinoza was not a great major league player, but truth be told, he was at his best in those 48 games with the Mets. So, why pick him? He was part of a trade that ditched a possible Hall of Fame second baseman for a player fading fast in Baerga. Neither player was of much help, especially in a 1996 season when the Mets finished 71-91.
Baerga's numbers dropped steadily his three years in New York, and he couldn't stay on second base. He would be gone before the glory years of 1999 and 2000, but you know who would reappear in 2000? Vizcaino. The man who put an end to Game 1 of the 2000 World Series. He was in that position due to Timo Perez's lack of hustle and Armando Benitez once again caving in from the pressure.
So I picked Esponiza more as a symbolic gesture as a reminder that the trade for the star usually doesn't work in the Mets history. I think that reminder is quite aprospros this season.
With that in mind, please join me in offering a hat tip to Magic Number 12, Alvaro Espinoza.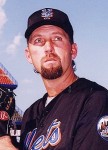 Admittedly, I have been apoplectic over the Tyler Clippard trade. The reason is because the last time the Mets made a trade like this it ended very badly. Faith and Fear in Flushing invoked the infamous John Smoltz and Jeff Bagwell trades. For me, it reminded me of Billy Taylor.
In 1999, the Mets were in competition for the playoffs for really the second time in my life (and second year in a row). I was too young to truly remember this (although my first baseball memory is the Buckner game) or this. After the previous season's collapse, I was desperate to see the Nets make the playoffs. I was appreciative when Steve Phillips was aggressive at the trade deadline. Notably, he added Kenny Rogers (I still don't want to talk about it), Shawn Dunston, and Darryl Hamilton (RIP). He also traded for Billy Taylor.
To acquire Billy Taylor, the Mets sent Billy Beane's A's Greg McMichael and Jason Isringhausen. At the time, I loved the move. Over a three year stretch, he had 73 saves on mediocre Athletics teams. In 1999, on an A's team on the rise, he had 26 saves (his peripherals were awful but I didn't follow such things back then). I was giddy at the prospect of the Mets having a 7-8-9 of Billy Taylor-John Franco-Armando Benitez (this is before we knew he was terrible in October). I didn't care about the cost. All I wanted was a playoff berth, let alone a World Series.
Boy, was I wrong. In 18 appearances, Taylor had an 8.10 ERA. He was terrible. He didn't pitch in the postseason. He was gone at the end of the year. He was out of baseball after the 2001 season.
The real cost of Taylor's 18 innings? Jason Isringhausen's career. He was once part of the fabled Generation K. In 1999, he was only given five starts. Mostly, he was a seldom used reliever who bounced between Norfolk and New York. He was coming off an elbow injury. At the time of the trade, he had a 6.41 ERA. His star had fallen. While he wasn't good, Bobby V didn't want to put him in the bullpen because that was "akin to using an Indy car as a taxi."
I love Bobby V, but he was proven wrong. In 1999, he would save eight games for the A's with a 2.13 ERA. That might've been helpful as Kenny Rogers walked in the winning run. Since the trade, Izzy accumulated 299 saves (one for the Mets in 1999 and seven for them in 2011). That was a lot to give up for 18 appearances.
Now, I don't think Tyler Clippard will be as bad as Billy Taylor. He's a much better pitcher. In actuality, through all of my hand wringing, I have noted Clippard is a quality addition that will help a back of a bullpen that needs it. I think the 7-8-9 of Bobby Parnell-Tyler Clippard-Jeurys Familia could be very good, or at least better than the 1999 version. If the Mets win the World Series, I'll be thrilled and I won't care how good Casey Meisner becomes.
However, I shudder at another Mets trade with Billy Beane for a reliever. While I hope one day I'm regaling my son of the 2015 championship season, I'm afraid that I will be explaining how Casey Meisner could have been a Met.