Mets Don't Know Where To Go Next Analytically
In an overarching report on the New York Mets team culture by Mike Puma of the New York Post, there was a focus on Justin Verlander. Long story short, it didn't click.
While people have their takeaways from the article, the biggest was Verlander's frustrations with Puma writing, "Verlander often complained about the Mets' analytics department, which he deemed inferior to the one that served him in Houston."
Going back to 2017, Verlander was still a very good pitcher for the Detroit Tigers. He was 34, and in previous seasons, there was a dip in his performance. Between that, his contract, and the Tigers rebuilding, it was time to move him.
After going to the Houston Astros, Verlander became an ace again winning two Cy Youngs. Verlander became a Met because of money. As we saw, Houston still wanted him.
It didn't work for Verlander in his brief time with the Mets. Part of that was injury. Another part, according to Verlander, is the Mets have areas they need to improve.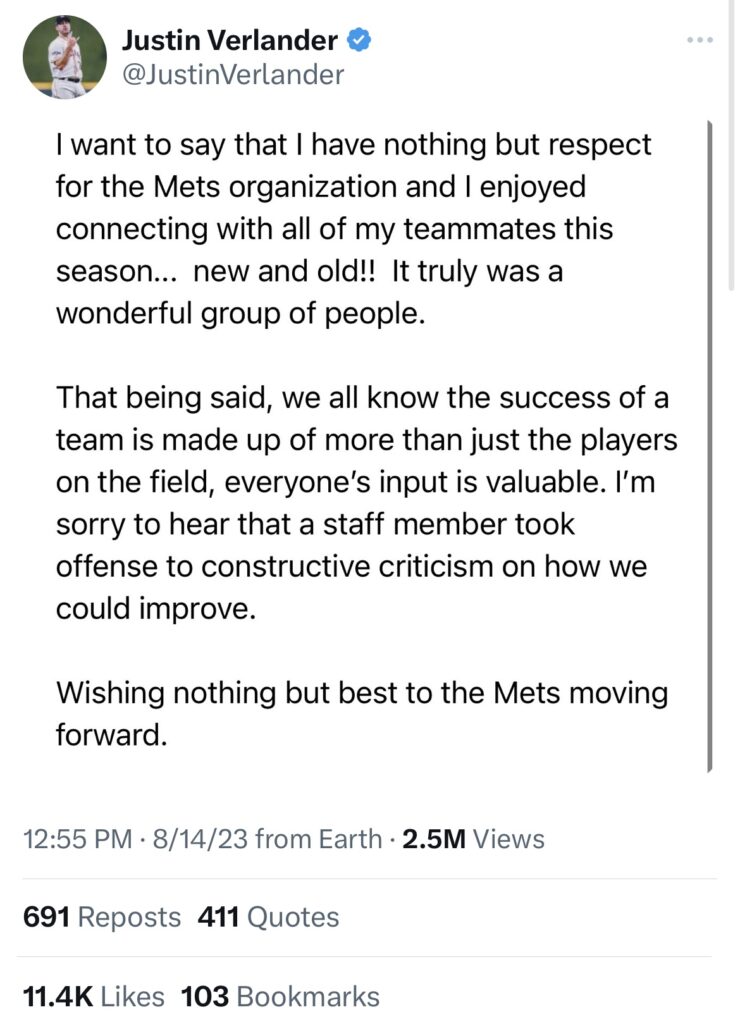 Maybe it was constructive. Maybe it was harsh. Certainly, Verlander rankled some feathers. In the end, the only takeaway is the Mets have work to do.
Look, the Astros are the best in the business. You can also make cases for the Tampa Bay Rays and Los Angeles Dodgers. You can't make that case with the Mets.
The biggest issue is the Wilpons. They set the organization well back on that perspective, and it takes time to get out from under that.
Another issue is Billy Eppler. Under his direction, the Los Angeles Angels were never an analytically driven or analytically forward thinking organization.
The end result is Steve Cohen is trying to get the Mets up to speed with a GM who really isn't well versed in the direction of the field of baseball analytics.
The Mets may know some of the things they don't know and need to investigate. The bigger issue is they don't know what they don't know. Verlander made that apparent.
Looking deeper than that, the Mets don't know what areas the more analytically driven teams are even pursuing. That's exactly where the Mets need to close the gap.
If nothing else, Verlander let the Mets know where they are lacking. It's now incumbent on the organization to close that gap, and more importantly forge ahead in the areas other teams have not yet embarked.