Jeff McNeil's WBC Setting Tone For 2023
The New York Mets sent many players to represent their countries in the World Baseball Classic. That included Jeff McNeil and Pete Alonso who represented USA.
Alonso wouldn't get into this game, and McNeil wouldn't start. However, we would see McNeil get two huge plate appearances, and he would deliver.
In the seventh inning, McNeil came to bat for Tim Anderson to face Taisei Ota to lead off the inning. He drew the lead-off walk which should have started a big rally.
However, after a Mookie Betts single, Mike Trout lined out to right. Paul Goldschmidt followed with a horrendous at-bar culminating in an inning ending double play.
In the top of the ninth, with Japan leading 3-2 and the world awaiting the Shohei Ohtani-Mike Trout matchup, it was McNeil who led off the inning. McNeil had one of the best at-bats you will ever see.
While McNeil's other three walks were the result of pitchers completely losing the zone, he had to earn this one. The seven pitch at-bat culminated in one of the best takes you will ever see in that spot.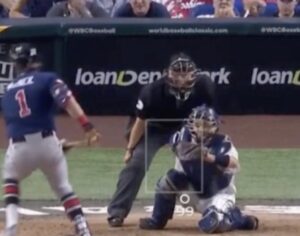 This at-bat shows how much McNeil has developed as a hitter. Yes, we did see him swing at the first pitch in the at-bat. However, we would also see him be patient at the plate.
McNeil remains aggressive attacking strikes. However, he's not impatient. He's not getting himself out. He has an ability to go deep into at-bats with his ability to foul off pitches and eventually draw a walk.
With Betts and Trout due up next, this lead off walk should have set the stage for a game tying rally at the very least. However, Betts hit into a back breaking double play before Trout struck out to end the game.
Certainly, this game will forever be known for the greatness of Ohtani and that epic match-up against Trout. That was one of the great moments in baseball history.
However, when viewed through the Mets prism, we see how ready McNeil is to play in big games this season. He showed up in the big moments like a player ready to win a World Series.
Sure, he wasn't great in the Wild Card Series against the San Diego Padres. That said, in this game, McNeil looked better for having that experience.
Arguably, this was the biggest game McNeil has ever played. He came up with two great plate appearances which should've helped his team win. That is exactly the player we hope to see come October.
If the Mets get this McNeil, their chances increase exponentially. This McNeil is a real difference maker. Like the WBC final, this McNeil is exactly who the Mets want in the biggest moments.
When McNeil delivers then, we could see this team winning their first World Series since 1986. Months