Neon Moment Of The Week: The Stretch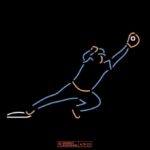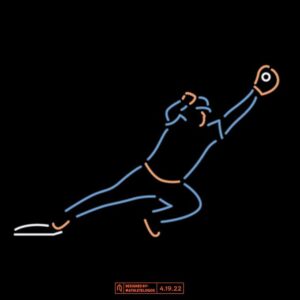 After a 7-3 start to the season, there was genuine excitement about this New York Mets team, but there was still some naysayers. After all, the Mets were beating up on the likes of the Washington Nationals, Philadelphia Phillies, and Arizona Diamondbacks. Some questioned how the Mets would fare against a good team.
On that note, the San Francisco Giants came to town. Last season, the Giants led the majors with 107 wins, and they were off to a 7-2 start. Simply put, this series was going to be a real litmus test for the Mets.
Things did not get off to a great start. Tylor Megill, who had been great in place of Jacob deGrom finally struggled. The pitcher who was unscored upon would allow four runs over six. Fortunately, the Mets would tie the game in the fifth on RBI doubles by Jeff McNeil and Francisco Lindor. The score stayed that way until it was sent to extra innings.
With extra innings comes the gimmick Manfred Man on second base. Brandon Belt was the runner, and he would move to third on a Wilmer Flores flyout. After walking Darin Ruf, Brandon Crawford lined out. That left Thairo Estrada for Adam Ottavino. Estrada would hit a routine grounder to Lindor, but Lindor made an errant throw:
Top 10th – @Mets challenge call that Thairo Estrada is safe at 1B; call overturned, runner is out. Powered by @Mitel. pic.twitter.com/8A08odZhr3

— MLB Replays (@MLBReplays) April 19, 2022
Initially, the umpires ruled Pete Alonso was pulled off the bag. However, upon replay, we saw Alonso made an incredible stretch to stay on the bag. That kept the game tied for the Mets to walk it off on a Lindor game winning RBI single.
That stretch was a key moment in the Mets winning that game. From there, the Mets went on to sweep the doubleheader and take three out of four from the Giants. As a result, the Mets proved they can beat a good team.
That moment was also indicative of just how far Alonso has come. Alonso was known as a poor defender when he was first called up to the majors. He has since made tremendous strides to vastly improve there. As a result, Alonso has shown himself as a player who can help the Mets win with their defense, and that is why "The Strech" is the Mets Neon Moment of the Week!
* * * * * *
I am very appreciative Athlete Logos has agreed to participate in this feature. If you like his work as much as I do, please visit his website to enjoy his work, buy some of his merchandise, or to contract him to do some personal work for yourself (like I have). You can also go to Breaking T to purchase his now MLB licensed apparel.