Neon Moment Of The Week: Who Was That Masked Man?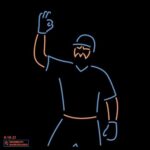 In many ways, what makes this New York Mets team different is Kevin Pillar. He's a player who actually provided the Mets with real depth, and he has a rare level of grit and determination.
With the bevy of Mets injuries, especially Michael Conforto and Brandon Nimmo, Pillar has been vaulted from depth to starting outfielder. He's a starting outfielder wearing a mask in the field because of a fastball he had taken to the face.
With that, he gets the chance to help the first place Mets win games. On a night like June 16th, he gets to help his team win baseball games.
The UltiMet Warrior @KPILLAR4 earns the neon as the Mets keep rollin. #LGM #NYMNeonProject pic.twitter.com/ogbydc3RMH

— Athlete Logos (@athletelogos) June 17, 2021
Against the Chicago Cubs, Pillar was 2-for-4 with two runs, a double, home run, and two RBI. That performance came on the heels of Jacob deGrom having to leave the game with his own injury issues.
Again, when a Mets player goes down with injury Pillar and the rest of the Mets step up and just flat out win games. With his performance and win being emblematic of what makes the 2021 Mets great, this is the Neon Moment of the Week!
* * * * * *
I am very appreciative Athlete Logos has agreed to participate in this feature. If you like his work as much as I do, please visit his website to enjoy his work, buy some of his merchandise, or to contract him to do some personal work for yourself (like I have).