Freddie Freeman Is Exactly Why David Price Was Right To Sit Out 2020 Season
While the initial data from the first round of COVID19 testing was couched as "good," we're seeing that really isn't the case. After all, this isn't just about how many are confirmed infected, but rather, that players are infected.
With COVID19, everyone seems to experience it differently. For some, they're asymptomatic. For others, like Freddie Freeman, it's much, much worse. As his wife explained: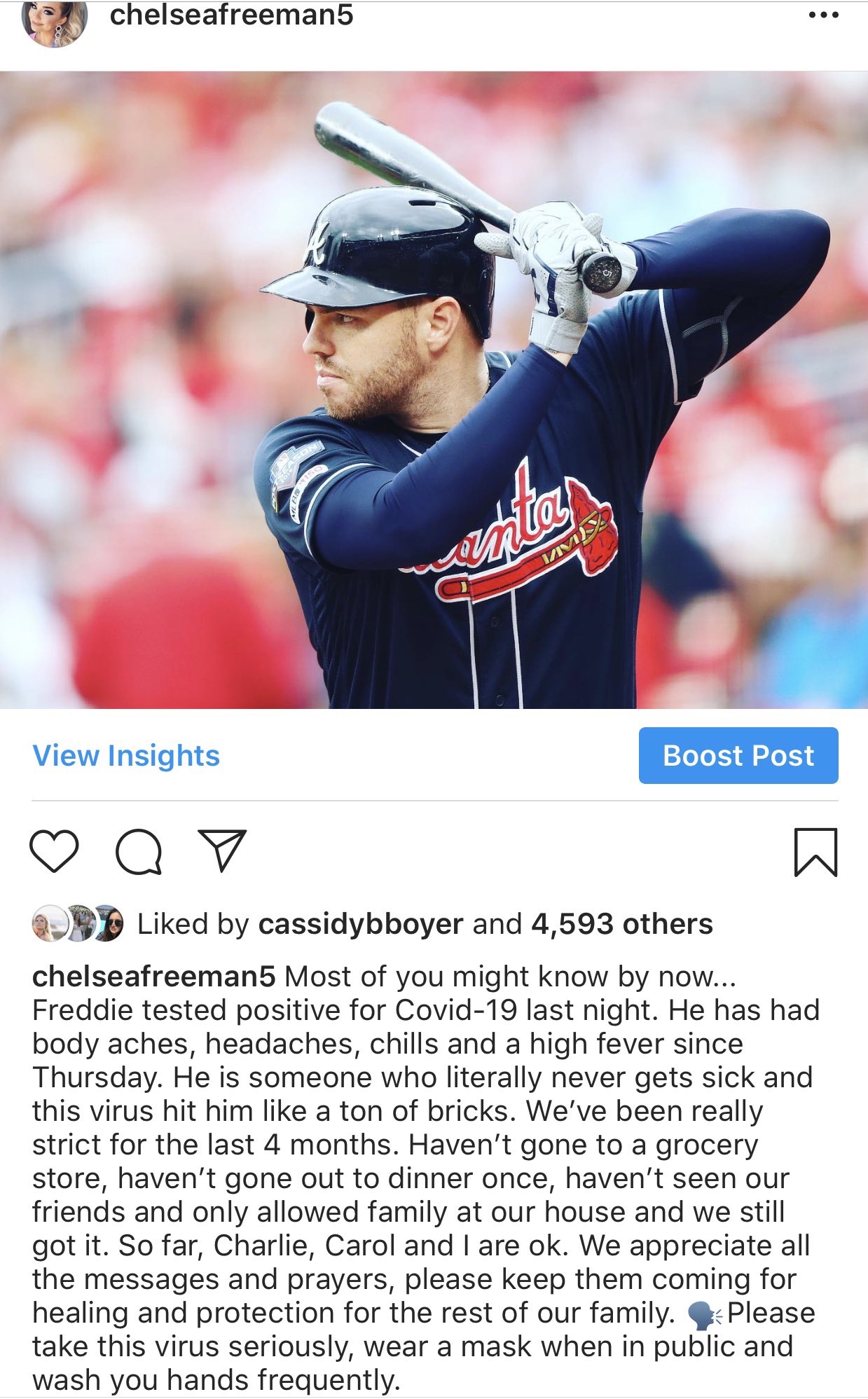 As Freeman's wife, Chelsea Freeman explained, COVID19 "hit him like a tom of bricks." Despite what some might believe, COVID19 affects athletes the same as other people. On that note, we don't know what the long term effects of this disease will be.
Another important factor here is the lengths to which the Freeman family undertook to protect themselves. According to them, they've been socially isolating as much a possible only interacting with family. And yet, Freeman still contracted this disease.
That speaks to how contagious COVID19 is. Between how contagious it is, players eventually getting in close proximity with one another, and the effects it can take on someone's health, you understand why other players may be nervous.
There's also the scary incident at Yankees camp yesterday. Giancarlo Stanton hit a line drive off the head of Masahiro Tanaka. Tanaka had to be taken to the hospital for examination thereby potentially exposing him to COVID19 infected individuals. Fortunately, reports are Tanaka are alright after that scary incident.
This has led to Mike Trout publicly hand wringing over whether he should play or stay home to protect his pregnant wife's health. It's now led David Price to opt out of the season.
— David Price (@DAVIDprice24) July 4, 2020
Price is making a decision to protect him and his family. That undeniably makes this the right decision. When you look at what Freeman is going through, it is fair for players to say the risk is too much and walk away from the 2020 season.
Price is certainly the most recognizable player to make this decision, and he won't be the last. In fact, Felix Hernandez made the same decision, and he will not be pitching for the Braves this year.
Players who sit out this season should be commended. They're doing exactly what they need to do – protect their families. That is far more important than "being a good teammate."
Such a charge against Price would be nonsense anyway. This is the same player well respected by teammates throughout his career, and he's the player who stepped up and who paid out $1,000 to the 220 minor leaguers in the Dodgers farm system ($220,000 total). That's being a good teammate and a better person.
Price made the right decision, and he should be commended for it. If you have any doubt, look at the teams with building cases as well as how much Freeman has been affected by COVID19.