Brandon Nimmo Didn't Say Masks Don't Work
With the Marlins having a rash of players testing positive for COVID19, there seems to be renewed focus on what players should be doing to protect themselves when they're on the field. To wit, Brandon Nimmo was asked about wearing a mask while playing, and his answer wasn't great:
Brandon Nimmo was asked if, in response to the Marlins' situation, he would consider wearing a mask on the field or be more hesitant to high-five teammates in the dugout. His answer: pic.twitter.com/y730H3Pvm6

— Jacob Resnick (@Jacob_Resnick) July 27, 2020
The mask discussion is one which never seems to go well, and this was no exception. The part of this quote which was oft cited and criticized was, "Actually for me, I think [the mask] does more harm than good."
Honestly, it wasn't the best quote, and it lost some of the measures Nimmo said he is undertaking. Many who reacted didn't leave much room for interpretation. Although to be fair, that quote didn't necessarily call for it.
On that note, Justin Toscano of nj.com proffered his interpretation of the quote:
Yeah, I took it as that he doesn't like wearing one when playing baseball because of the comfort level, not that masks don't do anything to prevent spread.

He also said in the session that the Mets are all continuing to wear masks any time they go out anywhere

— Justin Toscano (@JustinCToscano) July 27, 2020
The quote may not invite that interpretation, but there may have been more in the question and answer period with reporters which led to that understanding. If you're still skeptical, Nimmo's wife provided further context: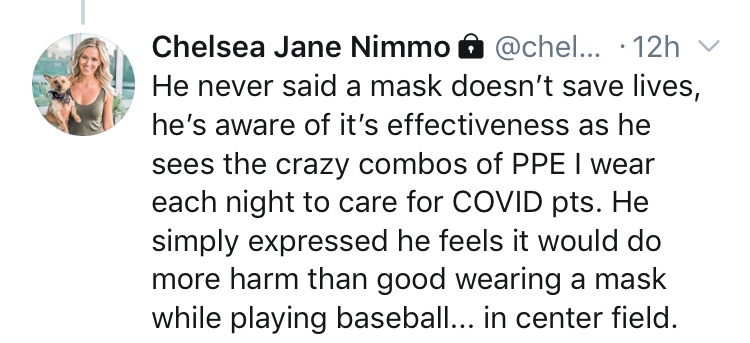 On that note, there is a very valid point to not wearing a mask in center. There are no protocols in place which suggest you need masks outdoors while you're well outside of six feet from another person.
If we want to get into whether he should be wearing a mask at the plate, on the base paths, and in the dugout, that's a worthwhile discussion. What we're all doing to prevent the spread of COVID19 is a worthwhile and important discussion, and we all should be having it.
Getting back to Nimmo, he apparently took the position masks aren't necessary while playing center field. He's actually correct there. He's also apparently taking precautions when he's out in public. That's great.
Overall, his quote needed to be better to match his actual thoughts, actions, and intentions. It was a poorly stated point, and it won't be the first or last time a ballplayer fails to fully articulate their point. Fortunately, despite the statement, it appears Nimmo does wear masks when necessary, which is good for him, his family, and the public at large.