Get Birthday Themed T-Shirts
Since my son's first birthday, my wife has made it a point to go out there and get number t-shirts for our son for each of his birthdays.  While not being initially enthusiastic about it for my son's first birthday, looking back on it the photos, I am truly happy she made that decision: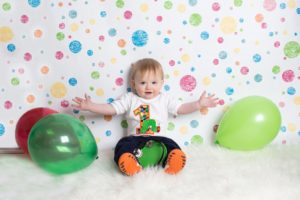 The first birthday one was the one that jumped off the page at me the most when going back at them.
Not only did it make for some cute photos of him for his first birthday, but it also reminded me of how much he loved The Very Hungry Caterpillar.  But it wasn't just the book, it was the collection of stories and the videos you could see on Netflix.
It brought me back to his first birthday party when we made sure to have one apple, two pears, three plums, four strawberries, and five oranges all out on display which we used as props when reading the story to my son that day.  Also served at his first birthday party was chocolate cake, ice cream cones, swiss cheese, salami, lollipops, cherry pie, sausage, cupcakes, water melon, and a nice green leaf (salad).
The overriding point here is with that one photograph, I was taken back to not just the day my son turned one but to all the things he loved and enjoyed around that time period.  I honestly don't believe one of the generic first birthday shirts would have done the same thing.
And yes, I did the same when I looked back at my son's shirts for his second (Elmo) and third (Thomas) birthdays: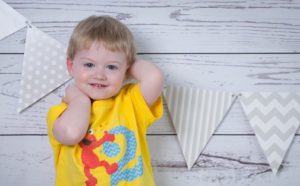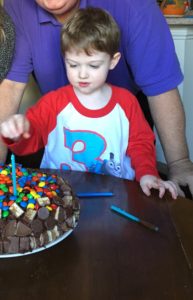 In some ways, these shirts are time capsules that take you back to certain memories and time periods.  It reminds you of who your child was as a person at that specific moment in time.  Also, for what it's worth, they make for some great photos (whether you do it yourself or go to a photographer).
Now, you may hold back a bit because of the expense, which is understandable.  Etsy isn't always the cheapest place on the planet.  Still, there are cheaper ways to do it.  You can always get a pack of colored or plain white t-shirts cheap from Target, and while you are there you can pick up Iron On print pages to make your own design.
So in the end, there is definitely a way to make the exact shirt you and/or your child wants for their birthday.  It will look great in photos, and the memories will last a lifetime.