Cars 3 Nationwide Tour
Because my son loves the movie Cars, we took my son to the Cars 3 Tour last weekend. Despite it initially being listed as being at Citi Field, the tour was moved to The Shops at Atlas Park. It was a good thing my wife decided to check the information the night before because we were all set to go to Citi Field. Part of the reason for that was the Mets ticket office confirmed for me that it was going to take place in the Citi Field parking lot despite the Mets being home. I digress.
When things of this nature happen, the obvious question that arises was whether it was worth it or not. Based upon the fun my son, it was certainly worth it. What was great about it was the event was completely free. There were no hidden costs anywhere. When you get there, there are no fees for anything. Also, there was no merchandise for sale. Basically, you are able to get in and get out without paying for anything except parking. To that end, it is a cheap day out with your child. Those days are few and far between.
Now, the one thing it will cost you is time. There are lines everywhere. Some locations have fast passes for entry available (for free), but those are limited. By this point, they have been snatched up. Another consideration is they get you entry only. You have to wait in line for the various events they have inside. Keep in mind, those lines move quickly.
The first stop was Alamo where you got to do "Street Art." Essentially, it is a large piece of paper where your child can use colored pencils and markers to color.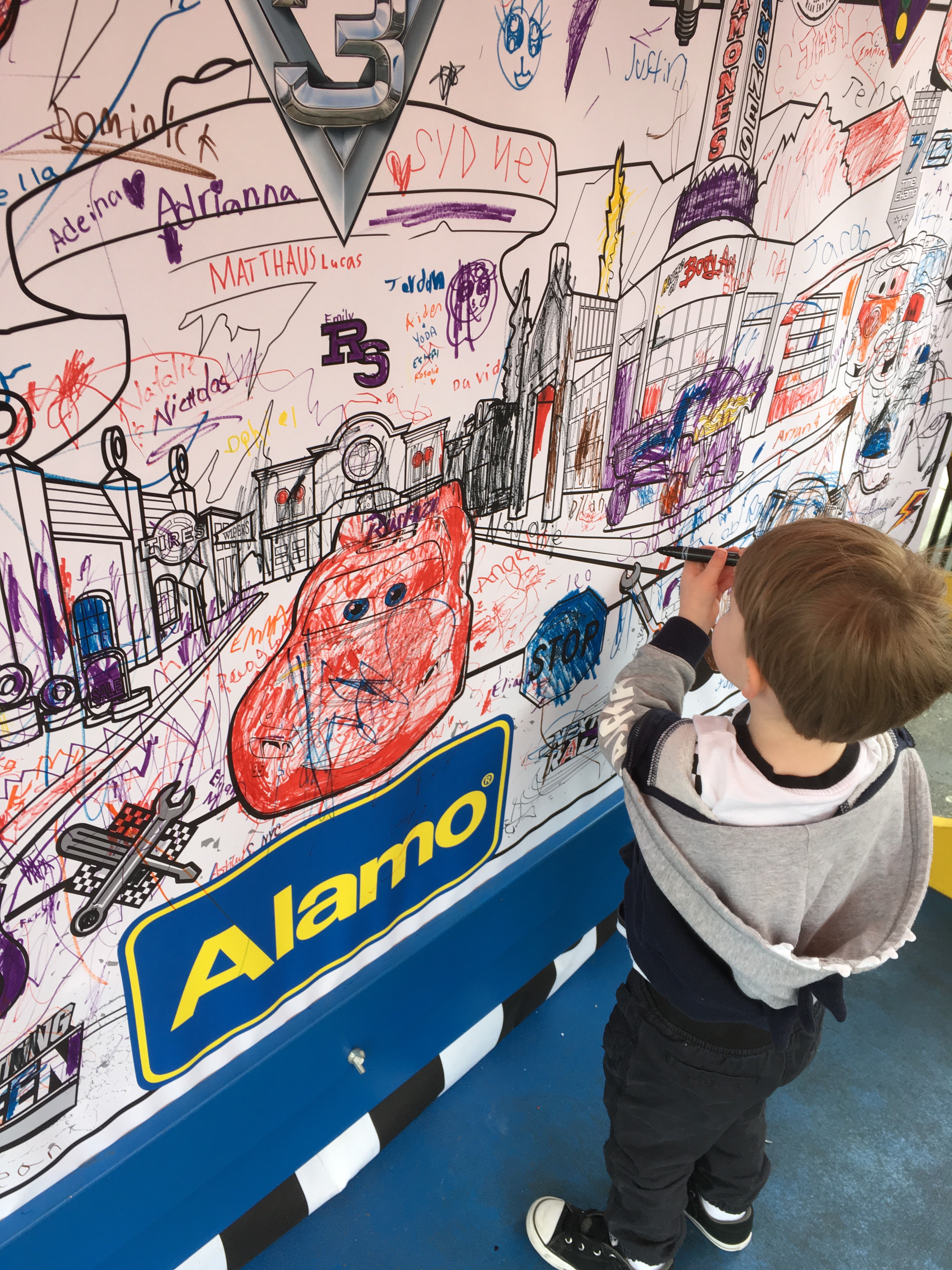 They change the sheets throughout the day so if your child is upset they didn't get to color in Lightning McQueen or another part of the picture, you can always circle back. Once you are done, Alamo will give your child a pack of colored pencils.
After that, there is a section where they have the Cars toys and toy sets. Your child can launch the different cars, and they can watch as the different cars "race."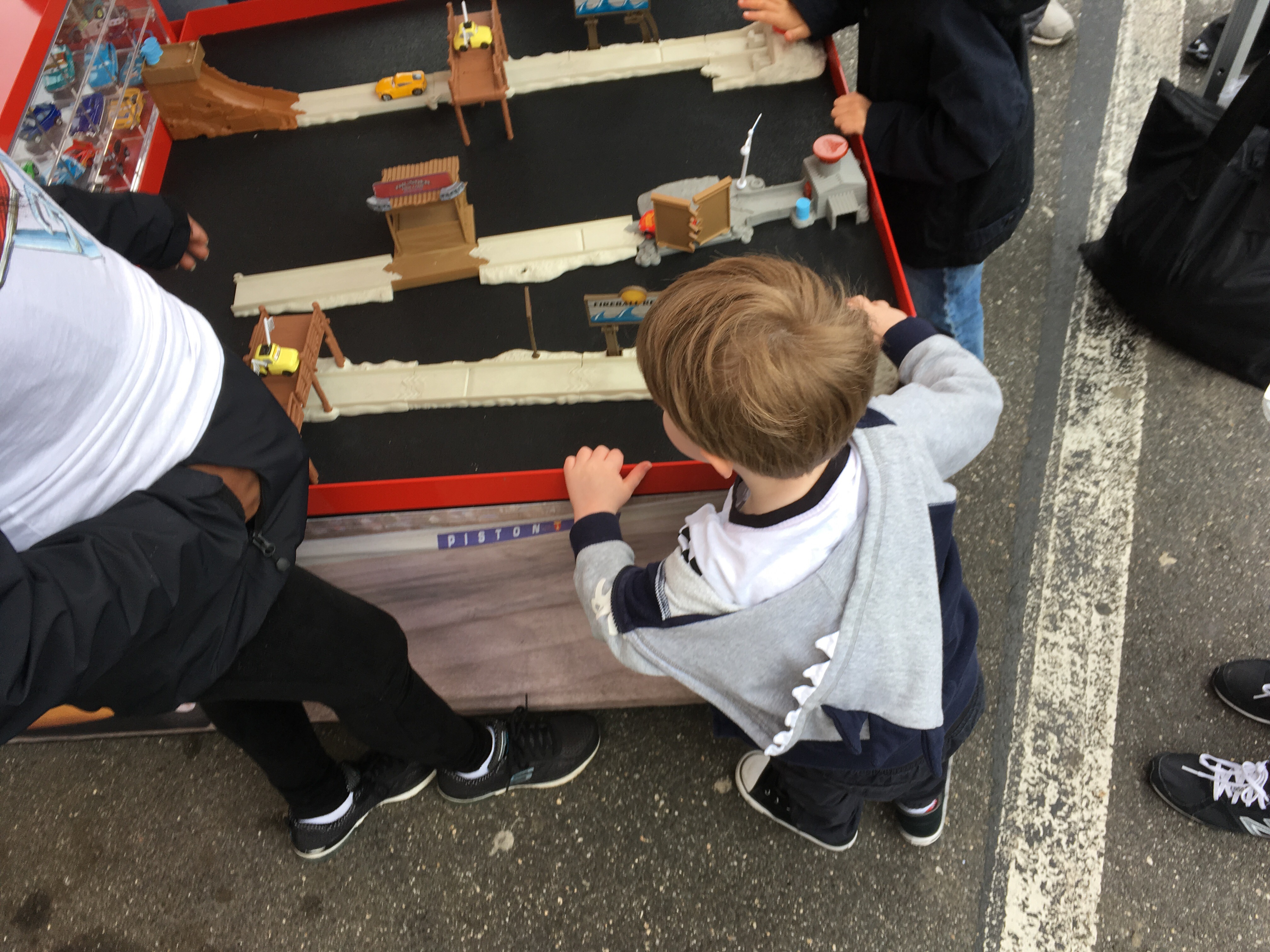 From there, you begin getting into more sponsored tents with different activities. These other tents provide a game and a photo opportunity as an avenue to get your information. The first was Coppertone who had something set up where your child can actually change a tire:
​
​At that stop, they give you Coppertone coupons, and they also allow you to take a family photo. Once you input your information, the items will be texted and/or emailed to you immediately.
The next stop is the Crest sponsored tent. There you can take a photo with a Cars background, and then your child gets to spin the wheel. The prizes there are toothpaste, a toothbrush, or Cars tattoos.
After that, you get to do the things you really came there to do. First is a stop where you can build your own Cars' car. It is a piece of paper that you can cut out and fold into a car shape. Your character choices are Lightning McQueen, who your child knew already, Cruz Ramirez, or Jackson Storm. Trust me, your children will know and want Cruz before the day is over. If your child doesn't want a character, you can opt for a blank color he can color himself. Considering it is an open air facility, you have the opportunity to go back multiple times and get them all. Either that, or you can ask nicely. The staff there was kind and courteous.
After building their own car, your child gets to watch a part of the movie. For those that visit these locations, they get to see a brief clip describing the making of the movie followed by a small clip of the movie. The long is long, but it is worth it. It is a 16 minute clip, and they get a good amount of people into the small theater. Typically, you are going to wait a half hour to an hour to watch it.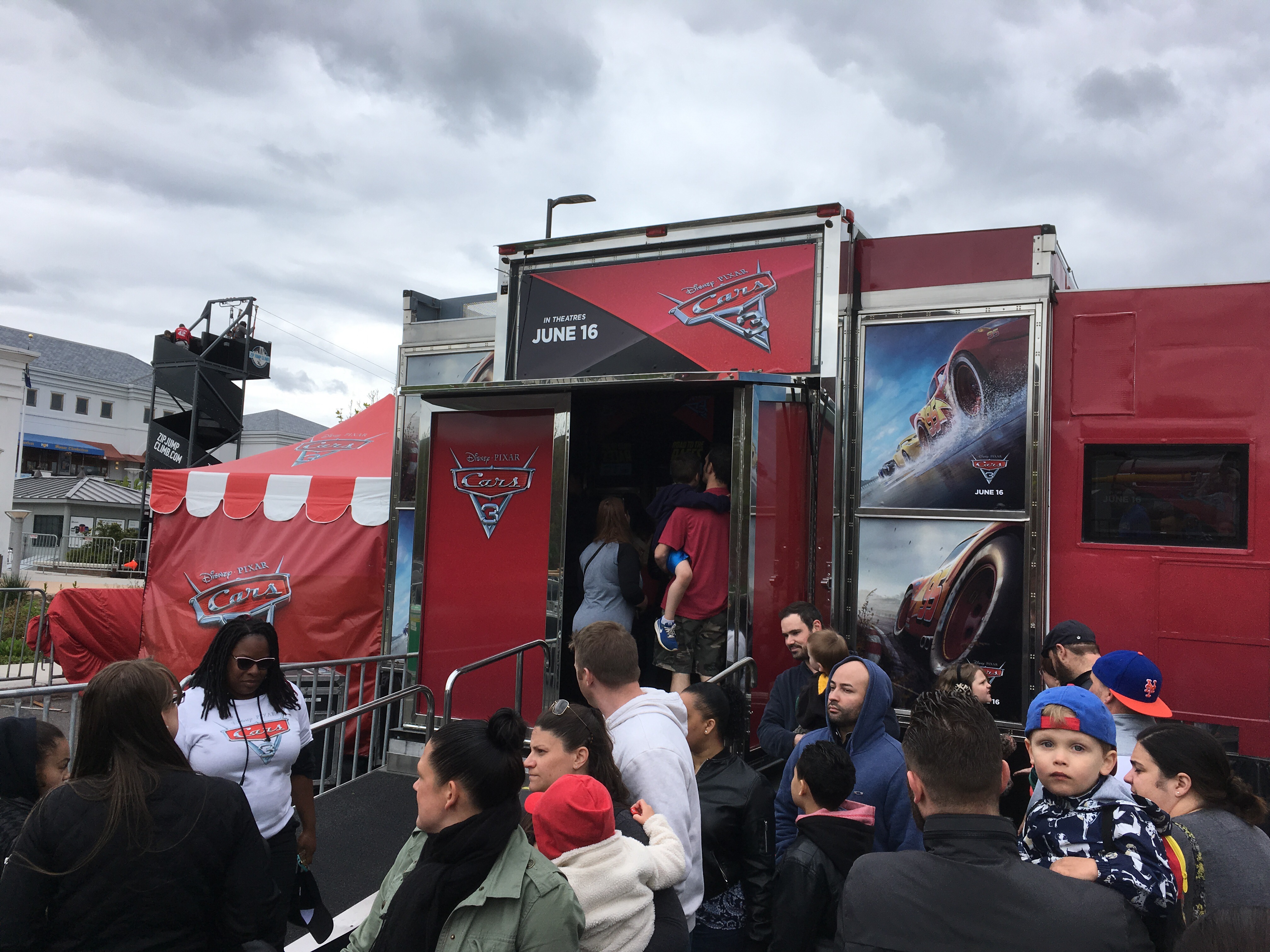 Finally, you get to see what you came there to see. They have Lightning McQueen, Cruz Ramirez, and Jackson Storm there for your children to see.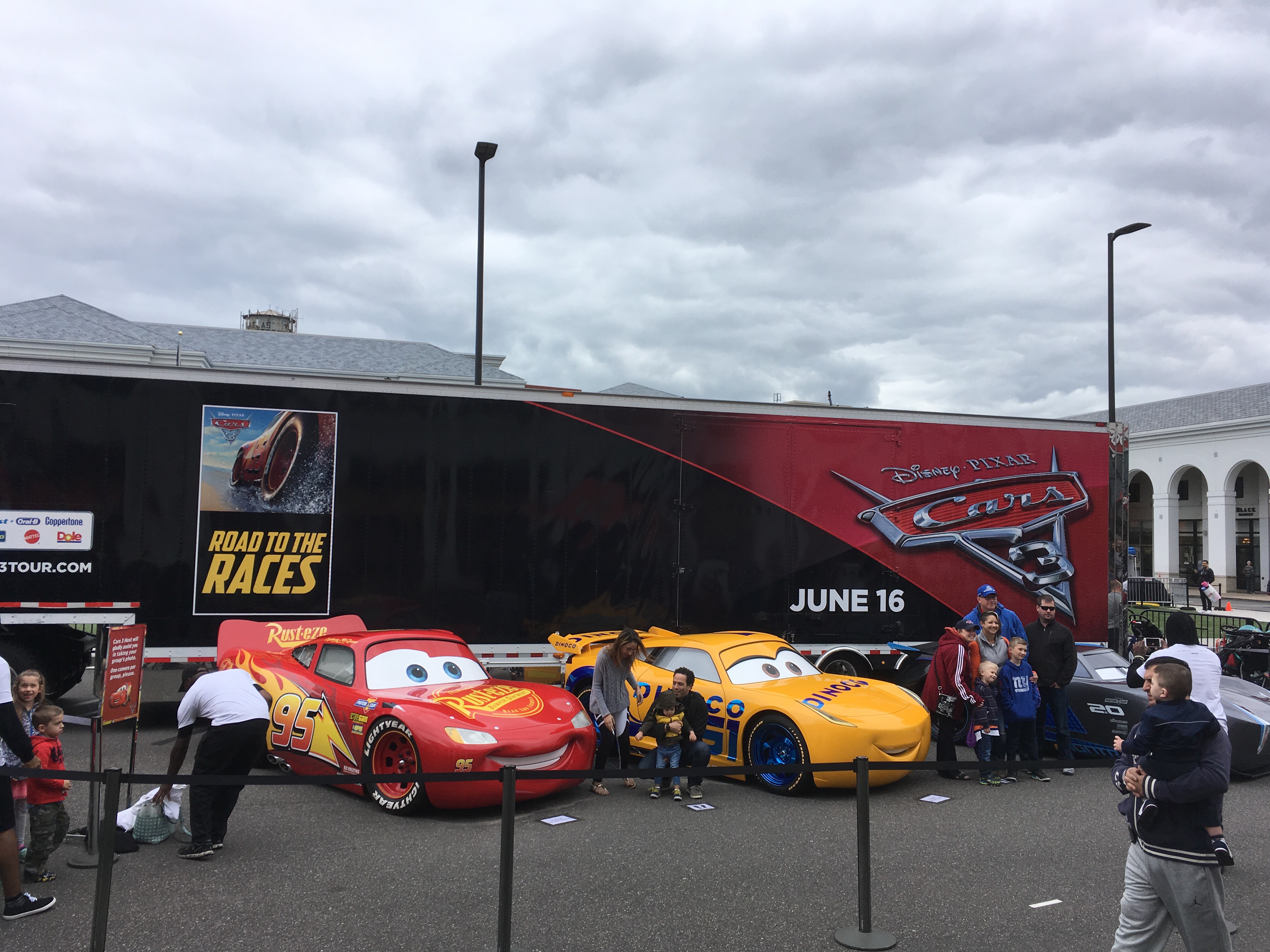 Note, it is to see only. You are not allowed to touch. They remind you of this constantly. While you cannot touch them, you are allowed to take a picture with each of the cars. They will only permit you to use one camera per group. Some of your photos may not come out as well as you would want because your child may be upset they cannot touch the cars. This is a good time to remind you that you can go through multiple times.
If you are lucky, the second time through your child will be in a better mood (if they were upset in the first place). Trust me, there were a lot of upset kids they could not touch the cars. Whether you go through once or twice, don't worry, they take a lot of pictures with each car. If someone blinks, there will be another photo where they aren't.
Overall, it took about an hour once your are inside, and it was a great day out with the family. It got my child excited to watch Cars 3. It also led to him asking for the new cars. Don't worry, there is a massive display of all the Cars 3 merchandise at Toys R Us.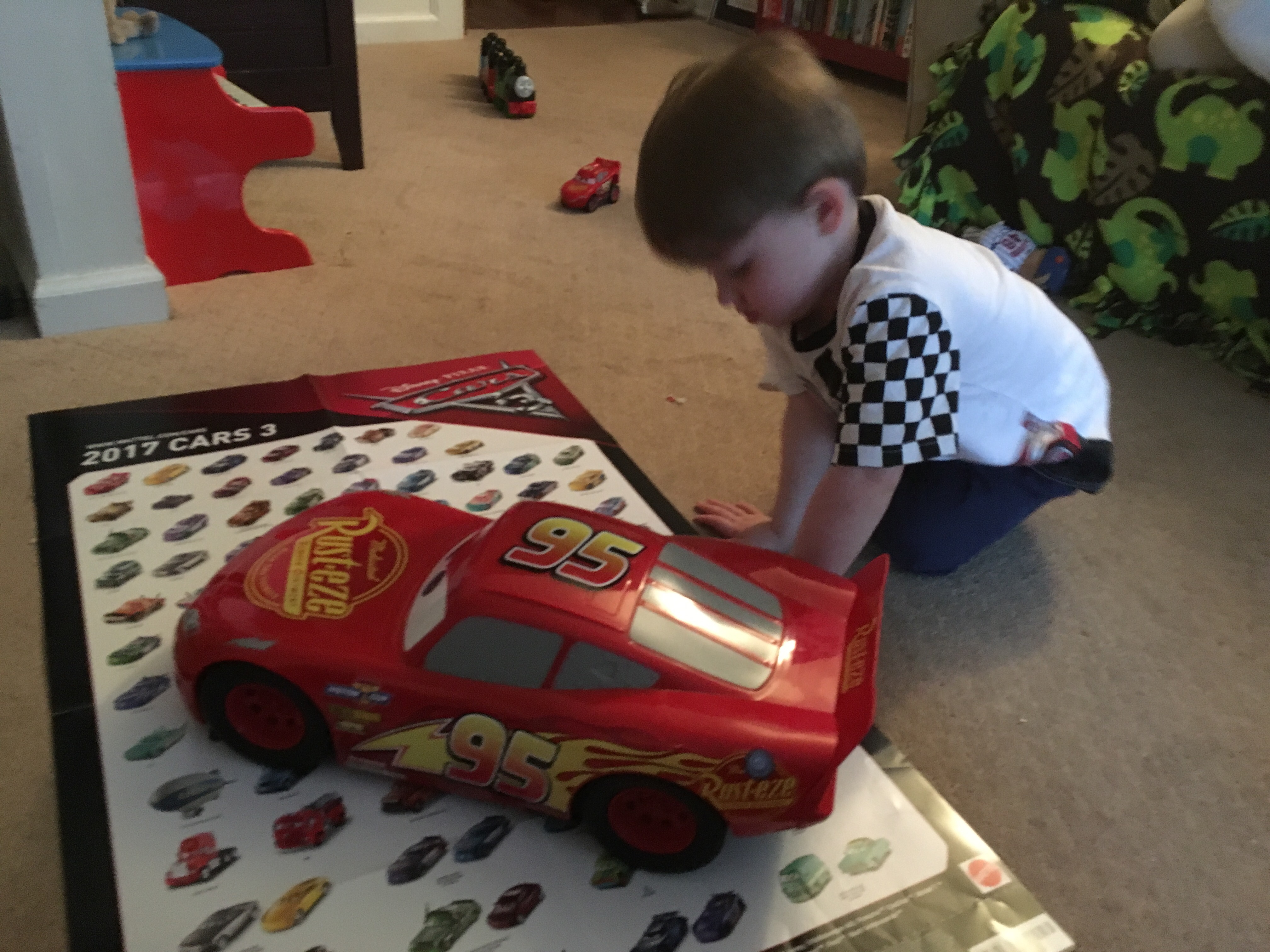 By the way, your kid will know what is available even without a trip to Toys R Us. On the way out, you receive a poster will all the cars available for sale. On the bright side, you also get a $5 coupon to see the movie at Regal Cinemas.
If you are interested and live in the tri-state area, this could be your last chance to see it. The Cars will be at the Cherry Hill Mall on Saturday, May 13th from 10 AM – 4 PM and Sunday, May 14th from 11 AM – 4 PM.