No One Will Overlook Verrett Again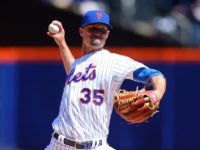 On Wednesday, Logan Verrett pitched six scoreless innings against at the Miami Marlins. Verrett allowed three hits, two walks, and six strikeouts. It was a remarkable start for a pitcher who was never supposed to be here.
Heading into the 2015 season, the Mets declined to put Verrett on the 40 man roster thereby exposing him the the Rule 5 draft. He was selected by the Orioles, who waived him when it was apparent he was not making their team. He was picked up by the Rangers, who made their Opening Day roster.
In very limited duty for the Rangers Verrett struggled. He pitched nine innings in four appearances with a 6.00 ERA and a 1.667 WHIP. Verrett was offered back to the Mets, who accepted him back and sent him to Triple-A.
Verrett first came up with the Mets in June to help an exhausted bullpen. He would pitch 12.1 innings over the course of six appearances. He had a sterling 0.73 ERA and 0.649 WHIP. Batters were only able to hit .100/.178/.100 against him. He recorded his first save. Despite this stellar performance, he would be sent back down to the minors to make room for Jenrry Mejia, who was returning from his first PED suspension.
In Verrett's second stint with the Mets in August, he would further prove his value. With the Mets needing to keep their young pitching staff fresh for the postseason, especially Matt Harvey, Verrett was called upon to make some spot starts. In his first start, he threw eight shutout innings in Coors Field of all places. He would follow that up with a couple a relief appearances and another strong spot start against the Marlins.
In total, Verrett would pitch in 14 games with the Mets making four spot starts. He was 1-1 with one save, a 3.03 ERA, and a 0.879 WHIP. In a season of incredible performances from a myriad of players, it's easy to overlook Verrett's contributions.
Then again, it's been easy to overlook Verrett. In an organization that seemingly churns out nothing but pitchers throwing 95 MPH plus striking people out left and right, Verrett uses all four of his pitches, including a 91 MPH, to get outs. While each and every Mets draft pick gets attention, he simply flew under the radar honing his skills and becoming a better pitcher. Perhaps that is why he became the first ever draft pick from the Sandy Alderson regime to play in the majors.
In 2016, Verrett made the Opening Day roster, and he's back to doing what he does best – pitching in whatever role the Mets need. In his spot start in place of the ailing Jacob deGrom, Verrett threw six shutout innings. Not only did he help prevent the Mets from getting swept by the Marlins, but he also pitched somewhat deep into the game to give a fatigued Mets bullpen some rest.
As we know, the Mets never intended to have Verrett start that game. Frankly, no one thought he would pitch a game for the Mets. However, because the Mets got lucky with the Orioles and Rangers overlooking how good he truly was, like the Mets once did themselves, Verrett is pitching in the majors showing the world what a truly talented pitcher he is.
No one is going to overlook him ever again.