Bastardo's Role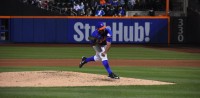 At a time when Mets fans were still clamoring for Yoenis Cespedes, the Mets made a move designed to sure up their bullpen when they signed Antonio Bastardo to a two year $12 million contract.
Generally speaking, the move was well received. While Bastardo was a left hander, he was not a LOOGY. For his career, he actually holds righties to a very respectable .211/.307/.331. Bastardo was a guy that the Mets could slot into the seventh or eighth inning. He was supposed to be a very important part of the Mets bullpen. So far, in 2016, it hasn't happened that way.
After a terrific stint with the Mets last year, Terry Collins handed the eighth to Addison Reed. After a terrific Spring Training and an even better start to the season, Jim Henderson has locked down the seventh. To date, Bastardo's role has been much less glamorous.
Bastardo's first appearance came in a Mets 7-2 trouncing of the Phillies. It was Bastardo's job to mop up the ninth inning. Last night, Bastardo was called upon to eat up a many innings as he could after Steven Matz only lasted 1.2 innings. Bastardo was the second guy in after Hansel Robles pitched the first 2.2 innings. Essentially, Robles is the seventh or last guy in the bullpen, and Bastardo is the sixth.
Somewhat surprisingly, Bastardo has become the forgotten man in the bullpen. Collins feels more comfortable going elsewhere when he's looking for a guy to get some important outs. It's too early to say or suggest that's he's in the doghouse, especially since the season's only six games deep. The fact is Collins feels more comfortable looking to Reed and Henderson. It's not what anyone had in mind when the Mets signed Bastardo this offseason.
With all that said, there's still a lot of games left to be played. As the season progresses, Bastardo is going to get some important innings. After he shows this Mets coaching staff what he can do in those situations, he will be put into more and more high leverage situations.
However, until that time, Collins is going to continue looking elsewhere when the game is on the line.
Editor's Note: this was also published on metsmerizedonline.com