What's the Deal with Erik Goeddel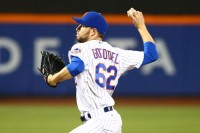 Coming into the 2016 season, the Mets should be talking about Erik Goeddel as a lock for the Mets bullpen.
In two years, Goeddel has made 41 appearances. In those 41 appearances, he has gone 1-1 with a 2.48 ERA, 1.000 WHIP, and 9.0 K/9. Advanced stats like him as well. Goeddel's ERA+ is 150, and his FIP is 2.58. He had a low to mid 90's fastball, curveball, and a splitter. The discussion shouldn't be about if he'll make the roster. No, the discussion should be what inning is he going to get.
So, why is his position on the roster in peril?
For starters, Goeddel is hurt with a lat strain. On Wednesday, he just started throwing from 120 feet to start getting ready for the season. While Goeddel is rehabbing, once long shot candidates like Jim Henderson and Josh Smoker are pitching well in Spring Training games. They are trying to force their way onto the Opening Day roster.
Ultimately, injuries are Goeddel's biggest problem. He has had THREE TOMMY JOHN SURGERIES! Even with all of that, he still went on the 60 day DL last year with an elbow strain requiring platlet rich therapy. In sum, while Goeddel has the stuff and the results, he cannot be relied upon over the course of a 162 game season.
With everything that has gone against Goeddel in his career, it's a flat out miracle that he made it to the majors. It's a testament to his will, tenacity, and yes, talent helped him succeed when he made it to the majors. It's heartbreaking that when he gets to the majors and succeeds, his elbow betrays him again.
Right now, it's his lat. He needs to proceed cautiously because any injury to the core or legs can lead to either an arm injury or an exacerbation of an existing arm injury. The last thing anyone wants to see is Goeddel suffer another elbow problem.
So with that, Goeddel may not make the Opening Day roster. He will be heard from this year, but at no point should the Mets count on him going forward.