How Much Money Will the Mets Have to Re-Sign Their Pitching?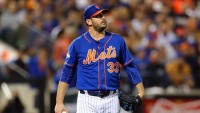 One of the many blurbs that have surfaced from Yoenis Cespedes press conference is the Mets believe they can keep this young rotation together:
While Sandy said he thinks team could sign all starters, realistically just hard to envision a team doing that unless payroll is $200m.

— Matt Ehalt (@MattEhalt) February 3, 2016
Now, the $200 million is conjecture. To be fair, if you polled most Mets fans, or really anyone for that matter, they would agree with this assessment. Rather than take it at face value, I figured it would be better to actually try to figure out if it's possible.
Of all of the Mets pitchers, Matt Harvey has reached the arbitration stage of his career, and he agreed to $4.325 million to play in 2016. He will be a free agent in 2019. That's the key timeframe because that's the point when these starting pitchers will start receiving large free agent deals.
Right now, the Mets payroll stands around $140 million. Before figuring out how much these pitchers will cost, we should figure out which of the players on the payroll whose contracts will expire by the time Harvey first reaches free agency along with their 2016 salaries:
Yoenis Cespedes $27.5 million (free agent 2019)
Curtis Granderson $16 million (free agent 2018)
Neil Walker $10.55 million (free agent 2017)
Asdrubal Cabrera $8.25 million (free agent 2018)
Bartolo Colon $7.25 million (free agent 2017)
Addison Reed $5.3 million (free agent 2018)
Antonio Bastardo $5.375 million (free agent 2018)
Jeurys Familia $4.1 million (free agent 2019)
Jerry Blevins $4 million (free agent 2017)
Lucas Duda $6.725 million (free agent 2018)
Jenrry Mejia $2.47 million* (free agent 2019)
Ruben Tejada $3 million (free agent 2018)
Before proceeding, it should be noted the Mets only owe Mejia a pro-rated portion of the $2.47 million due to his suspension. Mejia served 62 games of his 162 game suspension last year meaning the Mets will owe him roughly $945,000 next year.
Without factoring in arbitration increases and the like, the Mets payroll will decrease by $98,995,000. That means the Mets payroll obligations would be around $41 million. When you look at David Wright's salary, it will actually decrease by an additional $5 million to reduce obligations to $36 million. On the other side of that coin, Juan Lagares' $2.5 million 2016 salary jumps to $9.0 million in 2019. That's a $6.5 million increase. As a result, the Mets 2019 payroll obligations will be $42.5 million.
If payroll remains stagnant, that means the Mets will have $97.5 million to fill out their roster and pay their starting pitchers.
Part two will analyze how much of this money will be attributed towards position players.