Cespedes Projects a Fun 2016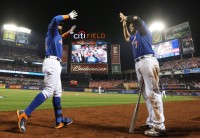 It's incredible to think Yoenis Cespedes is back with the Mets. Everyone associated with the Mets should be thrilled. Cespedes' presence on the Mets makes them a better team than the one they had. The question is how much better.
Well, first let's get some things out of the way. Cespedes will not be as good as he was when he first came to the Mets. He was insanely hot. He hit 17 homers in a less than two months. That's roughly a 50 homerun pace. He has power, but he's never shown that much power. Cespedes also isn't the .150 hitter we saw struggle in the World Series. As with everything else in life, the truth is somewhere inbetween.
Cespedes is a career .271/.319/.486 hitter. In an average season, he hits 30 homers and 103 RBI. His OPS+ is 122. His wRC+ is 121. All of this is to say that while he's not the hitter he was initially with the Mets, he's still a very effective slugger. The various projections seem to think he'll hit a little worse than his career averages next year:
Marcel: .265/.309/.480 with 26 homers and 88 RBI
Steamer: .266/.312/.463 with 26 homers and 72 RBI
ZiPS: .270/.312/.498 with 30 homers and 98 RBI
So, the projection systems, for what they're worth, see Cespedes' production dipping slightly in 2016. Part of that could be his first post-30 year old season. Part could be his .236/.302/.491 batting line Cespedes has had at Citi Field. I believe all Mets fans believe the reason should be that these projections are plain wrong and Cespedes will be more like he was in August and September.
The thing is Cespedes is going to have to be that 30+ homerun guy for the Mets. He needs to be that guy not only because the lineup needs another power threat, but also the fact that he needs to makeup for the fact that he's a poor centerfielder. Remember, he has a career -12.6 UZR and -17 DRS in centerfield. Those are ugly numbers. Numbers which should be somewhat abated by Juan Lagares coming in late as a defensive replacement thereby shifting Cespedes to his natural LF.
So overall, it seems Cespedes will be poor defensively, and he will hit for power. More importantly, with Cespedes the Mets should be projected to win the NL East. Once the Mets get to that point, they have the pitching to win the World Series.
I'm projecting a very fun 2016 ahead.