The Mets Bullpen is Great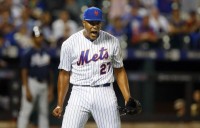 When the Mets added Addison Reed right before the waiver trade deadline, the Mets had their sights set on a shutdown 7-8-9 featuring three closers. So far, each of them have performed extremely well.
You know what's shocking? Even though the Mets have had the Addison Reed-Tyler Clippard–Jeurys Familia triumvirate together for three weeks, they only appeared together in the same game only three times. They've never collectively blown a lead, but the tandem has only resulted in one save. Like last night, it had more to do with the Mets tacking on eighth inning runs more than anything.
In any event, Mets fans can be confident the bullpen can hold leads and/or keep the Mets in a game. I also believe the Mets will ride this trio hard because the Mets starters go deep into games. Jacob deGrom and Matt Harvey average 6.1 innings per start (average rounded down to nearest third of an inning). Noah Syndergaard and Steven Matz average 6.0 innings per start (major league starts only). Bartolo Colon averages six innings per start. Jon Niese isn't going to start in the playoffs.
If you're starters are going at least six, you only need your triumvirate. If your starters are going less than five, you're in trouble anyway. Even if you need to pull a starter early, there are viable options. Hansel Robles has been terrific, especially in the second half with a 2.60 ERA, 0.904 WHIP, 12.4 K/9, and a triple slash of .173/.250/.429. He's been good enough to consider him as part of a 6-7-8-9 shut down bullpen.
In a do or die game, Terry Collins has shown he will manage accordingly. He will have a quick hook and trust his key bullpen arms. If he will lean heavily on these three or four guys that's good news. Familia for one has shown the ability to go multiple innings. I imagine Collins is going to ride him like Joe Torre rode Mariano Rivera (calm down, it's only a usage comparison).
For people worrying about the 11 runs allowed by the bullpen on Sunday, don't. Robles had a hick up. He's allowed. Eric O'Flaherty pitched in that game while the game was still in the balance. He won't pitch in the playoffs. I'm going to discount this game especially with the rough Robles outing and the relievers that appeared in the game.
Overall, the Mets bullpen is in great shape heading into the playoffs. They can stretch out their main four guys in a do or die game. These guys can keep a game close or hold a lead. I'm even confident after the last Nationals series, Collins will deploy them properly and out them in a position to succeed.
Surprisingly, the bullpen is a major strength of this team . . . even if no one is saying it.