The Mets entered June six back of the Nationals and a half a game ahead of the Marlins for the second Wild Card.  After a 13-13 month, which was their first month at or above .500 since April, the Mets find themselves 6.5 games back in the NL East race behind both the Nationals and the Marlins.  They not only trail the Marlins in the NL East race, but they are 2.5 games behind them for the last Wild Card spot.  The Mets have also fallen behind the Cardinals in the Wild Card race as well.
Bear in mind, these grades are on a curve. If a bench player gets an A and a position player gets a B, it doesn't mean the bench player is having a better year. Rather, it means the bench player is performing better in his role.
Position Players
Travis d'Arnaud (D). It has been more of the same for d'Arnaud in July, and as such, the Mets were forced to inquire on Jonathan Lucroy at the trade deadline.  On the bright side, he began to hit for some power hitting two home runs.
Kevin Plawecki (F). Plawecki was sent down to AAA, and he began hitting like everyone else in the Pacific Coast League.  The jury is still out on him.
Rene Rivera (B+).  While his defense has dipped a bit, Rivera has been absolutely raking.  He has clearly benefitted from facing left-hand pitching.  Still, he's here to be the defensive backup, and he hasn't been as great as he has been in year's past.
Lucas Duda (Inc). He missed the entire month with his back injuries, and no one knows when or if he will be able to return in 2016.
James Loney (B). Loney has continued to hit, but his power numbers have regressed to the mean.  He still can't hit lefties a lick.  Furthermore, his defense hasn't been great.  His error in the Rockies game helped lead to a loss.
Neil Walker (C).  He was actually hitting worse in June than he had been in May and June, which is saying something.  He was even briefly benched by Terry Collins.  Then he woke up in the Rockies series, and yesterday he hit a home run that just might turn his and the Mets season around.
David Wright (Inc.).  Wright is not going to play again in 2016 due to the neck surgery.
Asdrubal Cabrera (C). Cabrera started out hot to start the month, but he cooled off.  As a result, he put up similar numbers that he did in May and June.  On the bright side, he did break his 0-32 streak with runners in scoring position.  He had a nasty injury yesterday that threatens to end his season early.
Wilmer Flores (B+).  Flores has continued to rake putting up numbers at an unprecedented.  This month he hit seven homers.  He has benefited greatly by mostly facing left-handed pitchers.  The Mets will need his versatility all the more as injuries mounted during the month.
Eric Campbell (Inc.) Campbell did not play in a game during the month, and the Mets are not likely to call him up again until rosters expand in September.
Matt Reynolds (Inc).  Reynolds only played in one game during the month before getting sent down to AAA.
Ty Kelly (Inc).  Kelly did not play in the majors during the month of July, and his 40 man roster spot appears tenuous.  If the Mets make a move for a position player, he will likely be the first to be removed from the roster.
Michael Conforto (C+)  After an initial hot streak when he came back up, he has cooled off, possibly in part to Terry Collins giving him inconsistent playing time again, and possibly in part to him having to learn center field and right field on the fly given Cespedes' and Lagares' injuries.  For what it's worth, he has handled both defensive positions well.
Yoenis Cespedes (B+). While his power numbers have decreased with his injured quad, he has become more patient at the plate putting up a season high .392 OBP in July.  His power is still there with a .530 SLG; it's just that those balls are doubles now instead of homers.  His injury has hurt the team as he can no longer play center.
Curtis Granderson (C-). Granderson had his second worst month of the season hitting .235/.337/.410, and he is not playing right field at the Gold Glove level he played it last year.
Juan Lagares (D). It turns out Lagares just couldn't play through the torn ligament in his left thumb hitting .160/.263/.300.  He has shut it down, and he is going to get surgery to repair the problem.
Alejandro De Aza (A+). De Aza had an amazing month of July .300/.500/.531. As you can plainly see, he's hitting everything including lefties.  It speaks a lot about both him and the Mets that he was their best offensive player during the month.
Brandon Nimmo (B-).  In 13 games, Nimmo was showed signs he could be a major league player in the near future in his two stints with the Mets.  Overall, he hit .229/.325/.314 with one huge home run.  For some reason, even with the gap in center field, Collins still refuses to let him play there.
Jose Reyes (C)  Reyes quickly acclimated to third defensively as he appeared to have been a very good defender at the position for years.  At the plate, he had some uncharacteristically good power numbers while struggling to get on base with a .239/.278/.493 batting line.  He has been unable to hit righties doing most of his damage against lefties.  He is currently on the disabled list with an intercostal strain, and it is unknown when he can return.
Justin Ruggiano (Inc). The Texas Rangers AAA castoff has played in only two games for the Mets going 1-4.
Pitchers
Matt Harvey (Inc).  Harvey only made one start in July before the Mets finally discovered he has thoracic outlet syndrome which may explain the struggles he has had all year.  Harvey had season ending surgery, and he will hopefully return in 2017.
Jacob deGrom (B+).  In a month where the Mets needed someone to step up, degrom heeded the call posting a 3-1 record with a 2.27 ERA including his first shutout.  However, he did have a clunker against the Marlins who are now ahead of the Mets in the Wild Card standings.
Noah Syndergaard (B). Syndergaard has lost some velocity and movement on his pitches since it was discovered he is dealing with a bone spur in his pitching elbow.  For the month, he was a respectable 1-2 with a 2.45 ERA.  The main cause for concern is his walks have gone up.
Steven Matz (C-). Matz has been clearly bothered by the bone spurs, but he is starting to learn how to pitch effectively with him.  He rebounded from a terrible June to post a 1-4 record with a 3.19 ERA.
Bartolo Colon (D-). Aside from one good start in the second end of the double header against the Cardinals, Colon has had a miserable month with a 5.51 ERA and a 1.347 WHIP.
Logan Verrett (B-). Verrett was thrust into the starting rotation with the Harvey season ending injury.  He has performed well enough as a starter going 0-1 with a 4.32 ERA and 1.240 WHIP that the Mets did not feel compelled to go out and get a starter during the trade deadline or call up a pitcher like Gabriel Ynoa to take his place in the rotation.
Jeurys Familia (C-) Familia was walking a tightrope for a while with his struggling command, and he finally blew two saves in back-to-back appearances that were just devastating.
Addison Reed (A+).  In 13 innings, only five people reached base against him, and none of them scored.
Jim Henderson (Inc).  Henderson is still on the disabled list, and he suffered a leg injury during his rehab stint.  There is no telling when or if he will be able to return.
Hansel Robles (A+). When the Mets were looking for a veteran seventh inning reliever, Robles just went out there and took the job.  In 10 appearances he was 3-0 with a 0.00 ERA.
Jerry Blevins (A).  Aside from his last game when he had a minor hiccup, Blevins had a terrific July allowing just two hits and one earned run in 13 appearances.
Antonio Bastardo (F). Bastardo seemed to be slowly turning things around in non-pressure situtations.  However, as we saw Carlos Gonzalez launch one near the Shea Bridge, Bastardo cannot be relied upon in any game that is remotely close.
Rafael Montero (Inc.) Didn't pitch in the majors in June as he's been demoted to AA.
Sean Gilmartin (Inc.)  Gilmartin is on the seven day disabled list with a shoulder injury.  There is no timetable for his return.
Erik Goeddel (F).  Goeddel really struggled in the month of July posting a 6.10 ERA in 11 appearances.
Seth Lugo (B) He was electric in this first three appearances even making Anthony Rizzo look silly by striking him out with a curveball that hit Rizzo's foot.  He has been solid since then, but he has come back to earth a bit.  For the month, he has a 2.60 ERA and a 0.968 WHIP.  He would be helped by getting regular work.
Terry Collins (F). While it could be argued he has been dealing with an injury plagued roster (he has), Collins still does not make sound decisions on a day-in and day-out basis.  For the man who said, the Mets couldn't be in a position to both win-now and develop players like Conforto, he has managed to do neither.  He also seemingly alienated his players at the All Start Game.
Last year, the Mets were coming off an absolutely brutal loss to the San Diego Padres on the eve of the trade deadline. As the team blew a 7-1 lead, it seemed like all hope was lost.
However, the Mets front office didn't share the same sense of diapair. They were active on the phones trying to improve a team that was three games behind the Nationals. They were a team who had an extremely weak August schedule. They were a team in the mend with Travis d'Arnaud, Michael Cuddyer, and David Wright expected to return from the disabled list.
It was a good team getting healthy facing a favorable schedule ready for a three game set at home against the first place Nationals. It was behind this backdrop that the Yoenis Cespedes trade happened.
Seeing Cespedes hobbled out there is a stark reminder that this year is not last year. This is a Mets team that isn't getting healthy. In fact, they're falling like flies. Here is a list of the players currently on the disabled list:
David Wright
This does not include Noah Syndergaard or Steven Matz who both have bone spurs in their pitching elbows that will need to be surgically removed in the offseason.
This list also does not even include Asdrubal Cabrera who left yesterday's game with what is initially being described as a strained patellar tendon. He seems as if he's bound for the disabled list. With Cabrera going down, it will create another hole in not just the lineup, but with the defense.
With Cespedes' injury and Lagares' surgery, the Mets are left scrambling to find a center fielder. They have tried Curtis Granderson out there, and after one game, the Mets saw enough. Against righties, the Mets have tried Michael Conforto in center, and he has held his own. Just recently, the Mets signed Justin Ruggiano, who was playing in AAA before being released by the Rangers.
With Cabrera injured and seemingly bound for the disabled list, it leaves the Mets scrambling to find adequate defenders at the two most important defensive positions. It will also mean Neil Walker, who has hit .234/.316/.343 since May 1st, will be the only starting infielder remaining from the Opening Day Lineup.
By no means is Walker the only one struggling:
2015 – .259/.364/.457 with 33 doubles, two triples, 26 homers, and 70 RBI
2016 – .234/.326/.431 with 16 doubles, four triples, 16 homers, and 29 RBI
Michael Conforto
2015 – .270/.335/.506 with 14 doubles, nine homers, and 26 RBI
2016 – .225/.303/.419 with 14 doubles, or triple, 10 homers, homers, and 30 RBI
Travis d'Arnaud
2015 – .268/.340/.485 with 14 doubles, one triple, 12 homers, and 42 RBI
2016 – .249/.290/.321 with five doubles, two homers, and 10 RBI
All across the diamond, the Mets are dealing with injuries, under performance, or both. According to Baseball Reference, the Mets have the lowest team WAR at shortstop, third base, and right field among National League teams in the playoff hunt.
Further exacerbating the Mets struggles is their August schedule. There are the four emotionally charged Subway Series games along with series against the Tigers, Giants, Cardinals, and Marlins. There is s short West Coast trip. The combined record of their opponents is 416-369, which is good for a .530 winning percentage. With this schedule and the state of the Mets roster, things can fall apart quickly.
In reality, neither Jonathan Lucroy nor Jay Bruce help these problems. They do not solve the defensive gap at short or center. They cannot heal the players on the disabled list. They cannot make the schedule any easier. No, the only thing they can do is to join the Mets and play well.
However, if the Mets don't get healthy or start playing better, there's no point in adding Lucroy or Bruce. They don't solve the Mets real problems, and they likely don't put the Mets over the top.
With that in mind, there's no sense on buying at the deadline. You're just purging prospects to help acquire players who will most likely not be difference makers. There's also no sense to selling because this is a talented team that needs to find that next gear.
With that in mind, as frustrating as it might be, the Mets best option might be to stand pat.
It was a muggy and rainy day that might've lead to the game being called on any other night.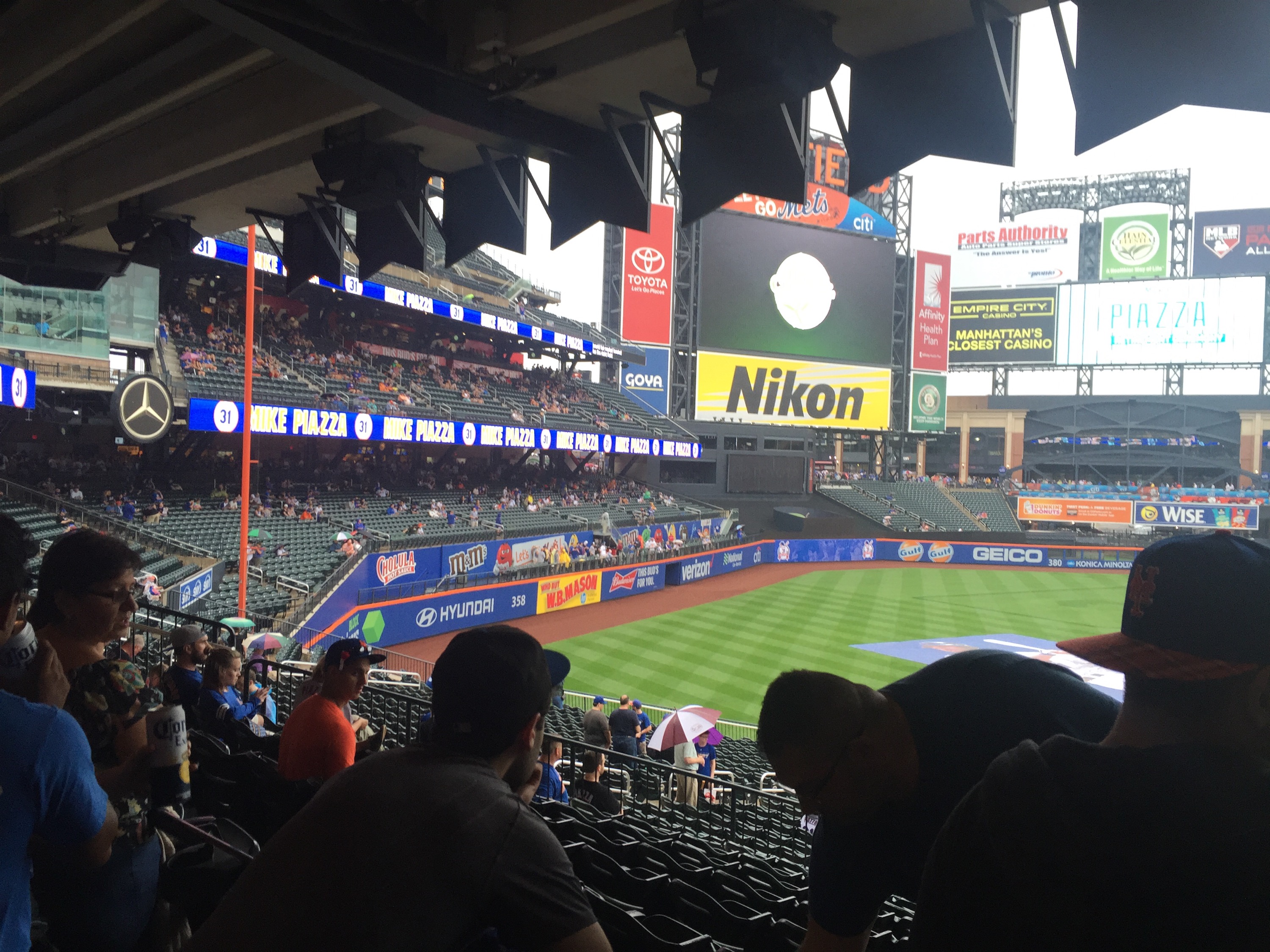 But they weren't going to call this game as it was the night the Mets were retiring Mike Piazza's number 31. With the 31 inside a home plate mowed into centerfield, the Mets were ready, and nothing was going to stop the night.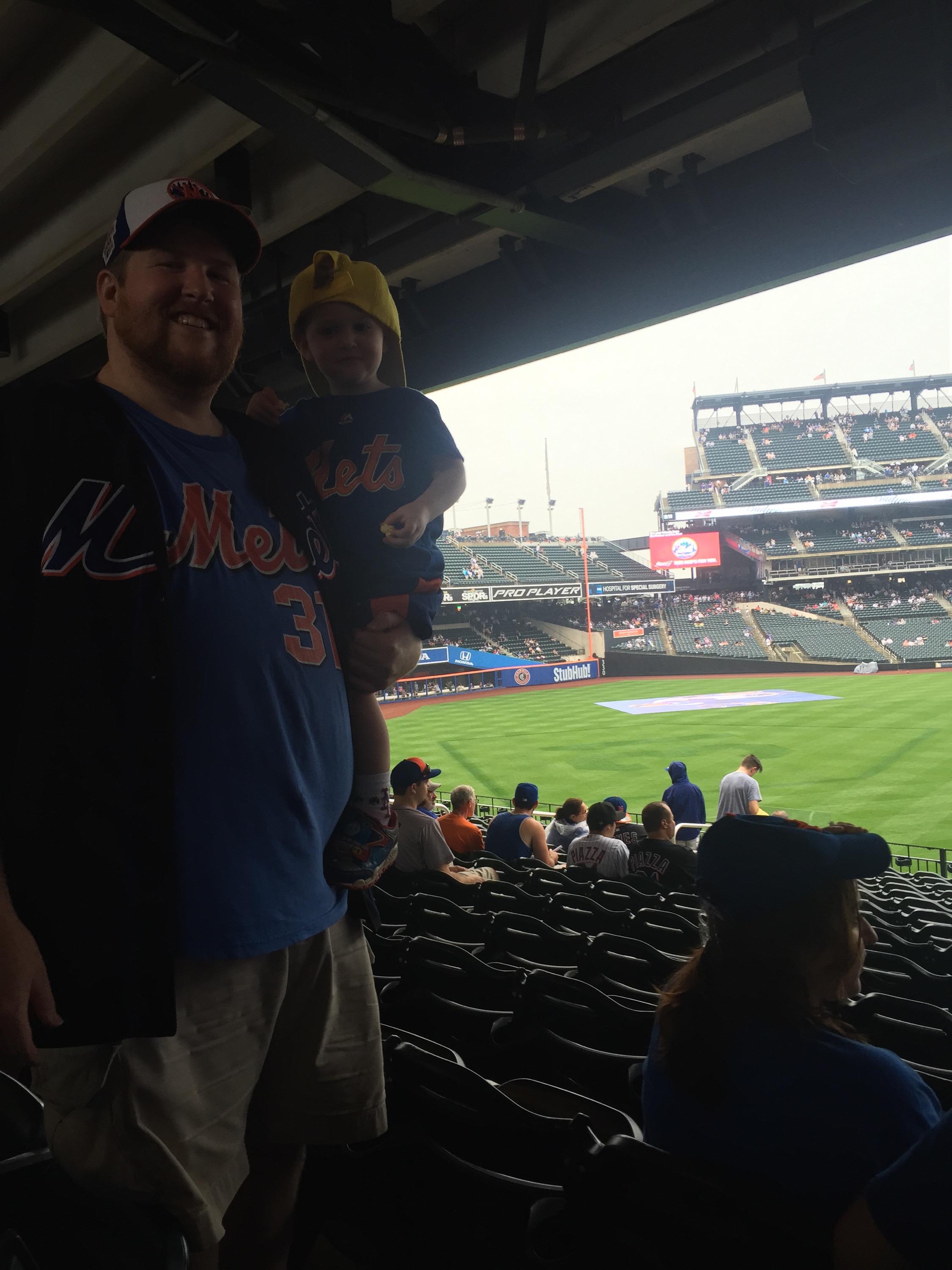 The ceremony was just about perfect with a video featuring Piazza standing at the spot home plate once stood at Shea Stadium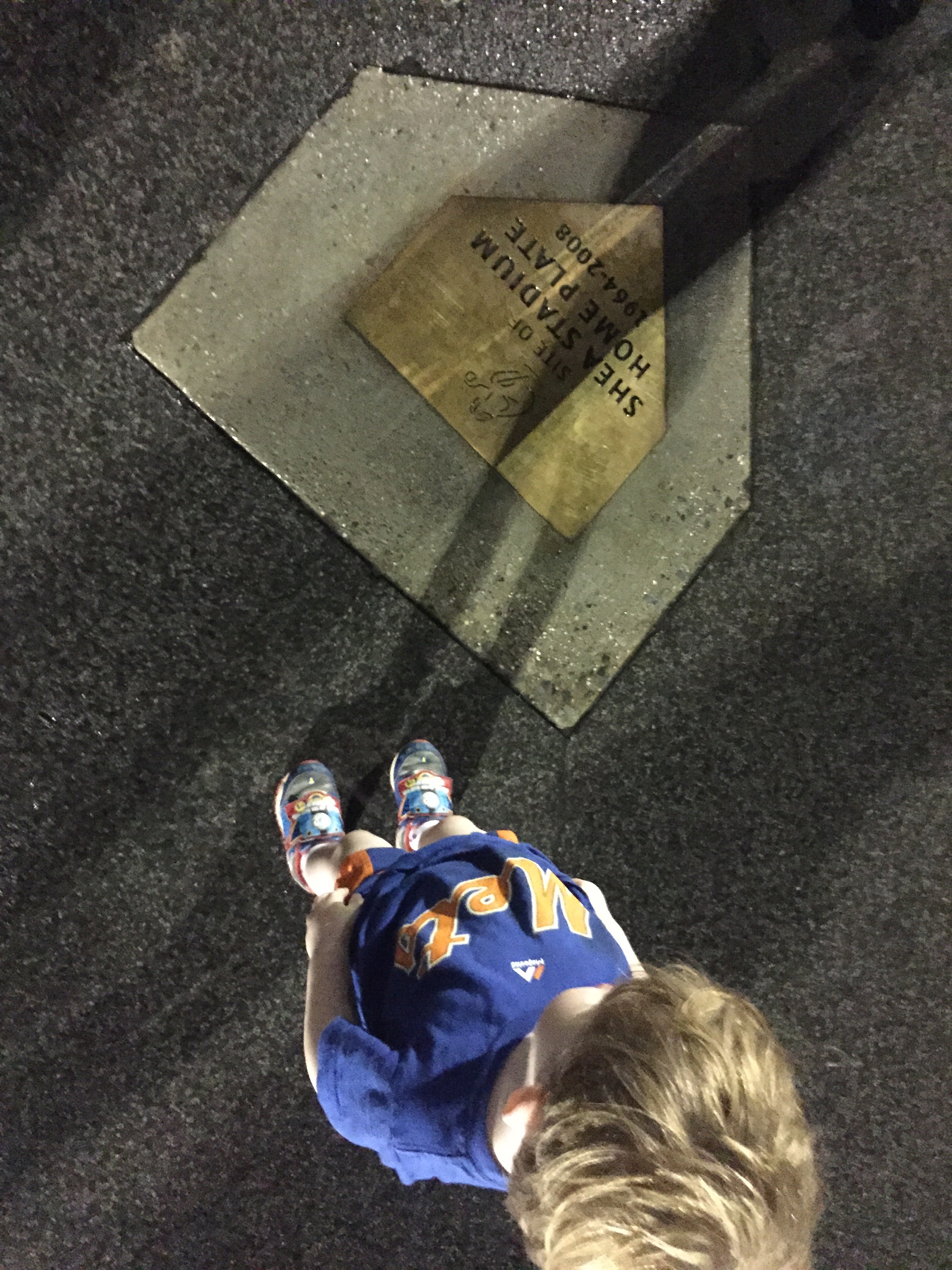 We had to visit it after the game.
Then Piazza would come through the Mets dugout that seemed to have most of the players there, and the crowd erupted.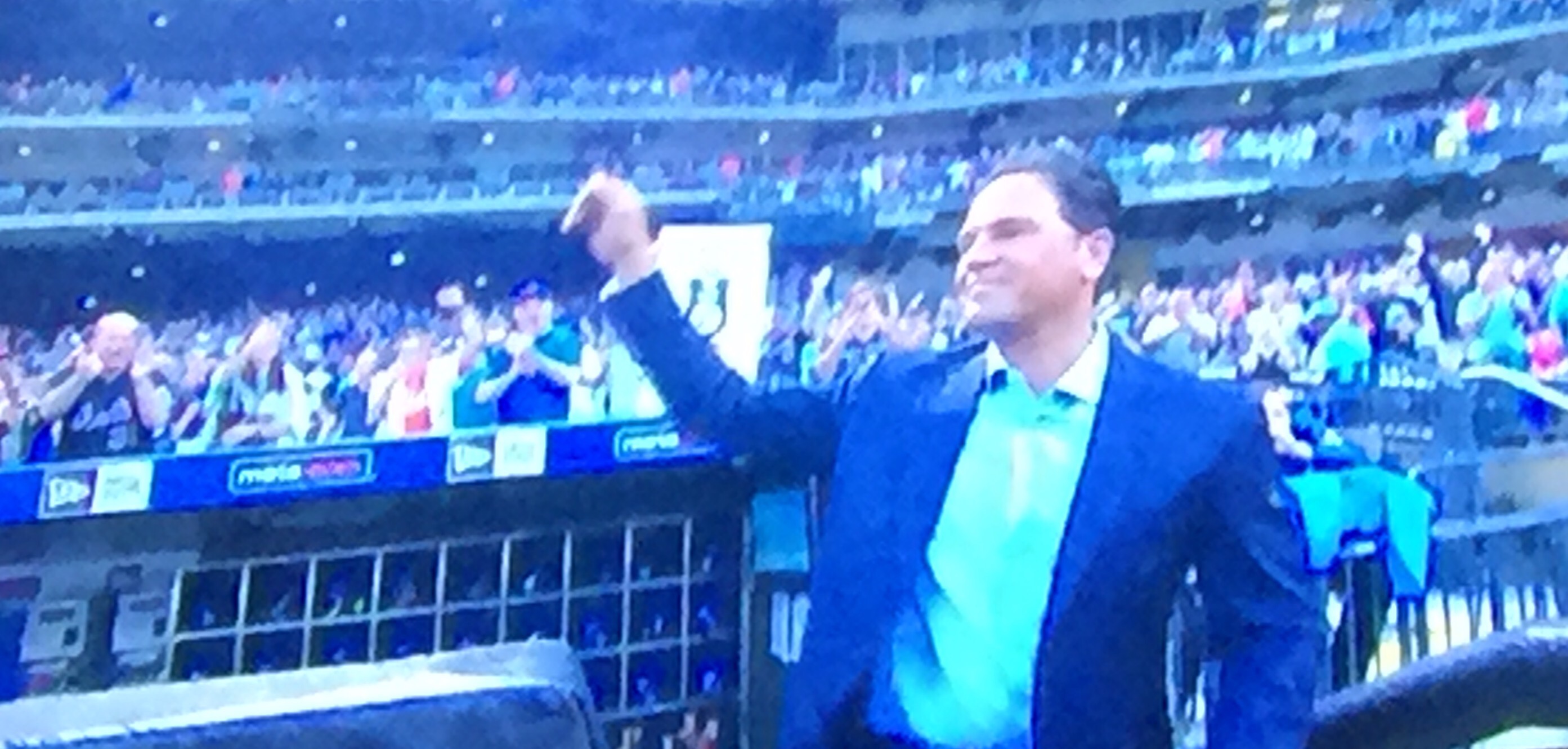 Every little touch was perfect from the aforementioned 31 in centerfield to his 31 prominently featured on the Home Run Apple.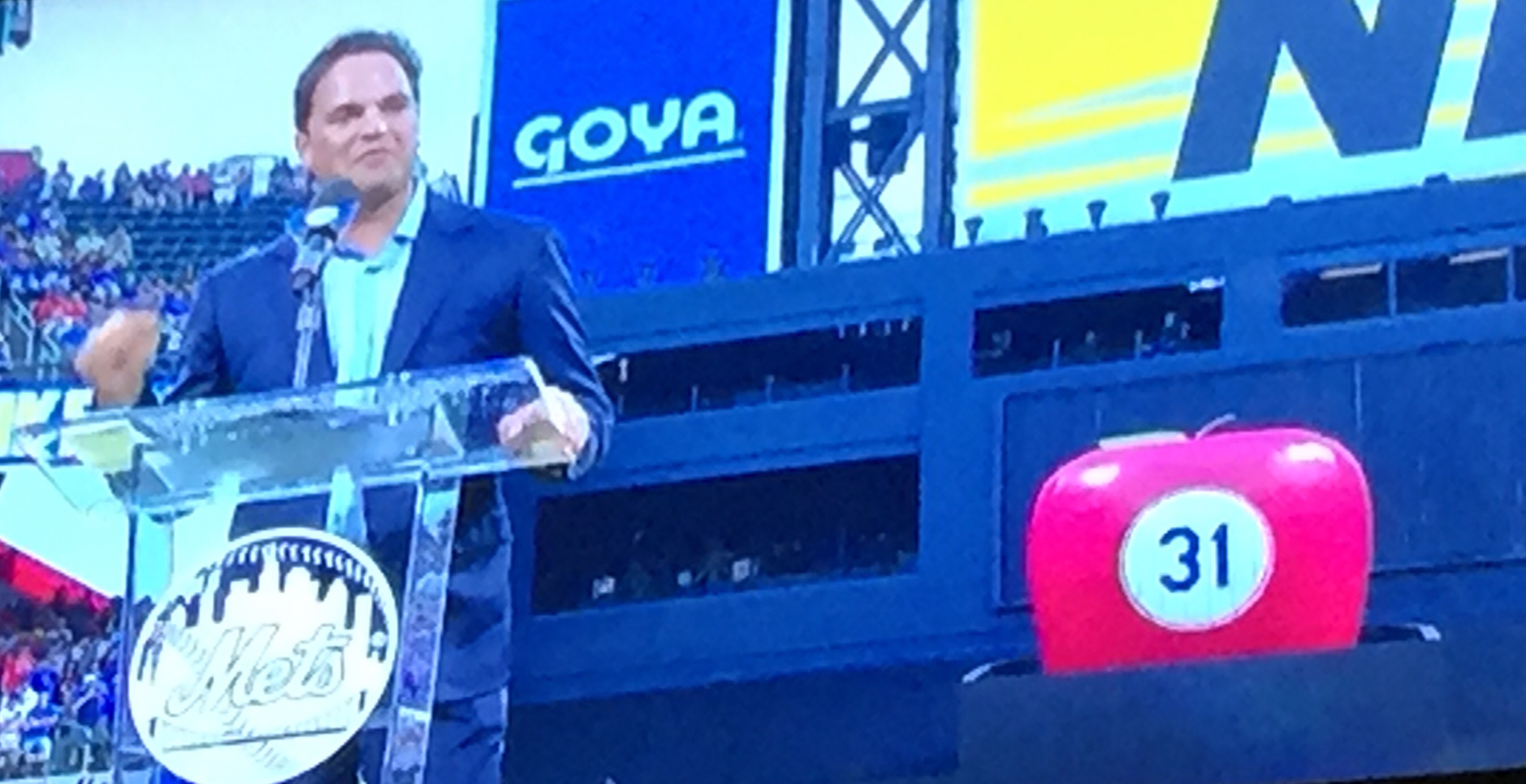 The video introducing him was spot on making sure to put an emphasis on his post 9/11 home run
The only thing missing from the tribute was Mets fans giving him a curtain call after he homered off former teammate and fellow Hall of Famer Pedro Martinez.
Speaking of former teammates, there was some surprise that there weren't more of his old Mets teammates there. Frankly, I was shocked there was no John Franco, but you don't know the scheduling issues that would prevent people from coming. For example, you know White Sox manager Robin Ventura would never be able to make it.
You still didn't notice it too much with who was there. There was old fan favorite Cliff Floyd. The best Mets second baseman of all time Edgardo Alfonzo. The last player there was the first Mets pitcher Piazza ever caught, Al Leiter. Since leaving the Mets, Leiter was never treated properly by Mets fans for how great a Met he was, but on this day, he would be with a loud standing ovation. Then we finally saw the number unveiled: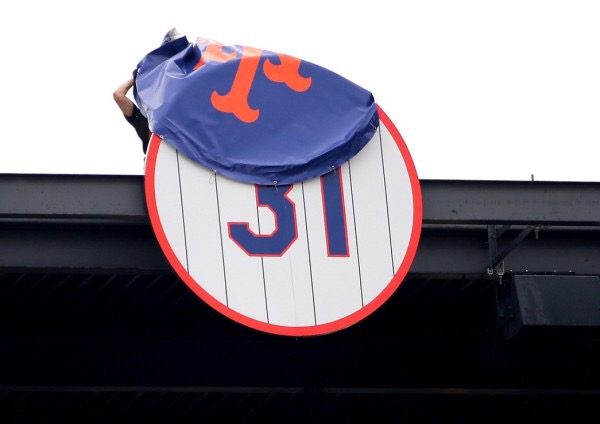 Piazza then had to speak. Many times, he seemed speechless at the outpouring of affection he received. Other times, Mets fans would not even let him speak during his speech:
Piazza honored everyone including the fans. He took in the moment as Mets fans did as well. His induction to Cooperstown was a coronation, but this was a celebration with 42,207 of his closest friends. There would be no roomfor booing as Piazza would remind the fans when he brought up the Wilpons. That's the power of Piazza – he can get the fans to stop booing the Wilpons.
He gave a poignant speech letting the fans know that for as long as his 31 hangs in Citi Field, he will be with all of us. As he parted, he tried to inspire everyone saying that whenever the team needs inspiration, they need only look up to left field and remember that old Mikey is with them.
After he threw out the first pitch from home plate to Leiter, it was game time


Yes, there were some jokes about Piazza not doing it to Alfonzo at second. The real joke was what followed. The team either didn't listen or was too undermanned to draw from these inspirational words.
The game itself. It was never going to match the beauty of that ceremony, but it didn't need to be that ugly. The team never heeded his parting advice.
Given how the Mets have been playing, and the lineup that was put out there, the loss was no surprise. The Mets starter AAA cast-off Justin Ruggiano in center, a reall defensively challenged Kelly Johnson at first, a 43 year old Bartolo Colon on three days rest, and of course Neil Walker. Not even facing the worst starter in baseball Jorge De La Rosa could revive this offense.
It was just a brutal game that saw Terry Collins get tossed in the fourth, and frankly, most Mets fans didn't stay for much longer than that it a 7-2 loss.
Overall, the only thing worse than the loss was knowing that Tom Seaver was physically unable to attend the ceremony. It was still a great night, and years from now, I will always remember seeing this for the first time.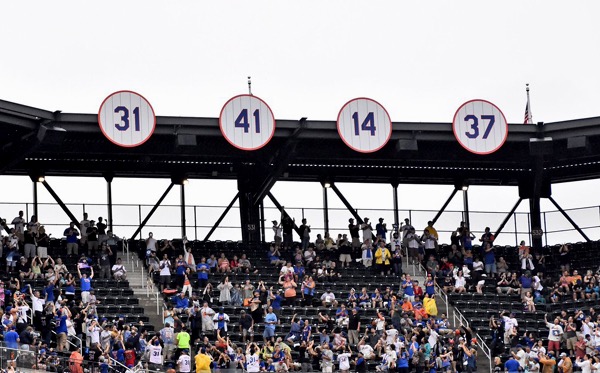 Game Notes: Jose Reyes was put on the DL before the game.