In the 2013 Homerun Derby, Mets fans got a chance to see Yoenis Cespedes' awe inspiring power. During Cespedes' display of his potencia, he would hit 23 homers beating Bryce Harper for the title.
On that stage, Cespedes showed himself to have outstanding power. However, it never fully translated to games. In his first three seasons, he only averaged 24 homers and a .464 slugging. He was never Top 10 in the American League in either catergory. His isolated power over those three seasons was a very good .201. However, seeing Cespedes in that homerun derby, you just knew that he was capable of more.
Maybe he needed to get out of ballparks like O.co or Commerica. Maybe he needed to play in a big market. Maybe, just maybe, he needed to set foot back in Citi Field.
As reported by Anthony DiComo of MLB.com, Cespedes feels comfortable and at home as a member of the Mets. Cespedes said, "I've said as much as I got here last year, it feels very much at home here." His manager Terry Collins agrees saying, "[Cespedes] wants to play in New York City, and that says a lot, because a lot of guys would shy away from that challenge."
Upon setting foot upon the New York stage, Cespedes looked at home. He rose to the challenge. In just 57 games, he hit .287/.337/.604 with 17 homers. Extrapolating that over the course of a full 162 game season, Cespedes would've hit 48 homeruns. The 48 homeruns would've led the league, and the slugging would've been good for second in the league. The .314 isolated power was off the charts good.
The only thing more amazing than Cespedes' run after the trade deadline is the run he's on to start the 2016 season.
This year, Cespedes is hitting .281/.358/.611. with 15 homers in 46 games. He's leading the majors in homers. His .330 isolated power is even better than it was last year. He's on pace to hit 58 homers. While these numbers seem unbelievable, it is quickly becoming what is expected from Cespedes. Assistant GM John Ricco said, "I hope it's sustainable. Whether it is or not, we'll see. But he's certainly proven over his time with us that he is that level of player."
Cespedes is that level of player now because he continues to put the work in that is necessary to raise his game. As his hitting coach Kevin Long says, "Its hard to say this and not sound arrogant about a certain player, but he's getting better. He's really understanding his self, his swing, his strike zone, what pitches he does more damage on. He's maturing as a player."
Cespedes agrees with Long's statements saying, "You don't usually seeing someone at this age make adjustments. However, when you meet someone in this league that's 29 or 30, they've probably also been playing longer than the five years that I have. So I think if they feel they need to make adjustments, they probably make them earlier in life."
With these adjustments, Cespedes has vaulted himself among the best players in the game. Collins puts it perfectly as he says, "He's a star. He's a good player. He does what stars do."
Cespedes had to come to the Mets to become a star. He had to come to the Mets to unlock his full potential. Cespedes belongs in a Mets uniform. Cespedes said it himself when he said, "It feels as if I've been playing here a very long time. And I could spend the rest of my life with this team."
Editor's Note: this was first published on metsmerizedonline.com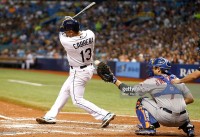 If you've read Andy Martino's Winter Meetings article, there's a lot to digest. There's many ways to go, but first I wanted to address the Asdrubal Cabrera situation.
As you well know, the Mets acquired Cabrera. Depending on your point-of-view, Cabrera may or may not be an upgrade at shortstop. He's a weaker defender. You're relying on a good second half being a sign that he's ready to overcome his struggles of the past five seasons. For all that, the Mets signed him to a two year $18.5 million contract. It's a contract that might've depended on what Ben Zobrist did.
Supposedly, the Mets were willing to sign Zobrist to a four year $60 million contract. That would've been an average annual value of $15 million per year. This is what the Mets conveyed to Zobrist's agent, Alan Nero, who coincidentally represents Cabrera. The Mets talked about both players with the agent. However, pay careful attention to this quote:
Before Zobrist made his decision, [Assistant GM John] Ricco felt he had to approach the pursuit of Cabrera delicately. The Mets needed to appear interested, but not so much that Nero thought they were turning away from Zobrist. Now, with that barrier lifted, Ricco and his group go hard after Cabrera, offering a two year, $18.5 million deal, and landing him that night. The process is simple: Will you take our money? Yes? Great, we have a deal.
I'm sure there are a number of ways to reasonably interpret that statement. Personally, I interpret it as the Mets didn't have $24+ million in their budget, at least not for the middle infield. From the beginning of their conversations, Cabrera was a fallback option.
As Mets fans, we were informed if attendance increased than payroll would increase. Well, attendance increased. As a result, the Mets revenue increased somewhere between $45 – 60 million. Now, before the Mets made any moves, their projected payroll was going to be around $92 million. Adding $24 million to the middle infield would've increased the payroll to $116 million.
Keep in mind with that $116 million payroll, the Mets infield and rotation would've been locked down. You could've justified not pursuing a Yoenis Cespedes because you would've shown to everyone, let alone your fan base, that:
The Mets were willing to outbid everyone to get the most coveted free agent on the market;
You were willing to spend to address what you saw as a position of need; and
You would've actually increased the payroll.
After having minimum $45 million in extra revenue, Cabrera should not have been contingent on Zobrist. The Mets should've been able to bring in both players. Either they are still facing budget constraints from the Madoff scandal, or the team doesn't feel compelled to have a league average payroll despite whatever promises were made.
In any event, the Mets fans have been lied to by this team. It's not alright. Attendance and revenues significantly increased. There will be a modest increase in payroll. This should make you question everything they do this offseason. Was Neil Walker really an improvement over Daniel Murphy, or is the team just selling that to us? Did the Mets trade Jon Niese because it was a reasonable deal, or was it because they needed to shed some payroll to have enough room for Walker and Cabrera?
I just look forward to the next free agent move, if there will be one. I'm curious how they'll sell it to the fans. I wonder how much there's left in the budget. These questions are more than reasonable and fair after reading this article.
Last month, The Sporting News ranked Sandy Alderson right in the middle of all GMs in Major League Baseball (15/30). That sounds about right, although I could quibble with the order. To me, when you give Sandy a rating of 15/30, you're really giving that rating to the entire front office, which includes Paul DePodesta, JP Riccardi, and John Ricco.
Since Sandy Alderson has been the GM for the Mets, he has really been tasked with getting rid of salaries and selling at the trade deadline. To that end, he and his front office have done an admirable job. In my opinion (and most people's really), his three best trades were to sell and not to buy:
RA Dickey, Josh Thole, and Mike Nickeas for Noah Syndergaard, Travis d'Arnaud, John Buck, and Wullmer Becerra;
Carlos Beltran for Zack Wheeler; and
Marlon Byrd, John Buck & cash for Dilson Herrera and Vic Black.
Looking over the rest of the trades, there really is not much to get worked up about, except the two trades Sandy Alderson made to help the team on the field (and not the team down the road):
Angel Pagan for Andres Torres and Ramon S. Ramirez; and
Collin McHugh for Eric Young, Jr.
There has been so much written about the first trade. Rather than regurgitate all that has been written, I'm going to make a couple of quick points. First, this was part of a quick hitting series of moves to try to rebuild the bullpen and TRY to take attention away from Jose Reyes leaving. Second, it seems like every year this team is trying to build a bullpen because the prior season's acquisitions  were terrible or everyone got hurt again. Lastly, this trade violated the old adage of "the team that gets the best player wins the trade."  We knew then Pagan was the best player in that deal.
I want to focus on the EY deal because with the Mets rotation, it has largely been ignored. In full disclosure, I didn't see it with McHugh. I thought he was an AAAA starter or a 12th man in the pen. I didn't see him finishing fourth in the Rookie of the Year voting last year or having another solid year for the Astros, especially when he pitches half his games is Minute Maid Park.
Just because I didn't see it, it doesn't excuse the current front office for this mistake. EY was acquired because Paul DePodesta loves him. In EY's two seasons with the Mets, he was a 0.9 WAR player, who won a stolen base crown. The Mets were under .500 and had no shot at the postseason.
In the same time, McHugh has combined for accumulated WAR of 5.2, i.e. he has been the best player in the deal. I shutter to think what the careers Cory Mazzoni or Brad Wieck will be.
Now after all of this, how can I be expected to trust Sandy's regime to properly rate their own prospects?  Sure when he has someone of value, he does a good job maximizing the return. However, when he is making a deal to improve his club, he has been shown to undervalue his assets.
This brings me to an extremely important point: Sandy effectively traded a first round pick for Michael Cuddyer. Cuddyer hasn't been himself at the plate or the field (even preinjury), which further exacerbated this "trade."  All in all, I'm not sure we can trust this front office to go out and get a player. With that said, I'm sure I'm just wasting my breath because there is no way the Mets would take on money to improve this team.