There have been a few times in the Mets history where they have surprised or even shocked the World in making their run to the postseason. The biggest example is 1969, which occurred 50 years ago. The Mets would make their Miracle run in 1973, and they would emerge in 1999, 2006, and 2015.
When you look at those rosters, there are players who are comparable to the players on this year's Mets roster. Here's a look at how it breaks down:
Catcher
Travis d'Arnaud (Todd Pratt) – d'Arnaud may very well be pressed into action more than anticipated, and as we saw in the 2015 postseason, he can deliver some big hits when needed.
Tomas Nido (Jerry Grote) – A defensive oriented catcher who helps takes his pitchers over the top and more than makes up for whatever offensive issues he may have.
Wilson Ramos (Paul Lo Duca) – Ramos may not have been the catcher the Mets may have originally expected to bring in during the offseason, but like Lo Duca, he could be the perfect fit for this team and surprisingly be a very important piece to this club.
Infield
Pete Alonso (Michael Conforto) – Alonso is the young prospect who is getting thrown into the fire and expected to be a key bat in a lineup who are trying to overcome the Nationals.
Robinson Cano (Rickey Henderson) – Cano was brought in to be the Hall of Fame caliber player who could take this team over the top.
J.D. Davis (Matt Franco) – Players who will predominantly be pinch hitters who are going to be counted upon to provide those key unexpected game winning hits.
Todd Frazier (Ed Charles) – Both were better before joining the Mets, but they proved to be glue guys in the clubhouse making the team better for their presence alone.
Luis Guillorme (Anderson Hernandez) – Tremendously gifted middle infielders whose gloves helped earn them a spot on the Opening Day roster.
Jed Lowrie (Jose Valentin) – Switch hitters who were brought to serve as a bench piece for the Mets who could be pressed into duty more than anticipated, which could be of great value to the team.
Jeff McNeil (Cleon Jones) – Homegrown Mets ready who show their previous year breakouts were not flukes, but rather an indication they are key members of a winning team.
Amed Rosario (Jose Reyes) – Reyes figured it out in 2006, and he became a dynamic and exciting player. This can be that year for Rosario.
Dominic Smith (Ed Kranepool) – Both probably rushed and mishandled as prospects, but they both still had a lot of hits in their bats making them valuable pieces for their club.
Outfield
Keon Broxton (Xavier Nady) – The imported outfielder who has not yet lived up to expectations has an opportunity to prove himself on a talented roster.
Yoenis Cespedes (Donn Clendenon) – The Mets are relying on a big bat to come after the All-Star Break and get this team a World Series, who better than the guy who delivered that in 1969?
Michael Conforto (David Wright) – The time is now for the homegrown player to put it all together and have an MVP caliber season to put this team over the top.
Juan Lagares (Endy Chavez) – Chavez was the defensive oriented player who was pressed into more action than anticipated, and his play on the field was a big reason the 2006 Mets came withing a game of the World Series.
Brandon Nimmo (Edgardo Alfonzo) – Homegrown Met oft overlooked who may actually prove to put up the best season of all the players on the roster.
Starters
Jacob deGrom (Tom Seaver) – deGrom is the staff ace coming off a historically great season, who needs to stay at a high level for the team to make the postseason.
Noah Syndergaard (Noah Syndergaard) – The Mets need Thor to be Thor.
Zack Wheeler (Jacob deGrom) – It was deGrom's building off of a surprising 2014 season which helped take the Mets over the top in 2015. It's exactly what everyone is expecting from Wheeler in 2019.
Steven Matz (Al Leiter) – Hometown left-handed pitchers who have a chance to help be a big part of the reason why the Mets make a run to the postseason.
Jason Vargas (Bartolo Colon) – Vargas is the veteran below-league average starter who needs to stick in the rotation while just eating up innings.
Corey Oswalt (Logan Verrett) – The Mets need a low round drafted prospect to put together a string of great starts to help put this team over the top. With his increased velocity, this could be Oswalt.
Chris Flexen (Octavio Dotel) – Spot starters who have the repertoire to potentially do much more damage in the bullpen.
Hector Santiago (Darren Oliver) – Pitchers who once had success starting who could be valuable long men in the bullpen.
Bullpen
Edwin Diaz (Billy Wagner) – Wagner was the sure-fire reliever at the end of the bullpen who helped make games an eight inning affair.
Jeurys Familia (John Franco) – One time great Mets closer is now serving as the set-up man for a young brash fireballer brought in during the offseason.
Seth Lugo (Nolan Ryan) – Just pure dominating stuff out of the bullpen from a guy who would probably be a starting pitcher for any other Major League team.
Robert Gsellman (Pat Mahomes) – The key piece of the 1999 bullpen who permitted the Mets bullpen to be as great as it could possibly be.
Justin Wilson (Dennis Cook) – Pitchers who are more than LOOGYs who raise their game in the biggest stages.

Luis Avilan (Pedro Feliciano) – Feliciano was the LOOGY out of the bullpen who was a weapon the Mets could utilize to neutralize the opponent's top left-handed batters.
Tim Peterson (Greg McMichael) – Strike throwers who don't have dominating stuff.
Jacob Rhame (Heath Bell) – The guys whose stuff have not quite yet translated to performance leading them to bounce between Triple-A and the Majors.
Paul Sewald (Carlos Torres) – Jack of all trades reliever who does yeoman's work eating up innings.
Daniel Zamora (Royce Ring) – Promising young LOOGYS who should dominate in their limited opportunities.
And finally, there is Mickey Callaway, who we are hoping will be able to accomplish what Willie Randolph accomplished by proving himself a good manager in his second year and by leading the Mets to being the best team in the National League.
As the trade deadline approaches, every team usually states that they need bullpen help, and those that are true contenders usually add an extra arm or two to the bullpen. For example, back in 1999, one of the biggest strengths for a Mets team fighting for the NL East and the Wild Card was their bullpen. Armando Benitez had taken over the closer role much earlier than anticipated. Turk Wendell and Dennis Cook were having excellent seasons. Pat Mahomes was a revelation as the long man in the bullpen. Ex-closer John Franco was expected to return form injury to help with the playoff push. Greg McMichael was having an off year, but he had previously been a valuable bullpen arm in a pennant race from his days with the Atlanta Braves. On top of that, the Mets had some young promising arms to go to down the stretch with Jason Isringhausen and Octavio Dotel (even if Bobby Valentine thought they were better suited and belonged in the rotation). Overall, the point being is the Mets did not need bullpen help.
Even with that being the case, a Mets team that was very active during the trade deadline made sure to acquire another arm for the bullpen by sending McMichael and Isringhausen for Billy Taylor. It turns out Billy Taylor was washed up, and he would not even be on the postseason roster thereby forcing the Mets to make do with the already good bullpen pieces they had. The Mets find themselves in a similar position than the 1999 Mets did.
The Mets bullpen is led to Jeurys Familia who is the best closer in the game. When needed, Familia can pitch two innings to get the big save that the Mets need. The primary eighth inning set-up man has been Addison Reed, who is only sporting a 2.26 ERA and a 0.912 WHIP. This duo has only lost one lead that has been given to them this year in 32 attempts. Behind them is Hansel Robles who has done everything the Mets have needed in the bullpen. He can come out and bail the Mets out of a bases loaded no out jam or pitch 3.2 terrific innings to save a Mets bullpen from a first inning injury to a starting pitcher. Jerry Blevins has been an extremely effective LOOGY allowing lefties to hit .210/.269/.310. By the way, he has been even better against righties limiting them to a .107/.188/.214 batting line.
Behind these pitchers are some very solid options. There is Jim Henderson, who was great before Terry Collins abused his arm. Henderson is currently in AAA on a rehab assignment. Seth Lugo has been absolutely terrific out of the bullpen in his two appearances. However, it is only two appearances, and there still remains a (remote) chance that he may wind up in the starting rotation with the Matt Harvey injury. There is Erik Goeddel, who even despite one poor performance this season, still has a career 2.75 ERA and a 1.054 WHIP. There is still Sean Gilmartin, who was an essential part of the Mets bullpen last year. He is a starter in AAA, but if the Mets are that desperate for major league relief help that they will swing a trade, they should pull up a known quantity to help the team where he is needed.
If the Mets will consider calling up players from the minors, there are some good options in AAA. Josh Edgin has a 2.45 ERA in the hitter friendly Pacific Coast League. Paul Sewald has taken over as the closer, and he has recorded nine saves. There is always the alluring Josh Smoker, who is having a down year but still sports a mid-nineties fastball.
Finally, in addition to all of these players, there is still Antonio Bastardo, who is going nowhere. It is doubtful a rebuilding team will want to add him into the mix with his high salary and poor production. The Mets are stuck with him, and they are going to be stuck with him for the full season, regardless of whether they make another move to add a reliever or not. In essence, Bastardo is the reason why people mistakenly believe the Mets need bullpen help. With that in mind, the best thing the Mets can do is to find a way to get Bastardo back on track. That will help the Mets bullpen more than them adding another reliever.
Overall, the Mets bullpen is in fine shape with four outstanding relievers and plenty of good options behind them. The Mets do not need a reliever. They need to fix Bastardo since he's going to be here whether or not the Mets make a trade. With that in mind, the Mets should leave the bullpen as is and turn their attention to the teams other needs at the trade deadline.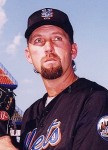 Admittedly, I have been apoplectic over the Tyler Clippard trade. The reason is because the last time the Mets made a trade like this it ended very badly. Faith and Fear in Flushing invoked the infamous John Smoltz and Jeff Bagwell trades. For me, it reminded me of Billy Taylor.
In 1999, the Mets were in competition for the playoffs for really the second time in my life (and second year in a row). I was too young to truly remember this (although my first baseball memory is the Buckner game) or this. After the previous season's collapse, I was desperate to see the Nets make the playoffs. I was appreciative when Steve Phillips was aggressive at the trade deadline. Notably, he added Kenny Rogers (I still don't want to talk about it), Shawn Dunston, and Darryl Hamilton (RIP). He also traded for Billy Taylor.
To acquire Billy Taylor, the Mets sent Billy Beane's A's Greg McMichael and Jason Isringhausen. At the time, I loved the move. Over a three year stretch, he had 73 saves on mediocre Athletics teams. In 1999, on an A's team on the rise, he had 26 saves (his peripherals were awful but I didn't follow such things back then). I was giddy at the prospect of the Mets having a 7-8-9 of Billy Taylor-John Franco-Armando Benitez (this is before we knew he was terrible in October). I didn't care about the cost. All I wanted was a playoff berth, let alone a World Series.
Boy, was I wrong. In 18 appearances, Taylor had an 8.10 ERA. He was terrible. He didn't pitch in the postseason. He was gone at the end of the year. He was out of baseball after the 2001 season.
The real cost of Taylor's 18 innings? Jason Isringhausen's career. He was once part of the fabled Generation K. In 1999, he was only given five starts. Mostly, he was a seldom used reliever who bounced between Norfolk and New York. He was coming off an elbow injury. At the time of the trade, he had a 6.41 ERA. His star had fallen. While he wasn't good, Bobby V didn't want to put him in the bullpen because that was "akin to using an Indy car as a taxi."
I love Bobby V, but he was proven wrong. In 1999, he would save eight games for the A's with a 2.13 ERA. That might've been helpful as Kenny Rogers walked in the winning run. Since the trade, Izzy accumulated 299 saves (one for the Mets in 1999 and seven for them in 2011). That was a lot to give up for 18 appearances.
Now, I don't think Tyler Clippard will be as bad as Billy Taylor. He's a much better pitcher. In actuality, through all of my hand wringing, I have noted Clippard is a quality addition that will help a back of a bullpen that needs it. I think the 7-8-9 of Bobby Parnell-Tyler Clippard-Jeurys Familia could be very good, or at least better than the 1999 version. If the Mets win the World Series, I'll be thrilled and I won't care how good Casey Meisner becomes.
However, I shudder at another Mets trade with Billy Beane for a reliever. While I hope one day I'm regaling my son of the 2015 championship season, I'm afraid that I will be explaining how Casey Meisner could have been a Met.