The Philadelphia Phillies did what we expected and hired Joe Girardi to replace Gabe Kapler. To their credit, the Phillies knew they wanted, nay needed, an experienced manager like Girardi, Buck Showalter, or Dusty Baker to take their team to the next level. They honed their search, and they hired who they deemed to be the best candidate.
What is interesting is Girardi was the one candidate the Phillies and New York Mets had in common. In 2017, that person was Mickey Callaway. That led the Mets to hire Callaway after just one interview to keep him away from the Phillies. The following offseason, the Mets would admit to including Jarred Kelenic in the Robinson Cano deal to keep Edwin Diaz away from the Phillies.
However, when it came to Girardi, the Mets didn't rise to the occasion. Rather, they let Girardi go to the Phillies leaving them with a group of managerial candidates without Major League managerial experience. Looking at it that way, you could say this was a managerial search which was Girardi or bust, and with Girardi going to the Phillies, the Mets search went bust.
While the Mets do deserve scorn for how they operate the team, the manager search did not go bust. In fact, there are a very intriguing candidates remaining.
Tim Bogar is a well respected coach and a three time Minor League Manager of the Year. He has experience as a first base, third base, and bench coach. He has spent time in the front office on the player development side. Also, in 2014, he took over as interim manager of the Texas Rangers after Ron Washington resigned due to personal issues. Bogar would led the Rangers to a 14-8 record in those game.
With his work on Baseball Tonight, MLB Radio, and other media ventures, Eduardo Perez is a media savvy individual, which is something all managers, especially the Mets manager need. That said, Perez is much more than that having been a minor league and Winter League manager as well as a former Major League bench coach. With his working on the "Nerdcasts," we are well aware he is well versed in analytics.
Another interesting factor with Perez is the Mets seem to want to keep some of their current coaches on the Major League coaching staff. To that end, Perez is a former teammate of both Chili Davis (hitting coach) and Gary Disarcina (third base and infield coach).
On that point, Luis Rojas has worked extensively with Phil Regan both this year's team as well as the minors. Speaking of the minors, Rojas has managed most of this current Mets team including Pete Alonso, Jacob deGrom, Jeff McNeil, Brandon Nimmo, and others. They speak highly of him, and the team thinks so highly of him they created the Quality Control position for him. In that position, Rojas was entasked with handling communications between the front office and players on expectations and how to utilize data. To that end, there is perhaps no one better prepared to understand what the front office expects and wants from their manager.
In terms of relationship with the front office, perhaps no one would have a better relationship than Carlos Beltran. Beltran is close with both Assistant General Managers Allard Baird and Omar Minaya. There's also his close relationship with David Wright which began in Beltran's first Spring Training with the Mets when he took Wright and Jose Reyes under his wing to show them how to prepare for the season.
Sure, he has had his clashes with ownership, especially when he opted to have knee surgery prior to the 2010 season. However, that does speak to an asset Beltran has. Over the years, the Mets have been criticized for their handling of injuries. Who better than Beltran to help protect the players from themselves and the team?
Finally, there is Twins Coach Derek Shelton. He has a wealth of experience including his being a hitting, quality control, and hitting coach. In those roles, he has worked for analytically forward organizations while also working for different types of managers like Joe Maddon, Eric Wedge, John Gibbons, and Rocco Baldelli.
Overall, you could make the case any one of these five candidates would make an excellent manager for the Mets. While you are free to question the wisdom of the Mets exiting the Mickey Callaway era by going to another first time manager, especially when Girardi apparently wanted the Mets job, that does not mean these candidates could not be better than Callaway. In fact, it's very possible each one of these candidates could ultimately prove to be better than even Girardi.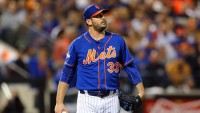 One of the many blurbs that have surfaced from Yoenis Cespedes press conference is the Mets believe they can keep this young rotation together:
While Sandy said he thinks team could sign all starters, realistically just hard to envision a team doing that unless payroll is $200m.

— Matt Ehalt (@MattEhalt) February 3, 2016
Now, the $200 million is conjecture. To be fair, if you polled most Mets fans, or really anyone for that matter, they would agree with this assessment. Rather than take it at face value, I figured it would be better to actually try to figure out if it's possible.
Of all of the Mets pitchers, Matt Harvey has reached the arbitration stage of his career, and he agreed to $4.325 million to play in 2016. He will be a free agent in 2019. That's the key timeframe because that's the point when these starting pitchers will start receiving large free agent deals.
Right now, the Mets payroll stands around $140 million. Before figuring out how much these pitchers will cost, we should figure out which of the players on the payroll whose contracts will expire by the time Harvey first reaches free agency along with their 2016 salaries:
Yoenis Cespedes $27.5 million (free agent 2019)
Curtis Granderson $16 million (free agent 2018)
Neil Walker $10.55 million (free agent 2017)
Asdrubal Cabrera $8.25 million (free agent 2018)
Bartolo Colon $7.25 million (free agent 2017)
Addison Reed $5.3 million (free agent 2018)
Antonio Bastardo $5.375 million (free agent 2018)
Jeurys Familia $4.1 million (free agent 2019)
Jerry Blevins $4 million (free agent 2017)
Lucas Duda $6.725 million (free agent 2018)
Jenrry Mejia $2.47 million* (free agent 2019)
Ruben Tejada $3 million (free agent 2018)
Before proceeding, it should be noted the Mets only owe Mejia a pro-rated portion of the $2.47 million due to his suspension. Mejia served 62 games of his 162 game suspension last year meaning the Mets will owe him roughly $945,000 next year.
Without factoring in arbitration increases and the like, the Mets payroll will decrease by $98,995,000. That means the Mets payroll obligations would be around $41 million. When you look at David Wright's salary, it will actually decrease by an additional $5 million to reduce obligations to $36 million. On the other side of that coin, Juan Lagares' $2.5 million 2016 salary jumps to $9.0 million in 2019. That's a $6.5 million increase. As a result, the Mets 2019 payroll obligations will be $42.5 million.
If payroll remains stagnant, that means the Mets will have $97.5 million to fill out their roster and pay their starting pitchers.
Part two will analyze how much of this money will be attributed towards position players.