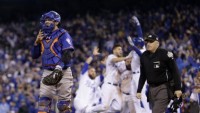 The Mets threw their two best pitchers to start the World Series, and things didn't go as planned. There were some suggestions that Jacob deGrom was tipping his pitches. For what it's worth, Dan Warthen disagrees.
Now, there is a way that the Royals knew what was coming without deGrom tipping his pitches. It's the art of sign stealing. There's no definitive proof right now, but we know it's something everybody tries to do. I think there might be something to it because some the Royals seemed paranoid about it in the ALCS. To be fair, the Blue Jays do have a history.
Right now, there's nothing definitive to prove this is happening. The only thing we can really look at is the team's home and away splits. At home, the Royals hit .279/.334/.426 averaging 4.6 runs per game. On the road, they hit .259/.310/.399 averaging 4.3 runs per game. There's a definitive contrast there.
Now, there are many logical explanations other than sign stealing. Teams are built for their ballpark. Players are more comfortable at home. However, the Royals are noted as comparatively free swingers. Kauffman Stadium is a pitcher's park. Despite that, the Royals have a better OBP and slugging percentage at home.
There's smoke, but you can't definitely prove there's fire. I don't have a problem with the Royals doing it. It just means the Mets have to be smarter. They have to change up their signs. Travis d'Arnaud has to hide the signs better.
Whatever it is the Royals are doing is having an effect. However, the Mets are coming back to Citi Field. Things should be different the next three games. The Royals won't be stealing anything here.