Miracle Bracket: Sweet 16
It should come as no surprise the top three seeds, Tom Seaver, Jerry Koosman, and Cleon Jones advanced easily. There was a mild upset with Ed Kranepool over Bud Harrelson. Overall, it looks like Seaver is primed to go to the Elite 8 with Koosman and Jones having an interesting match-up.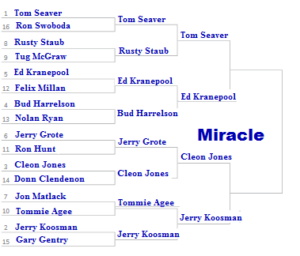 The Amazin Bracket will kick off tomorrow with fans getting to choose their favorite between Keith Hernandez and Ron Darling facing off in the GKR gauntlet.