Mets Fan Favorite Tournament: Sweet 16
After the first two rounds, the Sweet 16 in each of the four brackets is set, and there are going to be some fun and difficult match-ups. So far, all of those who have had their numbers retired and have been captains in team history have survived.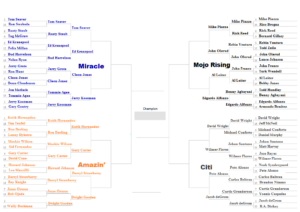 In the Miracle Bracket, Tom Seaver should be expected to advance. To secure a spot in the Final Four, he is going to have to face the winner of Jerry Koosman/Cleon Jones, which has Mets fans deciding which of the somewhat unlikely heroes of 1969 (and 1973) should advance.
The Amazin Bracket kicks off with a battle between the first two captains in team history – Keith Hernandez and Gary Carter. As if deciding between them isn't tough enough, fans have to decide whether they love Dwight Gooden or Darryl Strawberry more.
The Mojo Rising Bracket only has members of the 1999 Mets remaining, which is appropriate given how the region was named after that team. The first match-up is between the helmeted ones in the catcher Mike Piazza and the first baseman John Olerud. Then, it is a match-up between Al Leiter and Edgardo Alfonzo, who were the heros of the play-in game against the Reds.
Finally, in the Citi Bracket, we have two Cinderella runs from Wilmer Flores and Pete Alonso. Flores faces David Wright in a match-up of the emotional stories from the 2015 season. With Alonso, he squares off against Jacob deGrom to see which current Mets player fans adore more.
Voting begins tomorrow with Seaver and Ed Kranepool.