This Is a Good Group of Guys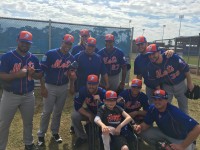 At this point, I'm simply in awe of this Mets team. It's not the pitching. It's not the power from the lineup. No, it's the collection of the fine men they've assembled on this team:
Terry Collins stopped practice to have the pitchers meet Ryan Williams who had a heart transplant. #LoveTheMets #LGM pic.twitter.com/S95OLuJRPI

— New York Mets (@Mets) February 23, 2016
Moments like this start with Terry Collins, who has time and time again proven himself to be a good man. Last year, he hand wrote a letter to a grieving family. He celebrated each victory with his team and the fans. Terry Collins gets it, and he makes sure his players get it as well.
In 2016, Terry Collins will drive us crazy with his moves. He will cost the Mets games as he has done in the past. When that happens, I'm going to be upset. I'm going to utter more than a few expletives. I'll calm down because Terry Collins is the right man to lead this Mets team. He brings the best out of his players both on and off the field.
This is why the Mets stop to pose for a picture with a young fan that just had a life saving operation. It's why the team does any number of things they do off the field we will never hear mentioned. This team gets it, and they do the right thing.
As Mets fans, we're lucky to have Terry Collins leading this team.
Editor's Note: this article first ran on metsmerizedonline.com