Goodbye Niese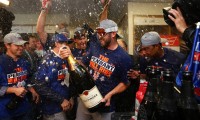 You know Jon Niese never made it easy, did he? He was at times cantankerous. He seemingly always had a chip on his shoulder. He was no different on his way out the door:
Jon Niese: "I'm sure what I'll appreciate more than anything is the way (#Pirates) play defense. I'm looking forward to that."

— RobBiertempfel (@RobBiertempfel) December 10, 2015
Was it a shot at the Mets for trading him? Who knows? He once fought with Terry Collins in the dugout (not physically). He blamed a poor start on Travis d'Arnaud. Personally, I'd like to think this was all part of him being a fiery competitor. I didn't always think this way. My opinion changed when he approached Collins to join the bullpen.
The story with Niese was he was born on the date the Mets last won the World Series. He came to the team and offered to do whatever it took to help them win another. He acted like a player who lived through the last collapse and finally got a chance to pitch in the postseason. I think most Mets fans thought he would whine and demand the ball. Instead, he just said he wanted to help.
He was terrific. He helped the Mets solve an issue they had all year. They never had a lefty in the pen. It became Niese, and he pitched well. Other than this run, Niese was known for his attitude, troubles in the sixth inning, and Carlos Beltran paying for his nose job. Now, he's also known for Celebratory Slip 'N Slides.
For me, I remember Niese for this blog's first big break. The piece about the birth of Niese's child got this blog noticed by the great Faith and Fear in Flushing with a link on the website. If you've come across this site, please repay the favor by buying his new book. You know it'll be terrific, so just go ahead and buy it. I digress.
Anyway, part of the success of this blog is attributable to Niese. Part of the run to the World Series was attributable to Niese. These may be two things I never thought would come true, but they did. Now Niese is in Pittsburg with a pitching coach that's really going to turn his career around, and it's quite possible he'll make the Mets look bad for giving up on him.
In a small way, I hope he does. With his pitching this postseason, he earned well wishes from Mets fans. It's great that he's closer to his boyhood home in Ohio. Overall, i wish him and his growing family well.