Can Gerardo Parra Help the Mets?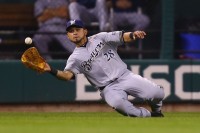 Despite a good postseason and an offseason to heal, the Mets seem intent on having a different centerfielder in 2016. One of the players the Mets are interested in is Gerardo Parra.
This isn't a new interest mind you. The Mets tried to trade for him last year before putting Michael Cuddyer on the DL and calling up Michael Conforto. Instead, the Mets watched Conforto become more than anyone dreamed he could be and saw Yoenis Cespedes play so well he garnered MVP consideration. With free agency, the Mets are circling back to Parra.
Parra is a career .277/.326/.404 hitter. He's coming off his best offensive year. He hit .328/.369/.517 in 100 games in Miller Park, a hitter's park. If you're signing him based on these numbers, you believe these numbers translate to Citi Field. You believe he's entering the prime of his career at age 28. You believe his .237/.268/.357 slash line in 55 games with the Orioles is too small a sample size to rely upon.
These are all reasonable assumptions. I can believe Parra is going to be a better offensive player in 2016 no matter where he signs. Coupled with Parra's reputation as a good defensive player, he may be a bargain at the 3 year $24 million contract he's expected to garner could be a bargain.
The problem is Parra's defense is by reputation only. His UZR does not support his reputation. Last year, he had a -4.2 UZR as a leftfielder, which equates to him being a poor left fielder. It was a precipitous drop from his 3.2 UZR in 2014. I bring this up to be instructive. If he's not as great a leftfielder as the numbers suggest, why would he be a good centerfielder?
The answer is he isn't. He was abominable in CF last year with a -10.0 UZR in 289 innings. This was even worse than his -4.3 in 2014 in 65 innings. Translation, the more Parra plays in center, the more his flaws are exposed. Why would you want to see this over a 162 game season for the next three years?
Part of the reason the Mets lost the 2015 World Series was their defense. With that being the case, why would you seek to diminish the one area the Mets were Gold Glove caliber? Yes, Lagares had a down year. Yes, he's had trouble against righties. However, even in a bad year, he's still much better than Parra in center.
I understand looking to upgrade in center, but Parra is not the answer.