Seth Lugo
Steven Matz has bone spurs in his pitching elbow, and the Mets talked him out if having inseason surgery to remove them. Noah Syndergaard also has bone spurs in his pitching elbow, but it appears like it's nowhere near as serious as Matz's. Zack Wheeler has had a number of setbacks in his Tommy John rehab, and the best case scenario has him returning to the Mets mid to late August. Now, worst of all, Matt Harvey may have thoracic outlet syndrome.
Anyone one of these pitchers may miss an extended period of time, and the Mets replacements are less than inspiring.
First up as always is spot starter Logan Verrett who has a 5.32 ERA in his five starts this year. Sean Gilmartin has a 7.00 ERA in his limited appearances with the Mets this year. Seth Lugo had an electrifying one inning appearance before bring sent back down to AAA where he has a 6.55 ERA. Rafael Montero hasn't been much better with his 6.31 AAA ERA and his 11.57 major league ERA. Finally, there's 23 year old Gabriel Ynoa who may not be ready for the majors.
For a team that is built on pitching, these are not viable options. These pitchers are not carrying these Mets back to the World Series like the pitching did in 2015.
No, the Mets need a pitcher like Michael Fulmer. Fulmer has made 13 starts this year going 9-2 with a 2.11 ERA and a 1.096 WHIP. He's throwing a 96 MPH fastball and an 89 MPH Warthen slider. If he was in the Mets rotation right now, he would arguably be the best pitcher in their rotation. At the very least, he's top three. There's one problem.
Fulmer's a Tiger. Fulmer was one of 12 pitchers the Mets have traded away since the 2015 offseason. Make no mistake. Fulmer was the best of the lot.
Many have justified his departure as he was traded away to acquire Yoenis Cespedes. Cespedes would go off in August and September with an offensive display Mets fans haven't seen since Mike Piazza was leading the Mets to back-to-back postseason appearances. The Mets would fall just short of the ultimate goal as they lost the World Series in five games.
Arguably, the Mets needed Cespedes to reach that point. However, in acquiring him, the Mets gave up Fulmer's entire career. They gave up the very player they may need this year just to get back to the World Series. The Mets may have sacrificed their chances in 2016 and beyond for the run they made last year.
The reason is because pitching is fragile. No matter how good you think you have it there's a bone spur, a torn collateral ligament, or a shoulder condition that can take an ace pitcher away. It's why an organization needs as much high end pitching depth as it can get their hands on. Yesterday's surplus becomes today's necessity.
Fulmer was seen as surplus last year, and he was moved for Cespedes. With Harvey's, Wheeler's, and Matz's medical issues, he's now a necessity that is pitching for the Detroit Tigers.
Mother Nature provided the rain, but it was the Mets bats that provided the thunder. The Mets hit five home runs within the first five innings going ahead 10-1.
It started in the second inning with James Loney and Asdrubal Cabrera going back-to-back off Cubs starter Jason Hammel. Cabrera would hit another homer off Hamel in the fifth. That would be the second homer in the inning. The first was a Yoenis Cespedes laser shot. Cespedes needed to hit that homer as Brandon Nimmo hit a home run in the fourth inning that was one foot farther than Cespedes' shot yesterday:
.@You_Found_Nimmo will remember this one forever. His 1st career homer was crushed into the bullpen. #Mets #LGM pic.twitter.com/PXtfed68Bv

— New York Mets (@Mets) July 2, 2016
It was Nimmo's first career home run and curtain call. He followed it up by making a nice defensive play in the fifth: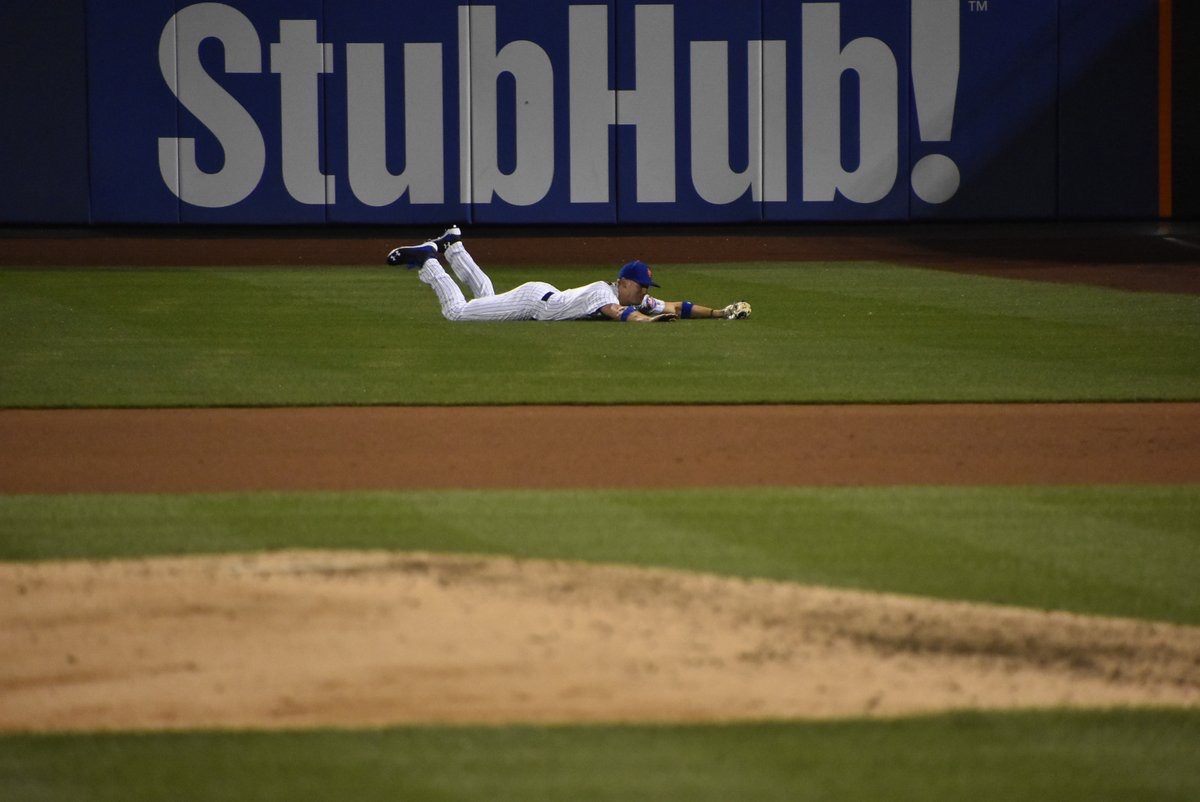 It was a terrific night for Nimmo and the Mets.
By the way, since I do point this out when it happens

Brandon Nimmo: 410th player in Mets history to hit a HR, has as many as Bartolo Colón

— Mark Simon (@MarkASimonSays) July 2, 2016
The beneficiary of all these runs was Jacob deGrom. It was about time the Mets scored some runs for him too. The Mets had not given him more than two runs of support since May 27th. He's had the fourth worst run support in the majors this year with the Mets scoring 2.89 runs per game for him (Matt Harvey has the second least with 2.79).
deGrom would finally get his first win since April 30th. His ability to get this win was in doubt as there was a rain delay for over an hour before the third inning. Terry Collins sent him out there anyway, and deGrom lasted five innings allowing three hits, one earned, and one walk with seven strikeouts. The lone run he allowed was a solo home run off the bat of Kris Bryant. It's possible deGrom could've gone more than five as he was only up to 85 pitches. However, once there was another rain delay in the sixth, the third one of the game, deGrom was done for the night.
Needless to say, deGrom pitched much better out of the delay than Hammel did. The Mets pummeled Hammel in this 10-2 win like they did in Game 4 of the NLCS.
Game Notes: Loney was 3-4 with two runs, three RBI, a double, and a homer. He was a triple short of a cycle. He actually hit one this year. It was a June 18th game against the Braves. Seth Lugo made his major league debut in the eighth inning wearing number 67. He became the first Met to ever wear that number. Lugo got it up to 97 MPH showing real promise out of the pen. He pitched two scoreless innings allowing two singles, a HBP, and striking out a batter. He also had his first balk falling off the mound before delivering a pitch.
David Wright attended his second straight game. For safety reasons, he watched the game from the bullpen.