Joe McEwing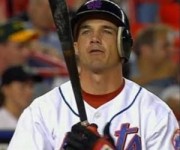 Whenever a prospect is coming through the system or a young player makes his way to the majors, invariably there is a comparison made to an All Star caliber player. Very rarely do we see a comparison to a utility player or a grinder like Joe McEwing.
With that said, if Matt Reynolds wants to be a part of this Mets team going forward, he will need to become this generation's Super Joe.
Right now, Reynolds path to the majors is blocked. At the major league level, the Mets have Asdrubal Cabrera, Ruben Tejada, and Wilmer Flores provide extraordinary major league depth at the shortstop position. On the horizon, the Mets have two very well regarded shortstop prospects in Gavin Cecchini and Amed Rosario. For what it's worth, Rosario is likely ticketed to play shortstop in AA, and Cecchini will be the shortstop in AAA. In short (pun intended), Reynolds will never be the shortstop for the Mets.
Even if he moves off of shortstop, his options are limited. He's blocked at second by Dilson Herrera. Even if the younger Herrera were to falter, it's much more likely that the Mets would turn to Cecchini or sign a free agent than Reynolds. Also, given his lack of power throughout the minors, it's unlikely the Mets will turn to him go play third. No, Reynolds' future, at least with the Mets, is as a utility player.
For his part, Reynolds is willing to play all over the field just to make it to the majors. He will play some outfield during Spring Training. As Reynolds told Adam Rubin, he knows a position change is in order:
No one has talked to me about it, but I heard about it from press conferences and everything. I'm willing to do whatever it takes to make it to the big leagues. I figured that I'd probably be changing positions. Honestly, I just look at it as it makes me more versatile, and there's more opportunity for me to get called up and maybe stay up there.
Now, Joe McEwing was only a 28th round pick. When you are a 28th round pick, you are not seen as a prospect. You have to be ready, willing, and able to do whatever is necessary to get to the majors. It's not only a talent issue. It's a mindset. You have to show a lot of character and resiliency not only to make it to the majors, but also to stay there.
It was McEwing's attitude and drive that helped him have a nine year career. It's why Tony LaRussa requested a pair of autographed spikes from McEwing. He has the type of energy and drive that is infectious. It's why he was a useful player. It's why teams loved having him on the roster. It's why he stays in the game as a major league coach and is a potential manager.
Reynolds was a second round pick. Typically, second round picks are not seen as utility players. As long as they produce, they usually have an easier path to the majors. With that said, it's no guarantee. At some point, every player faces a turning point in their careers. For Matt Reynolds, that time is now. It's time for him to embrace his future as a utility player.
Seemingly, he's doing that. If he meets this challenge with the same drive and enthusiasm that McEwing once did, Reynolds has a real future not just with the Mets, but in baseball. It's quite possible Reynolds' future with the Mets is this generation's Joe McEwing. Right now, Reynolds seems ready to do what is necessary to get to that point.
If he does, that means Reynolds will have a fine major league career.