Darryl Strawberry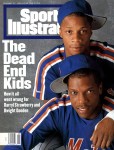 The 1980's tremendous run was partly fueled by Darryl Strawberry and Dwight Gooden. They had their share of drug problems. They were self destructive. They were labeled the "Dead End Kids."
It seems after years, most likely decades, of problems, they're finally clean. They have seemingly turned their lives around. They now have important things to say and have important things to do. It's a remarkable turn-around. I want to hear them talk as much as possible about the dangers of drug use. It's an important message. Hopefully, they'll prevent someone from repeating their mistakes. Maybe they'll help a troubled person through a tough time.
What I don't want to hear is them lecture other players on how they should be more like they were. Sure enough, Gooden weighed in on the whole Matt Harvey controversy:
can't believe what I'm hearing i couldn't imagine me or ron darling agent would even think about taking the ball from us come crunch time i

— Dwight Gooden (@DocGooden16) September 6, 2015
Would expect Matt being the ace to come out & say he's pitching if they make the playoffs & moving forward he wants the ball every 5th day

— Dwight Gooden (@DocGooden16) September 6, 2015
day here on out as Iong as he's feeling good ….lets remember stressful innings r more important than innings counts not even going to

— Dwight Gooden (@DocGooden16) September 6, 2015
mention my innings as a 18yr 19yr 20yr

— Dwight Gooden (@DocGooden16) September 6, 2015
This hypocrisy demands a look into Doc's career, a look I would rather not make. However, when he tells everyone to look at what he did when he was playing, we should.
Let's start with the innings. Doc was abused by Davey Johnson and Mel Stottlemeyer. Doc was amazing. He was doing things not even Tom Seaver did. In his age 19, 20, and 21 seasons, he threw 218.0, 276.2, and 250.0 innings. His last All Star Game was in 1988, when he was 23 years old. On September 8, 1991, when he was 26 years old, he received season ending rotator cuff surgery. For a man who set strikeout records, he would never again reach 150 strikeouts. In the last eight years of his career, his average season was 7-7 with a 4.45 ERA and 94 strikeouts.
Effectively speaking, he was done when he was 26 years old. If anyone should be preaching caution against overuse, it's Gooden. His Hall of Fame talent and possible career went the wayside due to abuse and overuse, at least partial so.
That wasn't the only abuse that ruined Gooden's career. Gooden was a drug addict. Gooden became hooked on cocaine during the 1986 season. He missed the championship parade because he was high in the projects. In 1987, he was suspended for one month due to failed drug tests. He was forced into rehab by then Commissioner Peter Ueberroth. Gooden missed the Opening Day after a World Series title. He would return on June 5, 1987. It was 31 games into the season, the equivalent of six starts. The Mets missed the playoffs by three games that year. Gooden would be suspended for the 1995 season for failing a "bunch of [drug] tests."
So no, I don't want Gooden to point to his career as an example of what to do. When he talks about Harvey being shut down for health reasons, he neglects how injuries damaged his career. When he talks about how Harvey should demand that he go out there for his teammates, he neglects to mention all the times he wasn't.
I don't like bashing Gooden. However, I also don't like the Harvey bashing. Harvey has a hard decision and a career to contemplate. It's easy for everyone to tell Harvey what to do. It's not their career or future. It was easy for Gooden to do the same. He just forgot how injuries ruined his career as well as the times he wasn't there for his teammates.
Harvey has a big start tomorrow, and he will pitch in the playoffs. I wish the best for him. More importantly, I wish the best for Gooden. They both need our support this year and beyond.