Here's the best way to synopsize both this game and the 2017 season ➡️ Dillon Gee allowed half the amount of runs in this game than Jacob deGrom did. And no, Gee was not good tonight.
The former Met allowed four runs over 3.1 innings allowing solo homers to Juan Lagares, Asdrubal Cabrera, and Neil Walker. The most impressive of these was Lagares, not just because he hit one, but because it went opposite field:
Lagares HOME RUN!! 2-1 Mets! pic.twitter.com/TDPz9JpdfF

— SportsNet New York (@SNYtv) June 7, 2017
It was almost four homers, but Jay Bruce got robbed by Jared Hoying:
Get 🆙, @jhoying3035! pic.twitter.com/QKyVJsWYEc

— Texas Rangers (@Rangers) June 7, 2017
The other run came in the first and was set up when Michael Conforto led off the game with a double. He later scored on a two out RBI single by the red hot Lucas Duda.
For his part, Lagares was uncharacteristicly good at the plate going 4-5 with a homer.
It wouldn't matter as deGrom couldn't hold any lead. He just couldn't protect a 1-0, 2-1, or a 4-3 lead. He allowed runs in every inning he pitched.
It started when deGrom couldn't get his footwork right in the first inning. Adrian Beltre grounded into what should've been an inning ending 3-6-1 double play, but deGrom was searching for the bag with his feet instead of stretching for the throw. Instead of getting out of the inning unscathed, deGrom allowed the tying run to score.
In the second, deGrom lost a 2-1 lead. Rougned Odor hit a double after a Jonathan Lucroy single to set up runners at second and third and no out. Hoying hit an RBI ground out, and Delino DeShields followed with a sac fly to make it 3-2.
The Mets took the lead, and deGrom gave it back in the third on a Joey Gallo two run homer. On the play, Bruce had a NL opportunity to return the favor to the Rangers by stealing a homer himself, but he fell just short:
Joey Gallo knocks the ball over the wall in right, just out of Jay Bruce's reach, and needs to be convinced that it was a two-run homer!!! pic.twitter.com/4KkmOne5IY

— TheRenderMLB (@TheRenderMLB) June 7, 2017
It all came crashing down in the fourth for deGrom. With runners on second and third with no outs, deGrom threw a wild pitch while walking Shin-Soo Choo to make it 6-4. The seventh run scored when Elvis Andrus hit into a double play. Unfortunately, deGrom still couldn't get out of the inning before allowing a solo homer to Nomar Mazara.
It was a tough night for deGrom. His final line was four innings, 10 hits, eight runs, eight earned, one walk, and just two strikeouts. Not too long ago, he seemed to turn the corner. This is now his second poor start, and his ERA has ballooned to 4.75.
The best thing you could say scour the night was deGrom seems more devastated by his struggles than Mets fans are.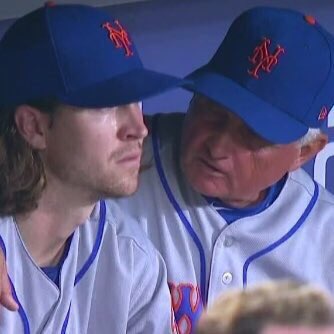 From there, the Mets had little choice but to bring in Josh Smoker and his 7.43 ERA into the game. Things could've gone worse, but he still allowed two runs over his two innings pitched raising his ERA to 7.56. If you really want to be depressed, consider Neil Ramirez was the Mets best pitcher on the night.
The Mets bats went mostly silent after the third with the team scoring just one run in the 10-5 loss. The team was 2-13 with RISP, and they were only able to score one run when they had bases loaded and one out in the eighth. They were one big hit away from getting back in the game. Instead, they made three quick outs.
However, the bats reawoke in the ninth. After a Flores lead-off single, Curtis Granderson and Travis d'Arnaud went back-to-back to get within 10-8. After a Lagares single and a Conforo walk, the Mets were really in business. Asdrubal Cabrera struck out, and then Bruce hit into a game ending double play.
The Mets need to get going soon because the Nationals aren't slowing down anytime soon.
Game Notes: Duda (2-5, HR) and Wilmer Flores (3-5) continued to hit. Travis d'Arnaud played poorly going 0-4 leaving five runners on base. DeShields also stole two bases off of him.