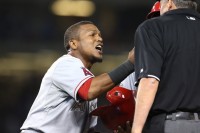 Well now that the Andrelton Simmons drama is over, you would think the idea of a Mets-Braves trade would go away. At least you would think it would go away after the Braves overreach in their asking price. It turns out the asking price was even worse than we all thought:
#Braves officials told #Mets it would take a young arm plus Conforto to do a deal. NYM never got back to Atl — as you would expect.

— Joel Sherman (@Joelsherman1) November 13, 2015
You would think that this would put an end to any idea that the Mets and Braves would enter into a trade for a everyday player. Nope because the Braves received Erick Aybar as part of the trade. Naturally, everyone sees the name and goes there's a fit:
Now #Mets and #Braves are set up nicely for an Aybar for prospects type trade.

— Jim Bowden (@JimBowden_ESPN) November 13, 2015
It's at this point it should be noted Jim Bowden was a terrible GM in more ways than one. There's a reason why he hasn't had a front office job since 2009. If you didn't have any reason to call his judgment into question, look no further than his idea that the Mets obtain Aybar.
Aybar is coming off a year where he hit .270/.301/.338. For his career, he is hitting .270/.316/.378. He will be 32 years old on Opening Day. He's in the last year of his deal, and he's owed $8.5 million. That's a lot of money for a guy that's not a good hitter. However, the Mets have a need for a defensive SS, so maybe you bite the bullet here. Aybar has won a Gold Glove.
Except, it was just the one, and it was five years ago. Now, he's got horrible range. His UZR this past season was -7.1. If you want to argue that UZR can change from year to year, and he was much better in 2014, I agree. However, he was also a -6.6 in 2013. Essentially, in two of the last three years, his range is close to fall down left – fall down right.
Let's put it another way, we all agree Wilmer Flores was good defensively last year. Well, at a -2.5 UZR, he had much better range than Aybar. As we saw after Ruben Tejada went down in the postseason, Flores was much better at SS. Gone were the wild throws and awkwardness in turning the double play.
Now, what is more likely? Is it more likely that Aybar suddenly rediscovers his range from five years ago at the age of 32, or is it more likely that the 24 year old Flores is improving at SS? Would you want to pay Aybar $8.5 million against Flores' $500-600 k salary to find out? Is Aybar really worth $8 million more plus prospects? Isn't Flores the better bet, especially with his 16 homeruns last year?
Look, if you're not comfortable with Flores, I get it. However, that does not mean you make a bad trade for a bad player who plays a bad SS. The fact of the matter is there are no good shortstop options. You can stick with Flores and/or wait to get a veteran insurance policy on the cheap. You could also trade for a SS.
The trade route is fine as long as you're not trading for Aybar because he's no longer a good SS. I'd rather stick with Flores.