When you go team-by-team across Major League Baseball, players who were supposedly signed to be the proverbial 25th man do not serve as a constant distraction.  In the occasions that player becomes a distraction, they are cut.  However, most teams are not the New York Mets, and most players are not Jose Reyes.
It was just two days ago, Mickey Callaway finally had to answer the question about how much ownership's interference has led to Callaway playing Reyes as frequently as he has.  Naturally, no one believed Callaway when he said there wasn't any interference.  Of course, no one believes that because Reyes' play was precipitated by his going public with his complaints.
When speaking to Matt Ehalt of nj.com, Reyes had the audacity to say, ""I believe in what I can do.  But it's hard for me if there isn't opportunity out there."
Note, Reyes was signed to be a utility infielder, one who refused to get reps in the outfield during Spring Training which could have opened the door for more at-bats during the season.
And just so Reyes is aware, the last guy on the bench plays very sparingly, especially on good teams.  In 1999, Luis Lopez played 68 games, and in 2000, he would play in 78.  His former teammate, Julio Franco, started just 25 games for the 2006 Mets.
The difference between Reyes and those and many other players have been they learned how to handle the role, and they did it gracefully. More than that, they were productive.
Once again, Reyes has been just about one of the worst players in baseball.  Really, you have to spend a significant amount of time to find what he does well.
Reyes has a -0.8 WAR, 52 wRC+, and a -4 DRS in the field.  Over the last two years, Reyes has hit .231/.301/.380 with an 83 wRC+, and -1.2 WAR.  The Mets are actually paying $2 million for this.
By contrast, the Mets opted to nontender Eric Campbell a contract.  With respect to Campbell, he was a .221/.312/.311 hitter in three years with the Mets with an 80 wRC+ and -0.5 WAR.  Defensively, he was a 0 DRS, and he was willing to play every position in the field.
Bascially, Reyes has been no better than Campbell, a guy who struggled in Japan last year and is playing in Triple-A this season.  By contrast, Reyes is not only takingHea up a spot on a Major League roster, he is demanding and receiving playing time.
One of the reasons why is his ties to ownership.  Yes, Ehalt's article noted Reyes didn't speak with Jeff Wilpon or Sandy Alderson.  Of course, that made the failure to mention Fred Wilpon all the more glaring.  It is something Howard Megdal addressed in his Deadspin article about how often the Wilpons are around:
Oh yeah, this year, all the time," Reyes said, when asked how often owners Fred and Jeff Wilpon are in the clubhouse and around the team. "They come here a lot. Jeff was here yesterday. Fred is here all the time.
That's no small thing especially in light of how Reyes has seen increasing playing time he has not merited.  It isn't just fans who feel that way, it's people within the Mets organization.  As Megdal reported, "Pro scouting advised his removal from the roster a long time ago."
Ultimately, that leaves us with the question, why is Reyes here?
In 2016, we knew the answer was because the Wilpons didn't care enough about how severely Reyes beat his wife.  David Wright was done for the year, and his replacements weren't cutting it.  The team wanted to win, so they sold their soul to host the Wild Card Game.
In 2017, the selling point was Reyes performed admirably done the stretch, and the team needed insurance for Wright's back.
In 2017, Reyes was absolutely terrible, and the team insisting on trying to get him going was one of the more prominent reasons why that season fell apart.  Really, Reyes did not hit well until September where he went on a tear.  Of course, that was too little way too late.
Despite Reyes being terrible, he was back this season.  With the Mets signing Todd Frazier, he was going to be a bench piece.  With his September, he was supposed to be much better this year.  More than anything, he was purportedly brought back to mentor Amed Rosario.
On the Rosario front, he has been much worse this year than he was last year.  In 2017, he was a -0.2 WAR player with a 74 wRC+ and a -1 DRS.  This season, Rosario is a -1.0 WAR with a 68 wRC+ and a -16 DRS.  Seeing his play this year, the Mets are now contemplating him being a center fielder.
Seeing Rosario's play, it leads you to ask the question, "How exactly is Reyes mentoring Rosario?"
On that front, Kevin Kernan of the New York Post said, "He's not mentoring as much as you think."
If we sum this all up, with Jose Reyes, the Mets have a player, who:
Can't hit
Can't field
Gripes publicly
Is not mentoring younger players
Is not worthy of a spot on an MLB roster
That's what we definitively know.  Based upon reports, we can also surmise he's undermining a manager by using his influence with ownership.
That last point is important because Reyes has now gone public in saying he wants to come back.  For some reason his draw to ownership is such that coming off a horrid 2017 season, the team not only brought him back, but they gave him $2 million when most teams wouldn't even give him a minor league contract.
In all seriousness, if Reyes is back with the Mets in 2019, even on a minor league deal, it is time for everyone to reevaluate their support for this Mets franchise.
Reyes beating his wife wasn't enough to keep him away.  Reyes being a bad player wasn't enough to keep him away.  Reyes not mentoring the player he was supposed to be mentoring while playing terribly has not been enough to keep him away.
Really, the only thing that ever separated the Mets and Reyes was money because back in 2010, when it came time to pay him, the Wilpons didn't so much as speak with Reyes.
However, now that he's a bad, cheap, and wife beating baseball player, this organization cannot have enough of him. Really, it is past the breaking point of how ridiculous this all is.  If he is back, how can anyone logically support this franchise?
Unfortunately, fandom isn't logical, and for that reason, I know I will still be a Mets fans in 2019.  That said, my enthusiasm for the team will take another significant hit much like it took a significant hit in 2016.  At some point, there is going to be one hit too many, and at that point, who knows?
Really, Reyes is exactly how you lose a passionate fan base.  You turn people off because you tell people you have no issue with domestic violence.  You turn people off because you build a team on the cheap instead of properly investing in a winning core and have a payroll commensurate with your market size.  You turn people off because despite this player dragging your franchise down, you feel some devotion to him  you didn't have back when he was a good player.
So yes, I'll still be there in 2019 even if Reyes is.  I just won't be as invested.  To that end, I really hope Reyes is worth turning away passionate fans for over 30 years for this player.  Something tells me it isn't, and worse yet, the Wilpons don't really care.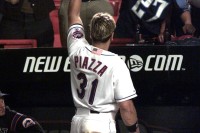 You know sometimes we forget about the impact Keith Hernandez had upon his teammates.
After Hernandez left the Mets, David Cone switched his number from 44 to 17 to honor his former teammate. He would wear it again with the Royals. His fellow color commentator, Ron Darling, wore 17 while a member of the Athletics. Bob Ojeda and Roger McDowell did the same with their future teams. In fact, they occupied the number during Mike Piazza's early tenure with the Dodgers. This is interesting because Piazza wanted number 17:
Mets connection with 31, I grabbed it as a rookie b/c Roger McDowell took 17 after Bob Ojeda left LA, hmm?

— Mike Piazza (@mikepiazza31) August 27, 2015
When Piazza joined the Mets, John Franco gave him his number 31. It was a terrific gesture that was part of a full court press to make Piazza comfortable and to get him to resign with the Mets. Piazza's chosen number,17, was taken by Luis Lopez. He's one of the many who have had the number that drives Hernandez nuts. I'm assuming Piazza never asked for the number.
With Piazza on the verge of being elected to the Hall of Fame, I presume the Mets would retire his number during the following season. We know that number will be 31. While Franco was a fine Met and a good closer, I'm sure there will be no groundswell to retire the number in his honor as well.
Now if Piazza wore 17, I'm assuming the Mets would've told Luis Lopez to find another number. If Piazza's number 17 was retired, there would've been a major groundswell to retire the number in Hernandez's honor as well. We know there is one already amongst the fan base. Retiring Piazza's number might've created an avenue to retire the number of a popular player and broadcaster. However, Piazza never got to wear 17, and it's Hernandez's fault.
He left a tremendous impact with the fans and his teammates. The fans and his teammates wanted to honor him. It's ironic this impact is what is preventing him from having his number retired.