This past offseason Sandy Alderson and the Mets were heralded for building a deep roster that was better built to sustain a slate of injuries like the Mets fared last year. Here are how all the players Sandy Alderson acquired during the offseason have fared with the Mets this year:
So far, Walker has had a terrific 2015. In fact, he is on pace to have the best year of his eight year career. However, as the Mets offense has tailed off, so has Walker. Here are his monthly splits:
April .307/.337/.625 with 9 homers and 19 RBI
May .250/.333/.420 with 4 homers and 6 RBI
June .224/.307/.289 with 1 homer and 6 RBI
Each and every month Walker has gone from one a career best year to stats worse than he has had over the course of his career.
Like his double play partner, Cabrera's stats are masked by a hot April. In April, Cabrera hit .300/.364/.400. Since that time, Cabrera is only hitting .247/.307/.409. Worse yet, despite many raving about his defense, the advanced metrics disagree. So far, he has a -5 DRS and a -2.1 UZR.
He was supposed to be a platoon partner with Juan Lagares in center. Given his .165/.216/.242 batting line, it is a blessing that never came to be.
For the second straight year, Cespedes has been terrific for the Mets. His OBP and slugging are on pace to be the highest in his career. He's also on pace for a career high 38 homers. Even with his poor defense in center field, he has been day in and day out the best player on the Mets.
Like every other backup catcher during the Sandy Alderson regime, Rivera has not hit. Initially, he was supposed to be a minor league depth, but after another Travis d'Arnaud injury, he was called-up to the majors. He has worked well with Mets pitchers this year, specificially Noah Syndergaard Mostly due to his defense, and also because of how poorly Kevin Plawecki has played, he has stayed in the majors when d'Arnaud came off the disabled list.
He was a minor league free agent that was never supposed to play in the majors. When he hit .148/.207/.259 in 14 games we found out why. Of course, he was pressed into action in part because the Mets found it wise to start with Eric Campbell on the 25 man roster instead of Ruben Tejada.
Somewhat surprisingly, at the age of 43, Colon is having his best season with the Mets. He's 6-4 with a 2.86 ERA and a 1.170 WHIP. He also did this:
After he went down last year, the Mets searched high and low for a lefty out of the pen. They never did quite find one. Blevins has been healthy this year, and he has been terrific going 2-0 with a 2.49 ERA. Only recently did he have a 21 appearance and 13 inning scoreless streak snapped.
He has been the worst reliever in the Mets bullpen with a 5.28 ERA and a 1.565 WHIP. Terry Collins has shoved him to the back of the bullpen and tries to avoid using him in high leverage situations at all costs.
The minor league free agent had a great Spring Training and made the Opening Day roster. He was having a terrific season until Collins pushed him too far for what he perceived to be a must-win game in April. His production tailed off, and now he is on the disabled list with an injured shoulder. This is the same shoulder that caused Henderson to miss all of the 2015 season after having had two surgeries on the joint.
Overall, looking over how these moves have panned out thus far, it does not appear that Sandy Alderson has had as good an offseason as many proclaimed him to have had. In fact, as the season progresses, it makes Alderson's season look worse and worse. In order for the perception of Alderson's offseason to change again, the underperforming players are going to have to improve. Time is growing shorter and shorter for that to happen.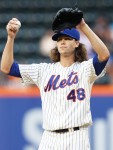 Let me start with the preface that the Mets are going to win the NL East, and they may still get homefield advantage in the NLDS against the Dodgers. However, doesn't September losses to the Marlins just seem bigger?
It just seemed like this was another poor start for Jacob deGrom in what not too long ago seemed like a potential cyGrom season. Tonight, he gave up 10 hits and six earned in only five innings. deGrom is the key to a Mets possible World Series run, and it appears like he's falling apart at the seams. I checked Twitter during the game, and I found out he really wasn't:
First time deGrom has allowed double-digit hits this season and just the second time in his career. (12 last year vs. Cardinals).

— Marc Carig (@MarcCarig) September 16, 2015
Jacob deGrom has allowed more than 5 runs for only the 2nd time since May. Mets trail the Marlins, 6-1. pic.twitter.com/oCre0FCmU0

— Baseball Tonight (@BBTN) September 16, 2015
However, I still felt like Chicken Little, so I checked Baseball Reference. Aha! deGrom has been worse in the second half. He was a superhuman deGrominator going 9-6 with a 2.14 ERA, 0.924 WHIP, and 8.9 K/9 in the first half. Coming into tonight, he was 4-1 with a 2.89 ERA, 1.043 WHIP, and a 10.4 K/9 in the second half. So yeah, he's been pretty much the same pitcher in both halves of the season.
That's the thing with losses like tonight. You tend to overreact. You make deGrom's outing out to be worse than it was. You focus on another poor Eric O'Flaherty outing. You miss things like David Wright hitting an RBI double and going 1-2 with two walks, a run scored, and an RBI. You miss Michael Conforto going 2-3 with a walk, an RBI, and a run scored. You grumbled when Bobby Parnell came into the game while neglecting the fact that he had a good, scoreless inning.
The Mets won eight straight. They were due for a clunker. That was tonight. It seemed like they could do nothing right, including but not limited to Erik Goeddel pulling a Shawn Estes when he seemingly was trying to plunk Tom Koehler as retaliation for him plunking Yoenis Cespedes. This was further compounded with my man, Dario Alvarez limping off the field after allowing a Dee Gordon homerun.
The Mets just need to put this ugly 9-3 loss behind them. I know I'll forget about it by tomorrow morning.