Back in 2007, the Mets collapsed in part due to a rash of pitcher injuries. Pedro Martinez missed most of the year following offseason surgery to repair a torn labrum. An injured Orlando Hernandez (El Duque) had to be moved out of the rotation and into the bullpen. With they myriad of injuries, Mike Pelfrey was put in the rotation before he was truly ready. Brian Lawrence made a few poor starts. With the walls crashing in on the Mets and the Phillies gaining on them, the Mets had to turn to Philip Humber.
Humber was the third overall pick in the 2004 draft. In his career, he never lived up to that billing. It could have been that he was damaged goods coming from Rice University, who is well known for abusing pitcher arms. He did have ulnar collateral ligament reconstruction surgery before his major league debut. It could be that he was rushed through the system never being given proper time to develop. It could any single factor or any combination thereof. It could just be that he just wasn't good enough to be a top line starting pitcher.
He certainly wasn't on September 27, 2007. His final line was four innings, six hits, five runs, five earned, two walks, no strikeouts, and one home run allowed. Humber did his best to battle that night, but he either wasn't ready or wasn't capable of winning a big game like that. The only reason he didn't take the loss was the Mets staked him to a 4-0 and a 6-2 lead. It would be his last game as a Met as he would be part of the Johan Santana trade. It was also the last day the Mets would have sole possession of first place as the loss would drop them to only one up in the division.
Like in 2007, the starting pitching is dropping like flies. Matt Harvey, Steven Matz, and even Jon Niese have found themselves on the disabled list. Logan Verrett has served as this year's Lawrence. Robert Gsellman serves as this year's Pelfrey. However, Lugo isn't quite this year's Humber. They really have nothing in common.
Whereas Humber was a high draft pick, Lugo was a 34th round draft pick. While Humber was pushed through the minors without mastering a level, Lugo has performed at each and every level having to prove himself over and over again. During his career, Humber had trouble developing a real outpitch. Conversely, Lugo has a terrific curveball that has already fooled Anthony Rizzo, who is a terrific major league hitter. More importantly, the main difference between Humber and Lugo is Lugo has already had success as a pitcher for the Mets.
In nine appearances as a reliever, Lugo pitched 17.0 innings and had a 2.65 ERA. When injuries forced him to make an unexpected start, Lugo was better than anyone could have imagined. He was not only good, but he was efficient. When Lugo walked off the mound, he had pitched 6.2 innings allowing seven hits, one run, one earned, and one walk with three strikeouts. At a minimum, Lugo has shown everyone he has the capability of being a good and reliable major league pitcher.
During this season, this Mets team has been compared to past Mets teams that have failed. Namely, they have been compared to the 1987, 2001, and 2007 teams. You can go up and down the line and compare different aspects of those teams to this current team. However, those comparisons need to stop with Lugo as everyone should have faith when Lugo steps on the mound.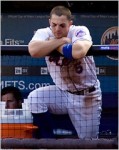 Today, the Mets officially report to Spring Training. With the 2016 season unofficially starting, David Wright begins his most important year as Captain of the New York Mets.
Back in 2007, Wright was a 24 year old superstar. His team was coming off a shocking loss in the NLCS, and yet going into 2007, many believed the Mets were the best team in the National League, if not all of baseball. With Wright and Jose Reyes, the Mets were seen not only as a win-now team, but also as a team that was built for the long haul. It worked out that way for exactly 145 games.
Not that Tom Glavine finds it devastating or anything, but the Mets collapsed over the final 17 games. There are a number of things we can point to as the reason the Mets collapses. Over those final 17 games, Brian Lawrence, a 23 year old Mike Pelfrey, and Philip Humber received starts with the Mets going 1-3 in those games. You can point to players like Reyes not hitting down the stretch. Speaking of Reyes, many point to him dancing in Game 161 as the reason.
After the Mets were swept by the Phillies, they had 14 games remaining against sub .500 teams. These teams had a combined .457 winning percentage. This includes a Cardinals team that had to come to New York to play a make-up game. They shut the Mets out. After the Phillies swept the Mets, there was every reason to believe the Mets would win the division, or at the absolute worst, the Wild Card. They did neither. There really is no excuse for what happened.
We saw it again in 2008. The Mets had a lead in the division up until the 149th game of the season. The Mets then lost the division lead. Again, the Mets season was on the line on the final game of the season. Again, they lost at home to a bad Marlins team.
Sure you can point to a myriad of things in 2008. Billy Wagner was injured leading to a revolving door at closer. Again, it's excuses. The Mets had a different manager and pitching coach at the end of the season. Willie Randolph and Rick Peterson were the fall guys for 2007 in getting fired one game into a West Coast trip.
At the end of the day, it wasn't the manager or the coaches. It was the team. There just was something missing. One player that wasn't a problem? David Wright.
In 2007, Wright hit .352/.432/.602 with six homers and 20 RBI over the final month of the season. In 2008, Wright hit .340/.416/.577 with six homers and 21 RBI in the final month of the season. While Shea was burning, Wright was playing his best baseball. While there was a problem with those 2007-2008 teams, Wright wasn't one of them.
Now, Wright is the only player that remains from those teams.
Wright is now 33 years old. He's a leader on the team. He's the Captain. Once again, he's on a Mets team that has a chance to return to the postseason. He's once again playing for a team that is a legitimate World Series contender.
This may be Wright's most important season as the Captain. He can share with the team all the things that went wrong in 2007 and 2008 to help prevent any of these issues arising with this Mets team. If problems do arise, he can help guide the team. He can share with them whatever it was within him in 2007 and 2008 to play his best when the team seemed to be at their worst.
In 1986, the Mets had a de facto team captain in Keith Hernandez that showed the team how to win. Thirty years later, the Mets have a Captain that can show the team how not to lose.
Hopefully, with another Mets captain leading the way, the Mets will once again win the World Series.