Last night, the New England Patriots won the sixth Super Bowl in team history. If you look at how the Mets have performed in the other five years the Patriots won the Super Bowl, you may not believe this to be a good thing:
2002




Super Bowl XXXVI




Mets: 79-86
After a disappointing season on the heels of a National League pennant, Steve Phillips decided it was time to make some drastic changes with the Mets. The team would clear out Robin Ventura and Todd Zeile to make way for Mo Vaughn and Roberto Alomar. The team would also reunite with Roger Cedeno and Jeromy Burnitz. A disappointing rotation was "buttressed" with pitchers like Pedro Astacio, Jeff D'Amico, and Shawn Estes.
What would result was an unmitigated disaster as none of the imported players would perform close to their historical levels of production. In fact, only Estes would be playing baseball the next time the Mets made the postseason. Perhaps the biggest indignity to their also-ran season was Estes inability to exact revenge against Roger Clemens.
2004




Super Bowl XXXVIII




Mets:

71-91
This year was probably rock bottom for that era in Mets history. The team proved ill advised at trying to make Mike Piazza a part-time first baseman. Kazuo Matsui looked like a bust leading you to wonder why the Mets not only contemplated signing him, but also shifting Jose Reyes to second base to accommodate him. You also wondered if Reyes was going to prove out to be an injury prone player.  Braden Looper should never have been contemplated as the closer.
As bad as that was, the team made a series of trade blunders. First and foremost, for some reason with the Mets being five games under .500 and seven out in the division, they talked themselves into contender status leading to the infamous Scott Kazmir for Victor Zambrano trade.
As bad as that was, we would also see the Mets first obtain Jose Bautista only to trade him away for Kris Benson. Again, this was done in the vein of the Mets are contenders despite being so many games out of contention.
Jim Duquette would shoulder the blame for the moves, which probably were not all his idea, and he would be reassigned in September. Without Duquette at the helm, the Mets would completely bungle firing Art Howe leaving him to manage the end of the season knowing he was doing it with the axe swiftly coming down on his head.
2005




Super Bowl XXXIX




Mets:

83-79
With Omar Minaya and Willie Randolph at the helm, this was a new look Mets team. Still, things weren't quite there. Doug Mientkiewicz proved to be a bit of a disaster. The team leaned on Miguel Cairo too much. At the time, Carlos Beltran seemed to be channeling Bobby Bonilla with a year where he regressed in nearly every aspect of his game. As bad as that was, he had the horrific  collision with Mike Cameron in right-center field in San Diego:
The biggest bright spot of that season was Pedro Martinez, who was vintage Pedro all year long. He flirted with no-hitters, and he led the league in WHIP. He was a throwback to a time when the Mets dominated with their pitching. He would also battle some injuries leading to Randolph smartly shutting him down for the rest of the year.
Except he wasn't. As Pedro would detail in his eponymous book "Pedro," Jeff Wilpon forced him to pitch while he was hurt. This would exacerbate his existing injuries and would lead to other injuries. Instead of having Pedro in the 2006 postseason, he was watching with the rest of us.
2015




Super Bowl XLIX




Mets: Lost World Series 4-1
Even when things are going right, they fell completely apart. Alex Gordon jumped on a Jeurys Familia quick pitch. Daniel Murphy booted a grounder. Lucas Duda couldn't make a throw home. Terry Collins did about as poor a job managing a World Series as you possibly could do. What was once fun ended in bitter fashion.
2017
Super Bowl XLIX
Mets: 70-92
The 2016 Mets made a late furious push to claim a Wild Card spot despite being without Jacob deGrom, Matt Harvey, Steven Matz, and Zack Wheeler in the rotation. The thought was if these pitchers could be healthy in 2017, then the Mets could return to the postseason for a third consecutive year, and maybe, just maybe, the Mets could win the World Series.
Instead, Harvey would have off-the-field issues leading to a suspension. Back then, we thought those issues were affecting his performance. In actuality, it was Thoracic Outlet Syndrome. Joining Harvey on the shelf was Noah Syndergaard, who went down with at a torn lat. Matz had ulnar nerve issues costing him most of the season. With Seth Lugo and Robert Gsellman unable to reclaim their 2016 magic, the season was history.
Still, during that season there was a glimmer of hope in the form of Michael Conforto. The then 24 year old was playing at a superstar level. He was named a first time All Star, and he was proving himself to be a leader for a Mets team which still had the talent to be contenders in 2018. Instead on August 24, he would swing and miss on a pitch and collapse to the ground with a severe shoulder injury.
As if that all wasn't enough, this would be the first time since 2003, David Wright would not appear in at least one game for the New York Mets.
2019
Super Bowl LIII
Mets: ?
This past offseason, Brodie Van Wagenen has set out to put his stamp on the Mets. He has rebuilt the bullpen with Edwin Diaz, Jeurys Familia, and Justin Wilson. He has reshaped the lineup with Robinson Cano, Jed Lowrie, and Wilson Ramos. There are still some holes on the roster, but generally speaking, this is a stronger club than the Mets have had over the past two seasons.
The additions have come at a cost. The Mets traded away arguably their two best prospects in Jarred Kelenic and Justin Dunn. The team has also parted with well regarded prospects Ross Adolph, Luis Santana, and Scott Manea for J.D. Davis. There was also a further burying of former first round picks Dominic Smith and Gavin Cecchini on the depth charts.
Sure, there is no real correlation between the Patriots winning a Super Bowl and the Mets performance during the ensuing season. To suggest that is foolish. And yet, there is an unsettling pattern where a Patriots Super Bowl begets a disappointing Mets season.
Really, when you break it down, the real analysis to be made here is the disparity between the Patriots and the Mets. Whereas the Patriots are regarded as one of the best run organizations in all of professional sports with a terrific owner, the Mets are regarded as one of the worst run organizations with meddlesome owners. If the Mets are to break this "streak," it is going to be because the Mets are a much better run organization who has the full resources and backing it needs from ownership.
Normally, I'm much more in tune with a Mets game than I was last night. Generally speaking, no matter where I am, I'm getting play-by-play someway, somehow. I didn't last night because I was at the Brooklyn Cyclones game with my family, and courtesy of Nicco Blank, we had great seats: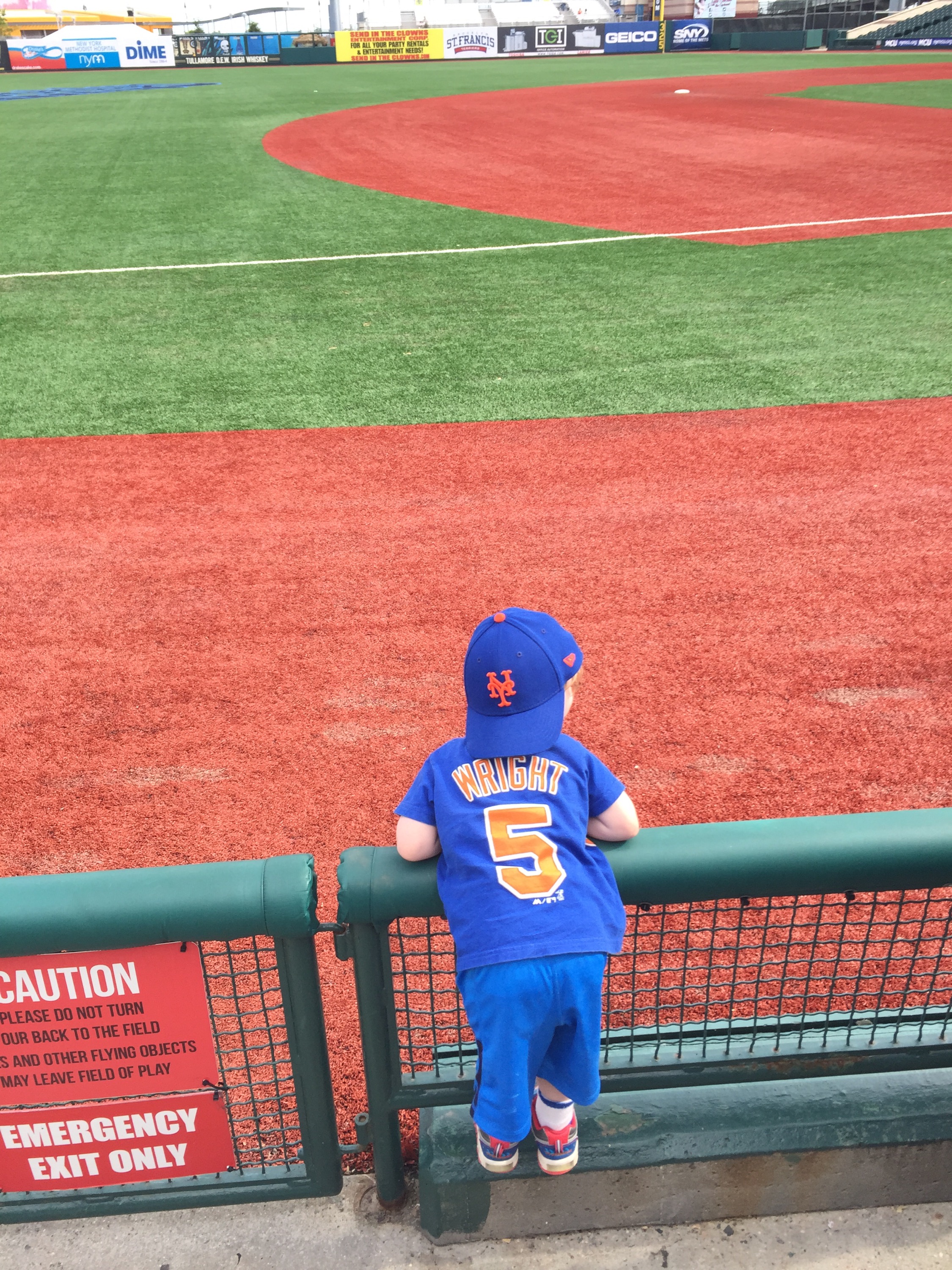 Being that close, especially with an active toddler, we had to be on high alert foul balls in the stands: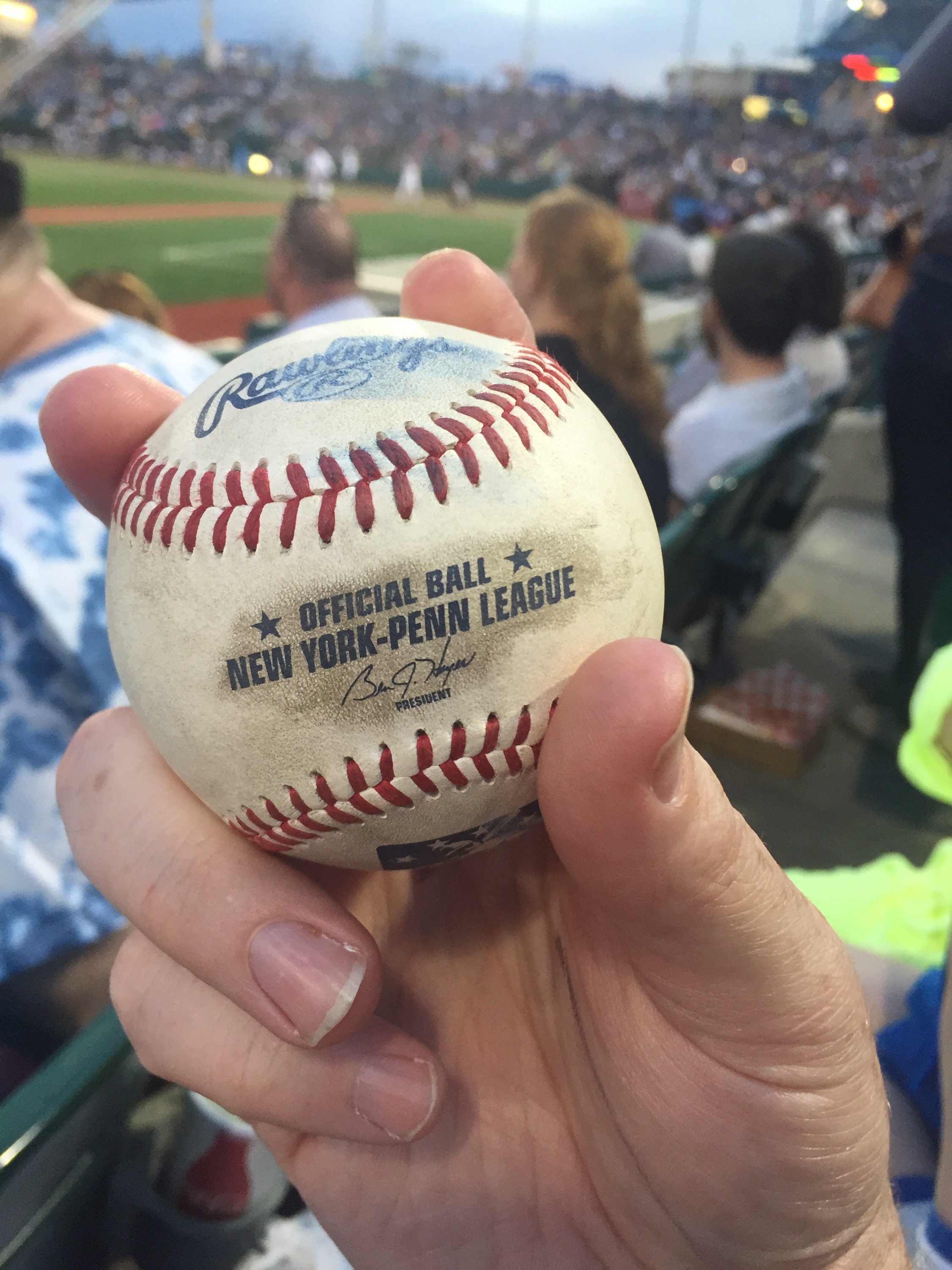 Courtesy of Blake Tiberi.
In any event, by the time we got to the car, I knew little about the game. I knew Bartolo Colon started the game. I knew Neil Walker hit a two run homer. I knew the Mets were up 4-3. I was just fuzzy on the rest of the who, what, where, when, or why about the other five runs that scored.
There was another thing I knew. Jeurys Familia was going to close it out.
So far this year, Familia is a perfect 28 for 28 in save chances. He has a career 2.49 ERA, 1.182 WHIP, and an 8.9 K/9. He has a career 149 ERA+. He's consistent. He's durable. He's the best closer in the National League, and he's amongst the best in baseball. As a fan, he's a closer that gives you confidence. That's a rare feeling for Mets fans.
Sure, John Franco usually got the job done as evidenced by his 424 career saves. That's the most for a lefty closer. That's also 424 times he gave some poor Mets fan a heart attack for his Houdini acts.
He was supplanted by Armando Benitez. Benitez was as dominant as they come unless he was facing Pat Burrell, Paul O'Neill, the Braves, or any team in the Month of September or October.
Billy Wagner was tremendous until he faced the immortal So Taguchi. Jesse Orosco and Roger McDowell were a bit before my time.
About the only closer I can come up with during my time I had any confidence in was Randy Myers. Back in 1988 and 1989, he was great as the Mets closer. You had confidence when he took the mound. It was the opposite feeling when the Mets brought in Franco to start the 1990 season as the closer. It began a 14 year high wire act that was followed with the Benitez's and the Braden Looper's of the world.
It's been 18 years since the Mets had a closer they can trust not to give everyone a minor stroke when they take the mound. Familia is different than his predecessors. When Familia enters the game in a save situation, he's getting the save. He typically does it without giving you a heart attack. When he enters the game, you know he's converting the save.
It's about the one thing I knew for certain about the Mets game yesterday.
Did you ever hear of the saying, the more things change the more they stay the same? The saying drives me absolutely nuts. Inherently, something that is static cannot also be idle at the same time. However, for the first time I am starting to understand this saying.
I believe this season is starting to resemble 2005. Sure there was some optimism before that season with the signings of Carlos Beltran and Pedro Martinez. This was also going to be the first full season David Wright and Jose Reyes were going to play together. That team also had some holes: Doug Mientkiewicz had a great glove but not the bat to play 1B, Kaz Matsui was being shifted to play 2B after he showed he couldn't play SS the prior year, and let's not forget the closer was Braden Looper in a largely ineffective bullpen. However, I don't know of anyone that expected the Mets to realistically make the playoffs that year.
At that point, the Mets fans were suffering. In 2001, the Mets rallied around the city, but they fell short of making the playoffs in an otherwise disappointing season. In 2002, we watched Steve Phillips attempt to recreate the team as an offensive juggernaut with the likes of Mo Vaughn, Roberto Alomar, Jeromy Burnitz, and Roger Cedeno. This lead to three years of just bad baseball. Now, the Mets fans were clamoring for a move to be made. We wanted to see Piazza go out on his last year with the Mets with a winner. At the Trading Deadline, the Mets found themselves only 4 games out of the Wild Card.
However, Omar Minaya stayed the course. The Mets made no trades. He kept his bullets for the offseason. If you recall, that was a magical offseason with the additions of Paul LoDuca, Carlos Delgado, Jose Valentin, Xavier Nady, Endy Chavez, Julio Franco, Pedro Feliciano, Duaner Sanchez, John Maine, Jorge Julio (was was then traded in season for El Duque), Darren Oliver, and Billy Wagner. Omar showing restraint permitted the Mets to build that great 2006 team the fans loved.
Now, Mets fans have been suffering longer than they were in 2005, and they are begging for just one bat (which I don't think will do the trick). While Mets fans were disappointed in 2005, I don't remember them being a distraught as they are now. I think the difference is trust. We trusted that ownership and Omar would spend the money to get the players that were needed. In fact, they just come off of a spending spree that netted Pedro and Beltran. Now, fans don't trust that ownership will spend the money. I believe this is the trust gap that is the biggest sense of frustration with this team.
It's a shame too because I remember 2005 being a fun season. So far, I think 2015 has been gut-wrenching with all the tight, low-scoring games. My only hope is that if the Mets don't make a move now, they have a plan for what can be realistically accomplished this summer. There will be LF available who can really help the team in the short term, but the market is scarce on middle infielders. My fingers are crossed.  I want to be able to go to a playoff game with my father and son.