There are a number of interesting candidates to the Hall of Fame ballot this year.  They are interesting for a multitude of reasons.  There are a group of players who are still tainted by steroids.  There are players who were important members of teams that won multiple World Series titles.  There were also some players who were among the best at their position.  Despite all of that, I am only voting for
Stats: 16 seasons, .318/.379/.553, 477 2B, 46 3B, 449 HR, 1,496 RBI, 181 SB
Advanced: 59.3 WAR, 41.1 WAR7, 50.2 JAWS
Awards: 8X Silver Slugger, 9X All Star, 2004 AL MVP
What is interesting about Guerrero is there is a chasm here.  The chasm is the player I perceived Guerrero to be during his playing career, and the player advanced statistics did not like as much as I did.
Looking at the advanced statistics, Guerrero falls short of induction.  The average right fielder has amassed a 73.2 WAR, 43.0 WAR7, and a 58.1 JAWS.  Realistically speaking, Guerrero only comes close in terms of WAR7, and he is still short on that front.  It is also interesting that Larry Walker has cleared each of those thresholds, and yet, he has been trouble gaining traction in Hall of Fame voting.
Another startling fact was Guerrero is actually behind Bobby Abreu, who I do not perceive as a Hall of Famer, in all of those advanced stats.  Ultimately, if Guerrero would be inducted into the Hall of Fame, he would be one of the worst right fielders ever inducted into the Hall of Fame.  Despite the advanced stats, I voted for him anyway.
In his career, Guerrero was as exciting a player as you would see step onto the baseball field.  Not only would he literally swing at anything, he could also hit anything:
He also had one of the strongest arms you will ever see on a baseball field:
Guerrero was why you come to the ballpark, but admittedly, that isn't enough to deserve enshrinement in Cooperstown.  There has to be a better reason, and there is.
With Guerrero's 449 homers, he would be the only right fielder with over 400 homers not inducted into the Hall of Fame not named Jose Canseco.  Of all right fielders, he ranks sixth all-time in slugging percentage.  Of the five ahead of him, the only ones not elected in the Hall of Fame are Walker (still eligible), and Juan Gonzalez (steroids).  With 972 extra base hits, he would be the first right fielder with over 950 extra base hits, that has been Hall of Fame eligible and not tainted by steroids, that is not inducted in the Hall of Fame.  To demonstrate how feared a hitter he was, Guerrero ranks fifth all-time in intentional walks, with him leading the league in intentional walks on five different occasions.
On top of this, Guerrero has a good .312 batting average and a respectable .379 on base percentage.  Looking at those numbers, it begs the question over why Guerrero's advanced statistics are so low.
Well, the first reason is base running.  Guerrero was not the most successful of base stealers only being successful 65.8% of the time.  For example, in the year he reached a career high 40 stolen bases in his quest to reach 40/40, he was caught stealing a league leading 20 times.  Overall, Guerrero has been asserted to be among the worst base runners of all time.  In fact, it has been said he is the worst non-catcher base runner of all time.
Between that and advanced statistics, pre-StatCast, not loving his defense, Guerrero went from a hitter certainly worth of enshrinement to a player that advanced statistics indicate should be on the outside looking in.  Guerrero has lost 10.7 in WAR due to his defense and an additional three due to his base running.  Between the two, that is 13.7 lost in WAR.  If you were to add that back, Guerrero's career WAR would be 73, which is right on the cusp for enshrinement.
This isn't to say defense and base running don't matter.  It also isn't to say the WAR calculations are definitively wrong.  Rather, it does leave room for the concept that maybe the data would be calculated differently, especially in the StatCast era, that would be beneficial to Guerrero.  It also leaves room for the idea that much of the issues with base running and defense were associated with him spending much of his career playing for Felipe Alou and Mike Scioscia, two managers who demanded an aggressive, some would say reckless, base running style.  They are also two managers not well know for their adherence to advanced data, which could have helped with Guerrero's defense.
Again, this is just leaving room, and it is not making excuses for the areas in the game where Guerrero has been alleged to have been lacking.
Overall, Guerrero, a former MVP, was one of the best players in baseball during his playing career, and he was certainly a player that outshone his peers.  Ultimately, he deserves induction to Cooperstown.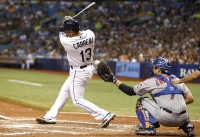 Sometimes things are coincidences. You are at the wrong place at the wrong time by happenstance even if no one will believe it. Other times you're Sandy Alderson, and you actively pursue steroid guys.
Sandy Alderson was the GM of the late 80's Oakland A's teams that had been seen as the ground zero for the proliferation of steroid usage (fair or not). For his part, Alderson denied having knowledge of the steroids use. Interestingly enough, his manager, Tony La Russa was well aware. Now, Alderson has not played stupid by acknowledging he suspected some but not all players. He also expressed regret for not taking a bigger stand against PED usage.
For me personally, these words ring hollow. No, I'm not calling him a liar. That's unfair, and I don't know him well enough to do that. However, what I will say is that for a GM looking to take a bigger stand against PEDs, he certainly likes adding those player. Here are the know PED users signed by Sandy Alderson during his tenure as the Mets GM:
Is this list appalling? Well, it depends on your point-of-view. Keep in mind this list doesn't include farm hands that may have been suspended, not does it include the Jenrry Mejia was was suspended TWICE last year for PEDs and was tendered a contract. Overall, Alderson is averaging about one steroid signing a year.
There are two thoughts I have. The first is his ultimate responsibility is to put the best team he can assemble on the field. At times, this may include PED players. The second thought I have is for a guy who supposedly wanted to take a larger role against PED usage, he certainly isn't helping by signing those players.
I do find it harder to root for the PED guys. It's part of the reason I'm in the minority when it comes to all this Bartolo Colon love. Ideally, the Mets wouldn't sign these guys even though I acknowledge players like Byrd have greatly benefitted the Mets.
Apparently, Sandy Alderson doesn't feel the same way I do.