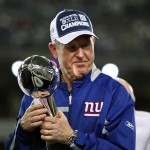 I've always joked that it's the New York Giants that keep me sane. Never was this more true than on September 30, 2007. If you're a Mets fan, you know that as the day the Mets completed a historic collapse. I was devastated even if Tom Glavine wasn't.
I remember leaving Shea and heading to the Meadowlands as that year I had the Sunday Plan and Giants season tickets. Note, I was unmarried with no children back then. Initially, I was less than enthused going to the Giants game. The Giants started the year a very unimpressive 0-2. Furthermore, the Giants were playing the Eagles. I knew I was going to have to hear it from Eagles fans who the Phillies beat the Mets and how the Mets choked. I was stewing on my drive from Queens to Jersey. The rage just kept building and building.
As I entered the lot, I slipped off my David Wright jersey, which I never wore again, and I slipped on my Shaun O'Hara jersey. With some heckling from the lowlife Eagles fans, I was ready for the game. What ensued was the most cathartic three hours of my life. Not only did the Giants win, they pummeled the Eagles. Osi Umenyiora had six sacks. The Giants set an NFL single game sack record with 12 in total. It was a joy to see all those Eagles fans quiet and leaving early. It was a magical night that let me get some sleep that night.
Actually, it was a magical season. As we know, the Giants would win Super Bowl XLII that year. They upset the undefeated Patriots in what would go down as one of the greatest Super Bowls, if not the greatest Super Bowl, ever. It was made possible by Tom Coughlin.
Going into 2007, Coughlin was on the hot seat. In response, he became more open and accessible to his players. He formed the Leadership Council. Generally speaking, he found a way to be a coach that demands discipline while at the same time allowing his players to have a voice. You know what happened? Everyone was able to get on the same page. It allowed him just to be a great football coach, which he was. Coughlin was once seen as an impediment to winning a Super Bowl. He now was a reason why they could and did win one.
In 2007, things changed, and the Giants became champions. They won with the quarterback he developed. They won as a team. It's because Coughlin changed. No, he didn't change as a person. He was always a good person. Now, he showed that side to his team. They loved him for it. Looking at everything today, they still love him.
The fans do as well. He was the coach that developed Eli Manning. He was the coach that led the Giants to two Super Bowl wins. Both runs were improbable and thrilling. I loved both titles. However, I'll always cherish Super Bowl XLII a little more. The Mets fan in me thought I was going to see a championship season in 2007. At that time, I just didn't realize the season was going to carry into 2008. Trust me, it was worth the wait.
Through all these years, this Mets fan has kept sane because I was also a Giants fan, at least the Giants won championships. Tom Coughlin has a lot to do with that having earned three rings with the Giants. As a fan, I will always be grateful he coached my team. I'll always be grateful he brought class and dignity to an organization renown for class and dignity. While I'm curious as to what's next, I do admit some trepidation.
Your team is always worse when it loses a Hall of Famer. It's even worse off when it loses a human being the caliber of Tom Coughlin. Whatever he does next, I wish him the best of luck.
Thank you for everything Tom Coughlin.