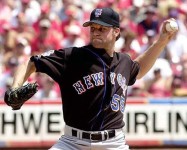 There's a moment that will forever live in Mets infamy:

(Seriously, how is there no video of this moment available?)
After all the garbage with Roger Clemens and Mike Piazza, the Mets finally had a chance to get revenge. Clemens came to Shea and finally had to stand in the batter's box to answer for all his sins. Then Shawn Estes, who wasn't a Met when everything happened, just missed. Missed!
There were discussions on whether it was fair to put Estes in that spot. I always disregarded them. Estes was Piazza's teammate. You stand up for your teammates. The Mets will have that opportunity again with that coward re-signing with the Dodgers. After the World Series, the hope is it's Noah Syndergaard standing 60'6″ away from Chase Utley.
After Utley's dirty slide, the Mets have an opportunity to exact revenge. It will be all the more important if Ruben Tejada remains on the team. Assuming the rotation is the same set-up as in the World Series, the Mets re-set the rotation after the first two games of the season, and the Mets having a full five man rotation from that point forward the job will fall to Steven Matz. If the Mets don't reset the rotation, the job will fall to Jacob deGrom.
In some ways, the task will be easier for whoever the pitcher is because they were on the team when it happened. On the other hand, the situation is more difficult because the pitcher will have to do it in Los Angeles.
Whomever it is, they need to actually plunk Utley. For the psyche of the team and the fan base, that pitcher can't miss.