Time To Split Up Edwin Diaz And Wilson Ramos
In the first two games of the season, Luis Rojas brought in Jake Marisnick and Andres Gimenez for defense. For some reason, despite the Mets putting out most of their best defenders, Rojas stopped short at catcher.
It's not unusual for a team to stick with a vastly inferior defensive catcher. Part of that is the fear of losing a catcher even if that rarely happens.
And Wilson Ramos is a vastly inferior defender to Tomas Nido and Rene Rivera. In addition to that, we see time and again he doesn't work well with Edwin Diaz.
While CERA is a highly flawed stat, we see Diaz has a 6.07 ERA pitching to Ramos. That's the second worst he's had with any catcher and the worst with any catcher who's caught him at least 14.0 innings.
When we dig into the numbers there are a few reasons to explain this. Chief among them is Ramos' inability to get the low strike. It's something which impacted Noah Syndergaard, and it caused Syndergaard to try to get a personal catcher.
As we see with Baseball Savant, Diaz's real weapon is his slider. Both that and his fastball are great pitches. However, for his slider to be effective, it needs to be low in the zone. When you can't get it called a strike, a batter can spit on it forcing Diaz to have to bring it up making it more hittable. That happened all of last year.
With his fastball, Diaz has to move it around. He can throw it in all three zones, and really, if he needs to pound the slider down, he needs the fastball to change eye level and side of the plate. That brings us to his blown save yesterday.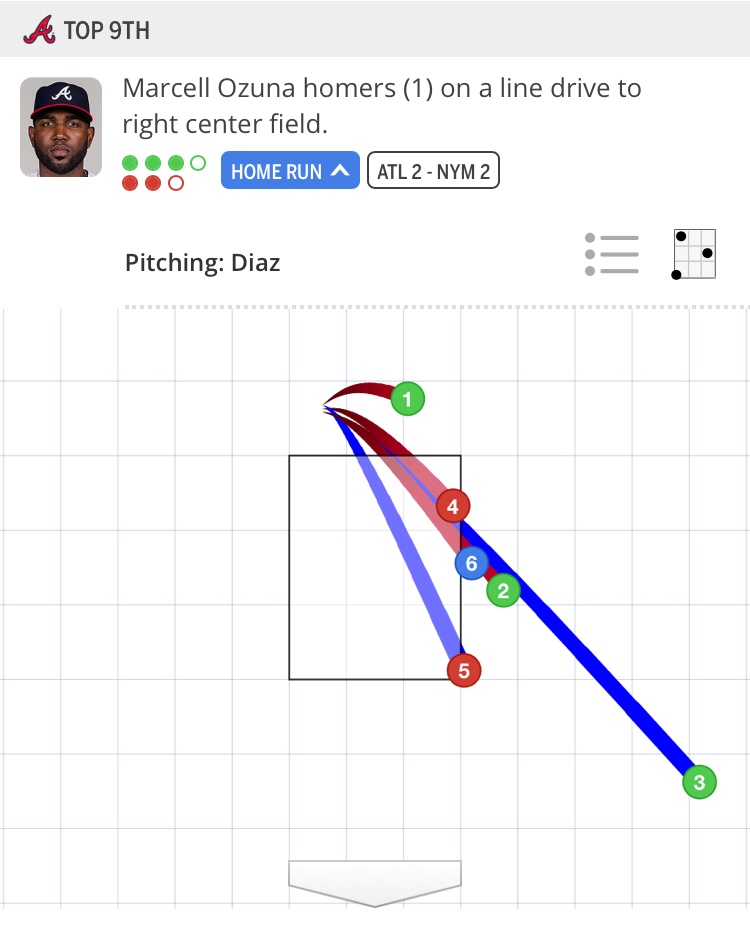 (Image from MLB.com)
In the moment, many commented Diaz just got beat by Marcell Ozuna on a good pitch. After all, it was 98 MPH on the black. Batters aren't supposed to hit that. So, why did he hit it?
First off, it should be noted it wasn't that good of a pitch. Just because it was 98 MPH doesn't de facto make it a good pitch. Yes, it was on the corner, but it was also belt high. Professional hitters, especially very good ones like Ozuna, crush belt high fastballs.
The biggest reason why it wasn't that good of a pitch and why Ozuna was able to jump on it was Diaz and Ramos basically telegraphed where the pitch was going to be. The last five pitches of that at-bat were all towards the outside corner. Give a batter like Ozuna the location and put the pitch belt high, and he's going to crush it.
These are the situations which led Diaz to allowing a Major League record for most ninth inning homers last year. A veteran catcher needs to make sure his pitcher isn't telegraphing pitches like this. A team needs to make sure a catcher isn't negating their closer's biggest strength.
Yesterday, the Mets brought in Marisnick for defense. They brought in Gimenez for defense. Neither could make a play on a ball hit over the right field wall. That homer made those defensive changes superfluous.
It's time the Mets realize if they're going to make these wholesale defensive changes, they need to not stop short at catcher. They need a good defensive catcher behind the plate who can get the low strike and ensure the pitcher is moving the ball around the plate.
Essentially, the Mets need a catcher who will let Diaz be Diaz.
In the end, if you're going to give up Jarred Kelenic to go get him, it just seems plain stupid and ignorant to not give up one inning of Ramos per game. The Mets went all-in to get Diaz. Now, it's time to go all-in on helping him succeed.